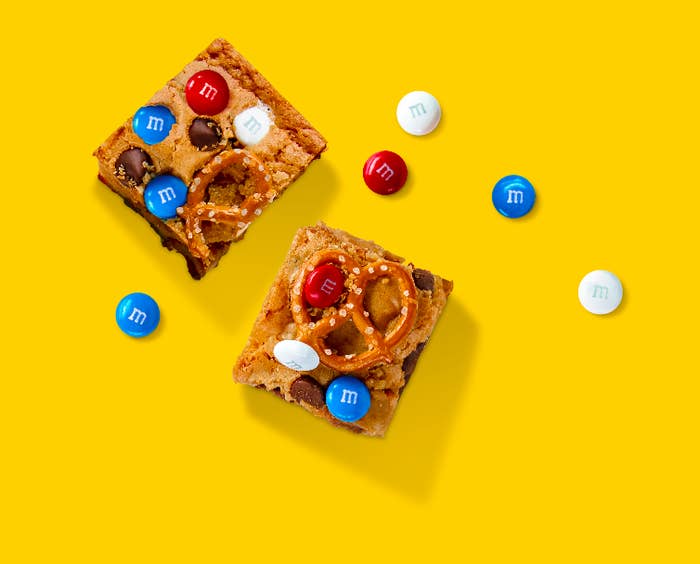 Yield: 36 squares

Serving size: 1 square
INGREDIENTS
1 ½ cup brown sugar
1 ½ sticks butter
1 ½ cup all-purpose flour
1 tsp baking powder
½ tsp salt
2 eggs
2 tsp vanilla extract
¾ cup M&M'S® Red, White & Blue Milk Chocolate Candy
⅓ cup pretzels, crushed
⅓ cup dark chocolate chips
PREPARATION:
Preheat oven to 350℉/175℃

Whisk together the flour, baking powder, and salt in a mixing bowl. Set aside.

Melt butter in a medium saucepan, allow to cool.

In another large mixing bowl, fold together cooled butter and brown sugar.

Add the vanilla and eggs, one at a time, and stir until fully incorporated.

Fold in the reserved flour mixture.

Fold in M&M'S® , chocolate chips, and pretzels, reserving ¼ of each for topping.

Pour batter into a lined 8x8 inch bake dish and sprinkle with reserved toppings.

Bake at 350℉ for 30-35 minutes until skewer inserted in the center comes out clean.

Cool before cutting into 36 pieces.

Nutrition Per Serving:
112 Calories
Total Fat: 5.2g
Cholesterol: 20mg
Sodium: 98mg
Total Carbohydrates: 15.1g
Total Sugars: 8.8g
Protein: 1.4g