Caramel M&M'S Cheesecake Bites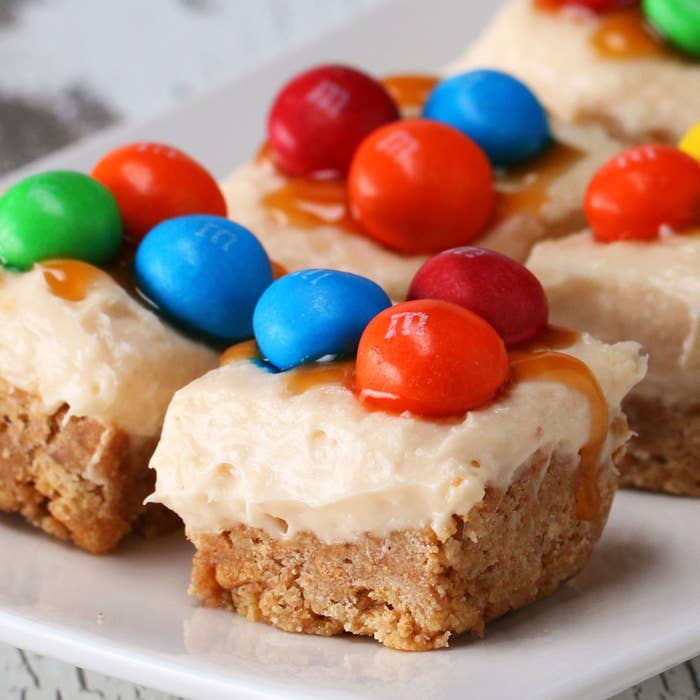 INGREDIENTS:
Servings: 25 squares
Crust
12 graham crackers
1 teaspoon salt
1 stick melted butter
Filling
16 ounces cream cheese, softened
1 cup powdered sugar
½ cup caramel sauce
1½ tablespoon lemon juice
1½ teaspoon vanilla extract
¼ cup caramel sauce, for garnish
Sea salt, for garnish
3 packs of M&M's Caramel Candies
PREPARATION:
1. Place the graham crackers in a large plastic bag. Seal and crush into fine bits.
2. To make the crust filling: In a bowl, combine crushed graham crackers, salt, and melted butter. Stir until all ingredients well incorporated.
3. Place crust mixture into a 8 x 8–inch square baking dish with parchment paper lining the bottom. Press mixture down firmly with hands, until the surface is evenly layered. Freeze for 15 minutes.
4. To make the filling: In a large bowl, combine cream cheese, powdered sugar, caramel sauce, lemon juice, and vanilla extract. Stir together until a smooth consistency.
5. Place filling mixture on top of the crust. Use a spatula to evenly spread. Refrigerate cheesecake for 30 minutes.
6. Place the cheesecake on a cutting board and remove parchment paper. Slice 5 vertical columns then 5 horizontal rows, to make little cheesecake squares.
7. Drizzle extra caramel sauce evenly on top, as well as a sprinkle of sea salt.
8. Take Caramel M&M'S pieces and lightly press 4 into each square.