Behold The Most Pathetic Play Of The 2013 Baseball Season
The New York Mets infield does an excellent impression of a Little League team.
During the 5th inning of yesterday afternoon's game between the Chicago Cubs and New York Mets the professional baseball players in the Metropolitans infield treated sports fans to the most inept defensive play so far this season.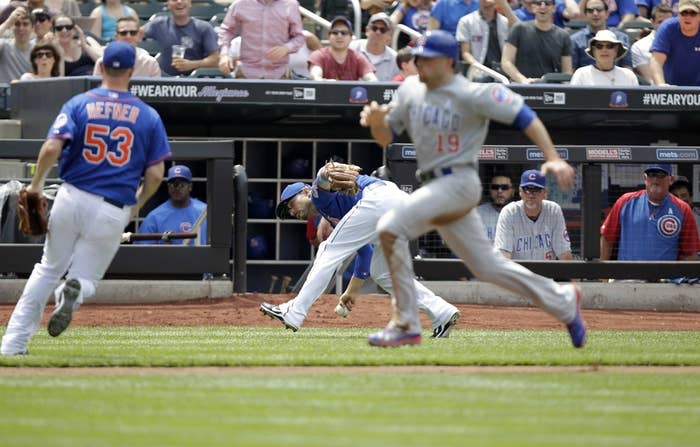 The comedy of errors starts off with two-time Gold Glove-winner David Wright making a nice diving stop on a grounder by Alfonso Soriano and proceeding to airmail the throw well over the head of first baseman Daniel Murphy.
Next came Murphy, who typically plays second base and is not known for his defensive skills, tossing the ball well out of the reach of catcher John Buck.
But the fun didn't stop there! Shortstop Omar Quintanilla chased down Murphy's errant throw and made the foolish decision to make an off balance underhand toss to an unprepared John Buck, which sailed towards the Mets dugout.
And in the most surprising twist of fate, the Mets somehow still found a way to win the game 4-3 on a walk-off three-run homer courtesy of Kirk Nieuwenhuis.
Watch the whole baffling display of incompetent fielding.