Caramel Pretzel Chocolate Chip Cookies
Crunchy and sweet!
by
,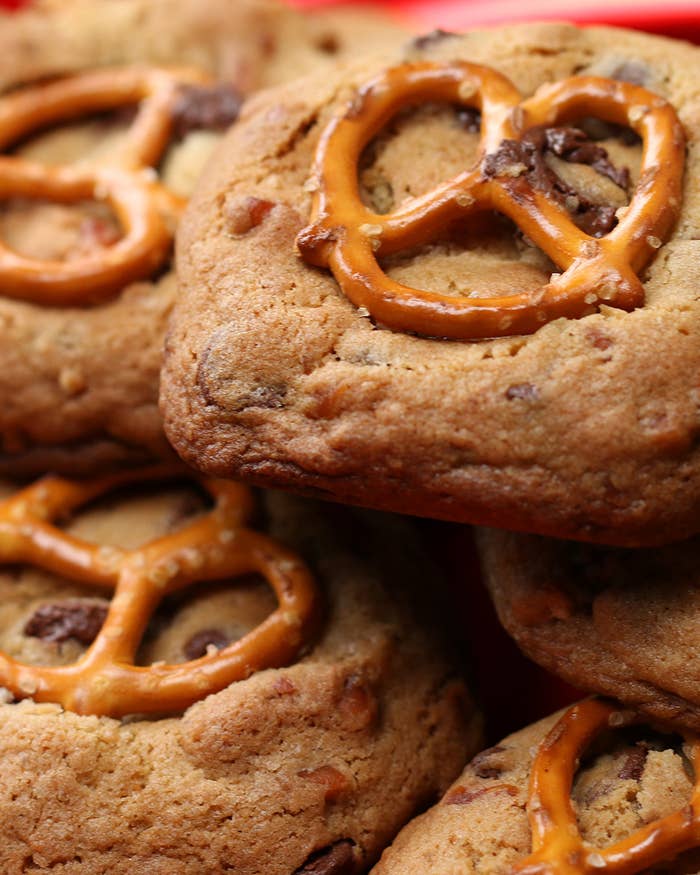 INGREDIENTS
Servings: 12
2 cups all-purpose flour
1 teaspoon baking soda
1 teaspoon salt
1 cup butter, softened
1 cup packed brown sugar
½ cup granulated sugar
2 large eggs
1 teaspoons vanilla extract
2 cups crushed pretzels + 1 cup pretzel twists
1½ cups chocolate chips
1½ cups caramel candies, unwrapped
PREPARATION
Preheat oven to 400°F/200°C.
In a medium bowl, whisk together the flour, baking soda, and salt. Set aside.
In a large bowl, beat together butter, brown sugar, granulated sugar, and vanilla until smooth. Add
the eggs one at a time, beating as you go.
Add the flour mixture a bit at a time while beating, until it forms a smooth dough.
Fold in the crushed pretzels and chocolate chips until evenly combined.
Press a caramel flat and place in the middle of a ball of dough, roughly two tablespoons.
Fold dough around the caramel, using a bit more to seal if necessary. Place on a well-greased or parchment-lined baking sheet.
Bake for 8-10 minutes, then remove from oven. While still warm, press a single pretzel into the top of each cookie. Serve with a cold glass of milk or on their own!
Enjoy!
Want BuzzFeed Tasty right in your inbox? Sign up for our newsletter!