1.
When Anna joined Twitter and tried to tweet at Chris:
2.
She meant it when she said she didn't know what she was doing!
3.
When Chris participated in a Twitter Q&A for Anna's show Mom:
4.
And was clearly the biggest #Momaholic out there:
5.
When Anna revealed how she punishes Chris:
6.
And how he punishes her, presumably:
7.
Yikes.
8.
When Anna had some concerns about Chris's relationship with Blue: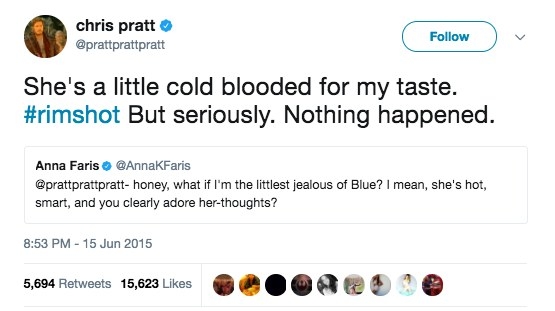 9.
And Chris had some concerns about Anna's relationship with Milo Ventimiglia: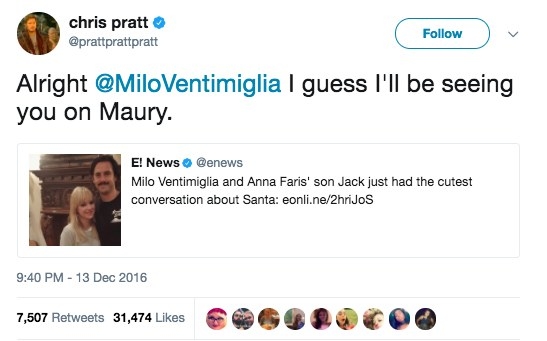 10.
When Chris shared this really cute pic while on the way to the Oscars:
11.
And Anna shared an even cuter one:
12.
When Anna let Chris know how potty training was going:
13.
And he did his best to show support from afar: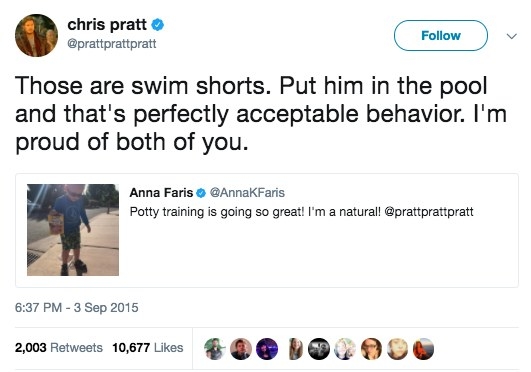 14.
When Anna called Chris out on his mysterious freezer bags:
15.
And on his big ego:
16.
When they wished each other happy birthdays...
17.
...and happy anniversaries:
18.
When Chris taught Anna a thing or two about strategy:
19.
And when they went to see that strategy in action:
20.
When Anna live-tweeted getting ready for the Guardians of the Galaxy Vol. 2 premiere:
21.
When Anna thought she would gross us out by declaring her love for Chris: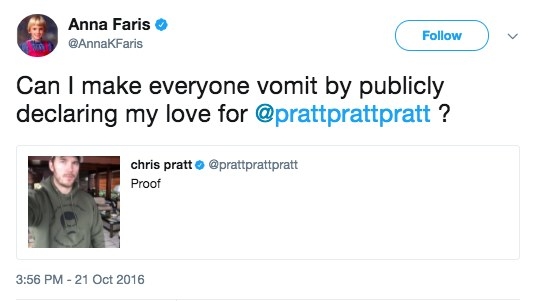 22.
But could anyone really be grossed out by this?
23.
Doubt it 💖 💖 💖.