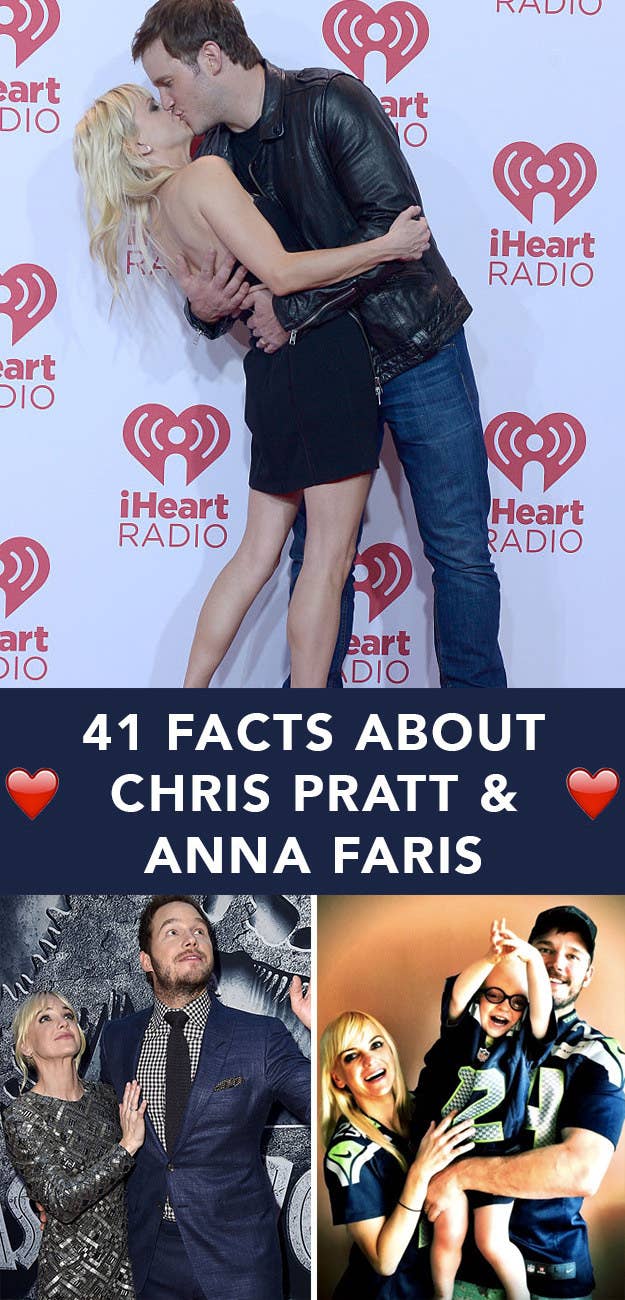 1. Chris Pratt and Anna Faris both grew up in Washington state, in towns that are only 20 minutes from each other.
2. However, they didn't meet until 2007, when they played love interests in the movie Take Me Home Tonight.
3. Chris knew Anna was The One soon after they met, but at the time Anna was married to actor Ben Indra.
4. Even though Anna was a married woman, Chris said they developed feelings for each other but never crossed any lines.
5. When hanging out as friends, Chris talked to Anna about his most recent sexual endeavors.
6. He also didn't bother to tidy up his place, and left porn magazines out on display.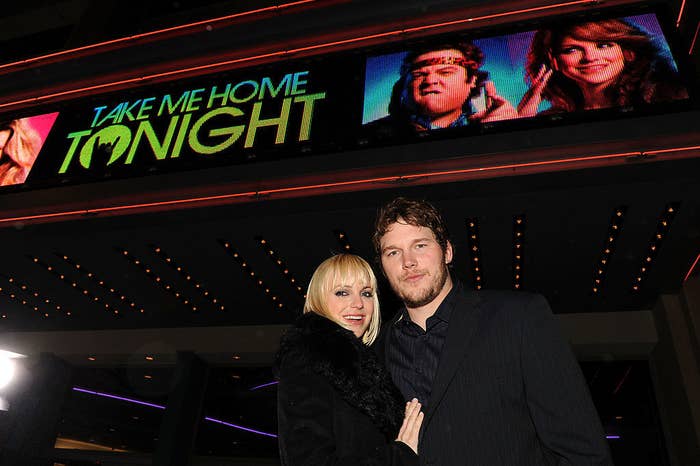 7. In April 2007, on the day Anna told Chris she was leaving her husband, he knew he was going to marry her.
8. When they first started dating, Anna almost cried when she saw a framed African stick bug on a wall in Chris's apartment — not because she was grossed out, but because she'd found a guy who ALSO collects dead bugs.
9. During the dating period, Anna was "crushing so hard" that she lied about wanting to tag along with Chris on hunting outings.
10. They also had a designated day for sexting, known as sex-text Wednesdays, when they would "text each other the naughtiest things."
11. Sadly, sex-text Wednesdays came to an end after Anna almost sent a sext to Chris's then-9-year-old nephew.
12. A few months after getting engaged in late 2008, Chris started rocking a wedding band because if Anna got to wear a ring, he wanted to wear one too.
13. Chris just recently bought Anna a huge new engagement ring but said it was only fair since Anna had gifted him a tractor.
14. Chris and Anna were married on July 9, 2009, in Bali. One of the highlights of their wedding was a "pretty great" fistfight that broke out on the dance floor.
15. In August 2012, Anna gave birth to their first and only child, Jack. He was born nine weeks premature and weighed just 3 pounds, 12 ounces.
16. During the delivery, Chris held Anna's hand and just sobbed.
17. From baby Jack's seventh month to his thirteenth month, Chris saw him only twice because of filming for Guardians of the Galaxy and Jurassic World.
18. And if that's not heartbreaking enough, Jack's first sentence was "Dada's working."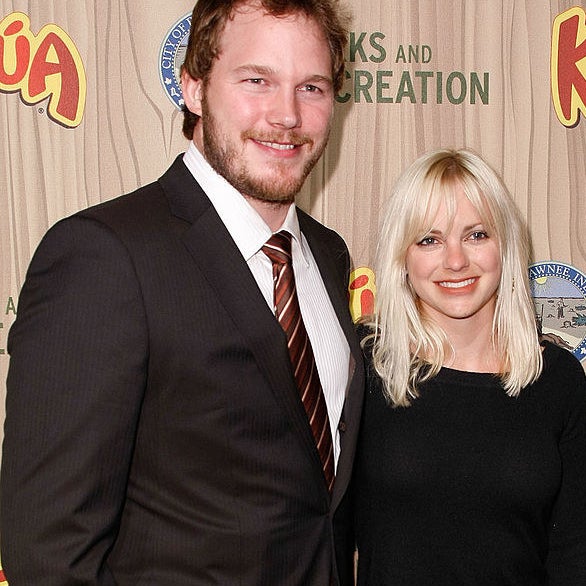 19. Besides growing up in Washington and their mutual love for dead bugs, Anna and Chris have other similarities, like both starting their careers in horror spoofs and playing "guileless nitwits for laughs."
20. Both of them have scars on their left hand — Anna's from falling on a wineglass while filming Just Friends, and Chris's from a kitchen accident.
21. Being native to Washington, it's no surprise they both are huge fans of the Seattle Seahawks. Quarterback Russell Wilson even hooked them up with box seats for Anna's birthday.
22. They also both have parents who were diagnosed with multiple sclerosis. Chris lost his father to the disease in 2014.
23. With so much in common between the two, Chris has said that he and Anna's relationship has made him believe in "divine intervention and destiny."
24. Besides Take Me Home Tonight, Chris and Anna also acted together in 2011's What's Your Number?, 2013's Movie 43, and a 2016 episode of Anna's CBS sitcom, Mom.
25. While filming a kissing scene for Mom, Chris and Anna continued making out despite the director yelling "cut." Chris said it was the most fun he's had on any set.
26. Chris didn't like the way David Letterman treated Anna on his show in 2011. So when Chris was invited to make an appearance in 2013, he went in prepared for a fight.
27. In an episode of Bravo's Top Chef, Chris and Anna described their diet as "meat and potatoes, adventurous, no hummus, big game."
28. Chris partially blamed Anna's cooking for the 40 pounds he put on since they started dating.
29. But after losing 60 pounds for his role in Guardians, both Chris and Anna have admitted to missing "Fat Pratt."
30. The one thing Chris used to do that annoyed Anna was leave his wet towels on the floor. But when she mentioned it on a talk show, he started picking them up.
31. Besides dead bugs, Chris and Anna also have a large selection of good whisky at home.
32. Every time Anna's movie The House Bunny (2008) comes on, Chris makes her watch it with him.
33. Chris once tried to make Anna a mix of sexy, love-making songs, but a few minutes into the CD they agreed the tempo was a bit too slow.
34. Chris has Anna's name programmed into his truck's bluetooth as "Anna, my love."
35. One of their nighttime rituals is Chris braiding Anna's hair before bed.
36. But because sleeping on the braid was damaging Anna's hair, her mom taught Chris how to French braid instead.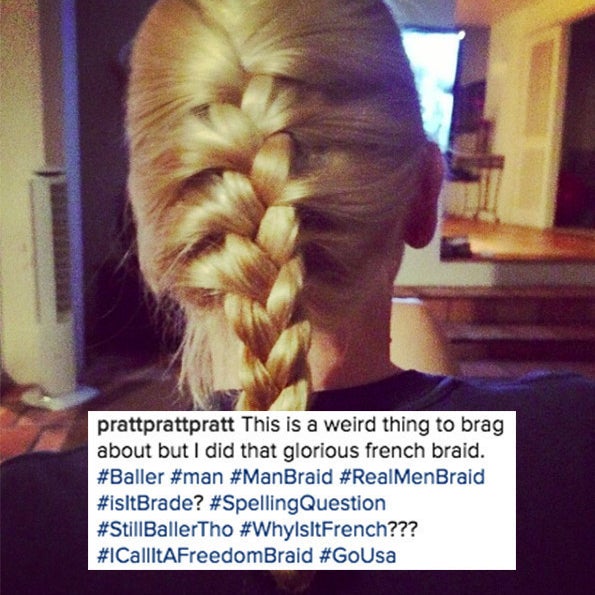 37. Due to their busy schedules, Chris and Anna cherish their time at home being "boring" and doing things like cooking and sitting by the fire with a glass of wine.
38. But when they aren't being homebodies, they like to go on hikes and take Jack to the aquarium or zoo.
39. Anna and Chris believe it's okay to go to bed mad at each other — though Chris makes sure they at least "touch toes."
40. They take at least one moment every day to check in and be present with each other — even if they're not physically together.
41. Maintaining their marriage isn't easy, but their motto is "eye on the prize." And one of those prizes is owning a farm together one day.
💖 💖 💖