London Students "Whited Up" To Highlight Racism In UK Universities
Students at UCL protested at a busy open day, demanding a more diverse curriculum. The demonstration was sparked by the decision to scrap a master's course on the philosophy of race, and the termination of a black academic's position.
"It's about time we talk about race," Malia Bouattia, the National Union of Students blacks students' officer, told me, as we walked through the sun to the Friday afternoon demonstration. "Just look at the statistics and you'll understand why."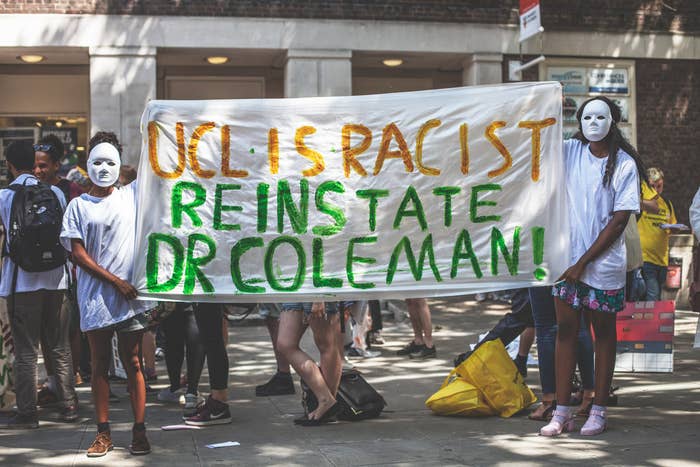 In March 2015, a study by the Runnymede Trust, an independent think tank, found that of the 18,500 professors in the UK, just 85 are black. That's less than 0.5%. Only 17 of those are black women.
"This protest has been sparked by UCL's decision to scrap a new Masters on the Philosophy of Race," Bouattia told me, "and the termination of a black academic's position, responsible for leading this groundbreaking course."
Dr Nathaniel Coleman, who strikes a line through his surname to "highlight the stigmatising expressive meaning" of his name, given to his ancestors by slave owners, had been hired to develop the programme. He was Britain's first research associate in the philosophy of race, and one of just five black philosophy academics in the UK today.
As prospective students and parents made their way through UCL's central London campus for an open day, current students were gathering together across the street, to prepare for their planned disruption.
Students had shown up from from various campaign groups, some calling for a divestment from fossil fuels, others for better student accommodation.
I spoke to those from the "Why Is My Curriculum White?" group, who have been lobbying their University for months now, running events and holding meetings, with the hope of pushing the management to tackle the racism they say they experience every day.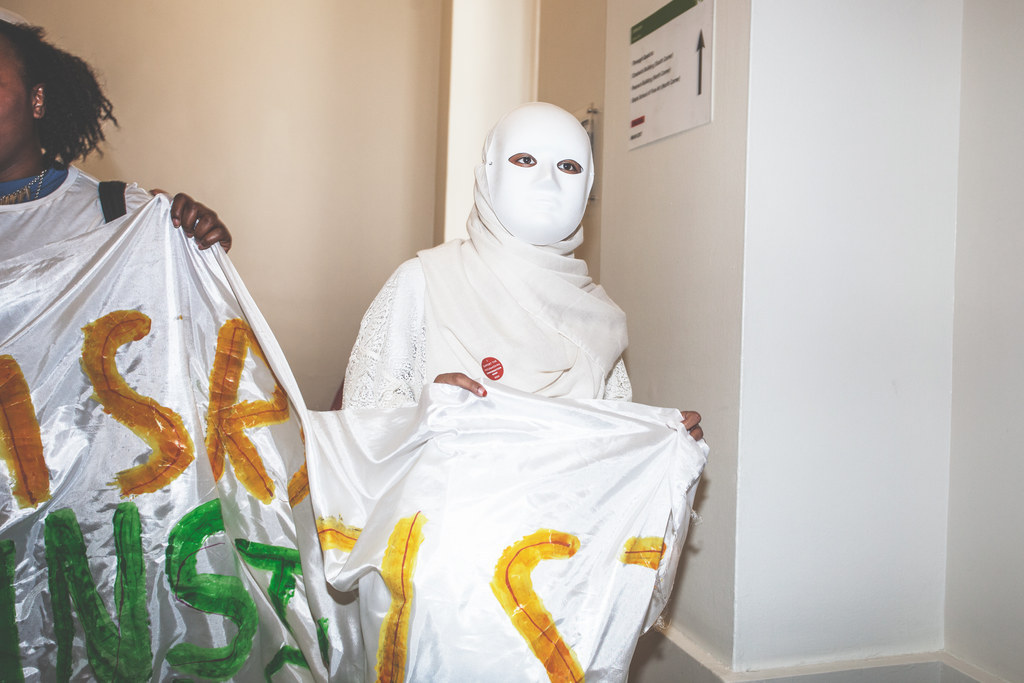 Campaigners argue statistics show universities are failing black students as well. According to the Equality Challenge Unit, there is a "considerable gap" between the proportion of white British students receiving top degree classifications, compared to UK-home students from minority ethnic groups.
In 2012/13, 57.1% of home BME students received a top degree, compared with 73.2% of their white British counterparts; a gap of over 16%. This degree "attainment gap" has remained almost stagnant for years.
"Structural racism," as Bouattia labels it, "is active in many ways, including in our studies – from the content to the form of our education system."
"Black thought is either omitted or misrepresented. We have courses that erase the historical contributions of 80% of the world's people in favour of European thinkers and theories, while attempts at 'diversification' in the curriculum are usually steeped in racism and Orientalism."
As a crowd of around 100 gathered in the heart of Bloomsbury, Areeb Ullah, an officer at King's College Students' Union, was having his face painted white.
"I'm whiting up," he told me, as the paint was applied to his face, "to protest to the way UCL have treated some of its prominent black academics."
"For too long we've had to compromise as a community because our views would not be heard, forcing us to assimilate. Whiting up is a metaphor of the current state of affairs."
This inversion of "blackface", the now condemned act of using paint to imitate black skin, was used as a stunt, as student Hajera Begum explained. "We whited up as a visual metaphor for the many unreasonable compromises a student racialised as BME has to make to succeed, or even survive, in the white power structure that is the British university."
"From the treatment of our black academics, to having your voice completely silenced, and courses that neglect and disrespect our past."
The students were marching to demand a more diverse curriculum that looked at the work and history of black people, as well as for more BME academics, and the opportunity to discuss these issues with the senior management team.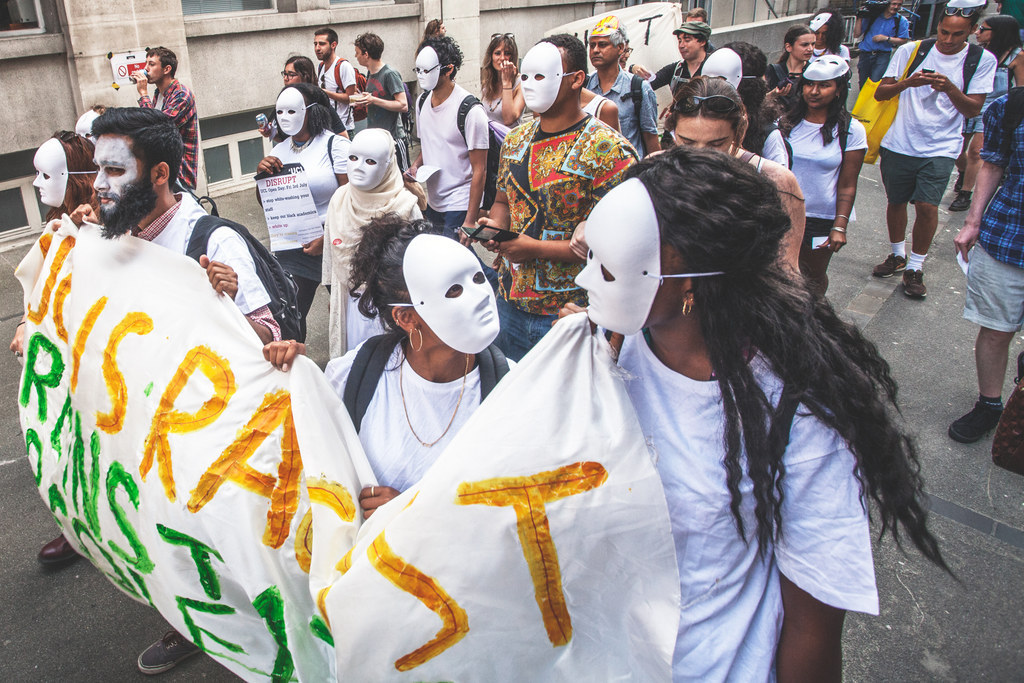 The protest got moving, making its way onto Malet Place, a pedestrianized street that runs through the heart of the UCL campus.
"UCL supports their right to peaceful protest," a spokesperson told me, as guests and fellow students watched the protest march by.
"Our Open Day is a valuable opportunity for potential students and their families to visit the university, and we ask any protestors to respect their right to do this as we respect their right to protest."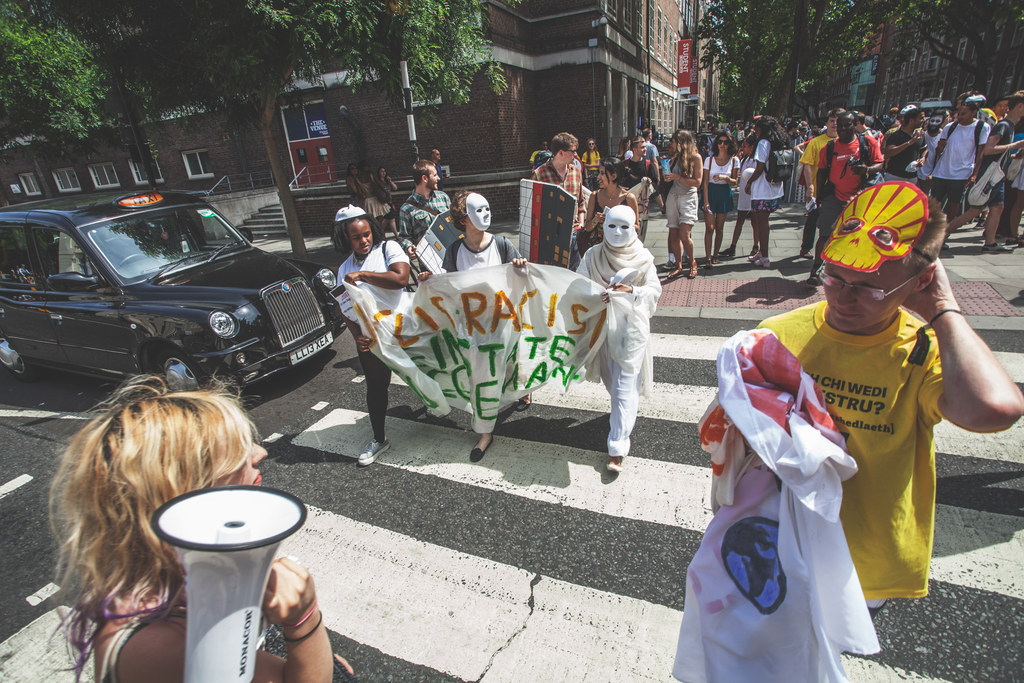 As chants were sung, and klaxons sounded, the protesters filed into a building, past gazebos and stools set out to attract future students.
With the intention of disrupting the open day, in the hope that questions would be asked by visitors, the crowd made their way around the campus, handing out flyers that explained the action too.
Arriving at the university's main square, the protestors took to the steps in front of the iconic Main Building, where the various campaign groups had their say on the microphone.
Down below, a swing band played, as visitors took in the grand architecture. Whilst the band played on, their audience were distracted, as a crowd gathered to hear from the masked up students.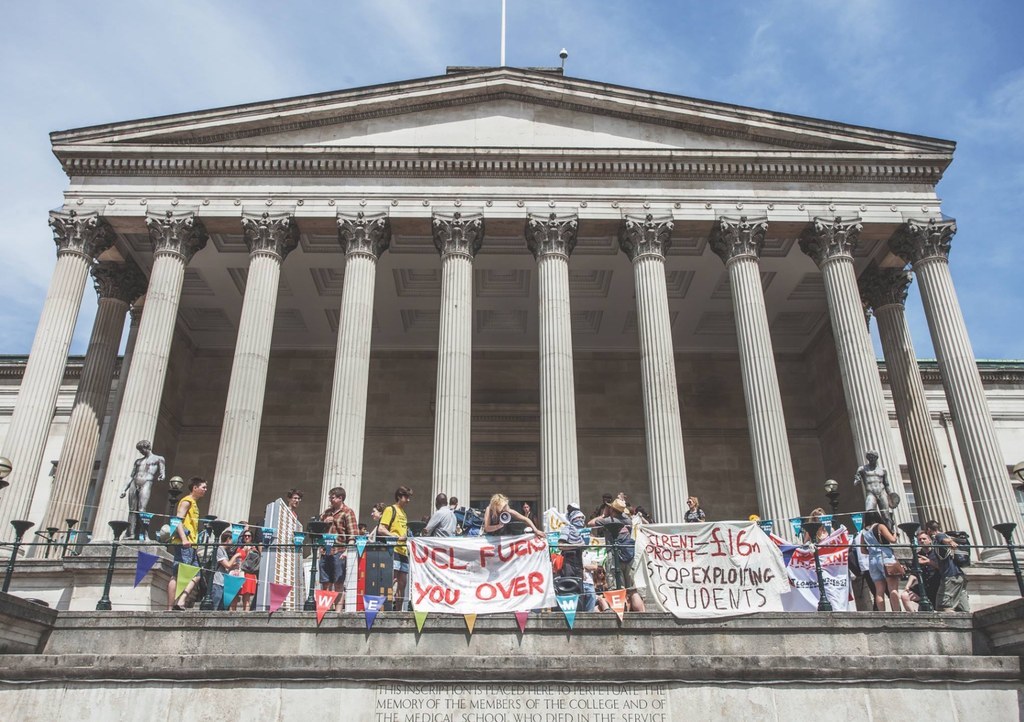 Adam Cooper, a PhD student and member of the NUS Black Students' Campaign, was handed the microphone, before pointing across the quad, over the heads of his impromptu audience.
"Francis Galton, the man who coined the term eugenics, he has a lecture theatre named after him, just over there."
Eugenics, a now discredited "science", argued that black people are genetically inferior to other races. These students argue that in the very fabric of the rooms in which they're learning, including the names of the lecture theatres themselves, a history of colonialism remains alive.
Galton himself, who is widely seen as the father of the subject, once wrote he hoped that Chinese immigrants on the East Cost of Africa would supplant the inferior Negro race."
The lecture theatre, named in his honour, seats 77 students today.
"Not only has UCL attempted to ignore this legacy," shouted an impassioned Cooper, "it has not allowed its students and faculty the space to critically and effectively examine the legacy of eugenics and imperialism."
"We demand courses that represent the so-called global student body, and a faculty who represent global university too."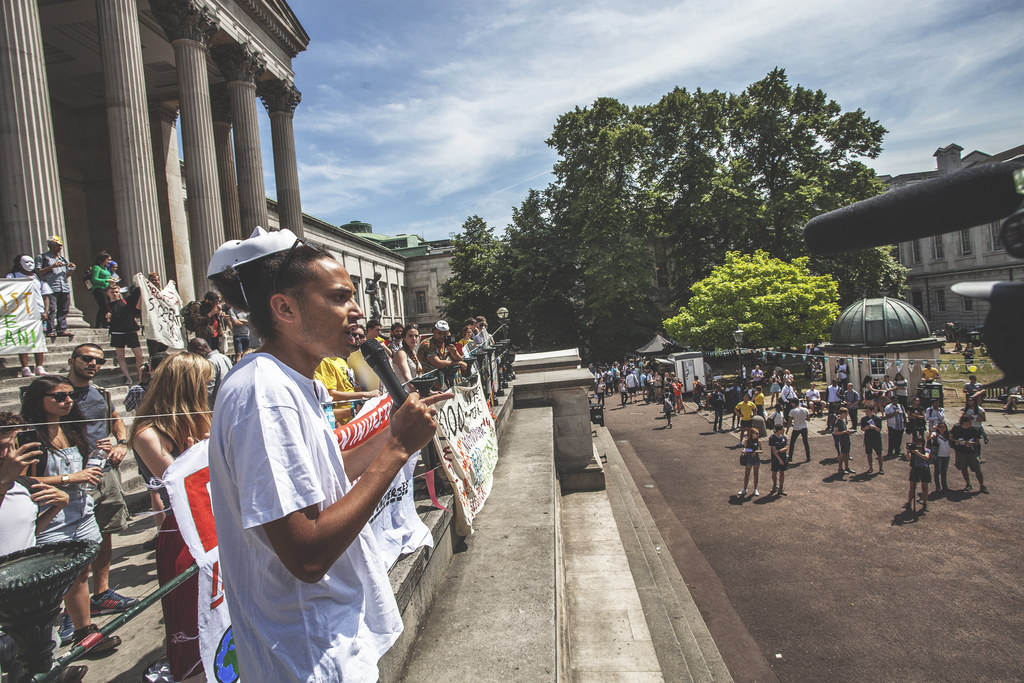 Cooper is no stranger to challenging these issues, having drawn attention to
the Oxford Union, Oxford University's oldest debating society, advertising colonial-themed cocktails in May this year.
As Cooper finished up, the protesters erupted into chants, whilst I asked some of the open day guests what they made of it all.
"I think it's important that we hear from students what life is really like here," pointed out Jessica, a sixth former from London. "I want to know what is really going on, beyond the marketing and shiny brochures."
"I'm definitely going to try and find out more about this eugenics thing. If that lecture theatre is really named after him, well, it's disgusting."
The University dispute that Dr Coleman was let go because of the questions he was asking, or his criticism of "white dominated academia."
Professor Jonathan Wolff, dean of UCL Faculty of Arts and Humanities, told BuzzFeed News: "The programme proposal for the MA (titled Race: Domination and Difference) was rejected because it became apparent that UCL is not yet ready to offer a strong programme in this area."
"This means that a permanent associated job will not be established next year. We are not in a position to extend Dr Coleman's contract, which finishes in September 2015."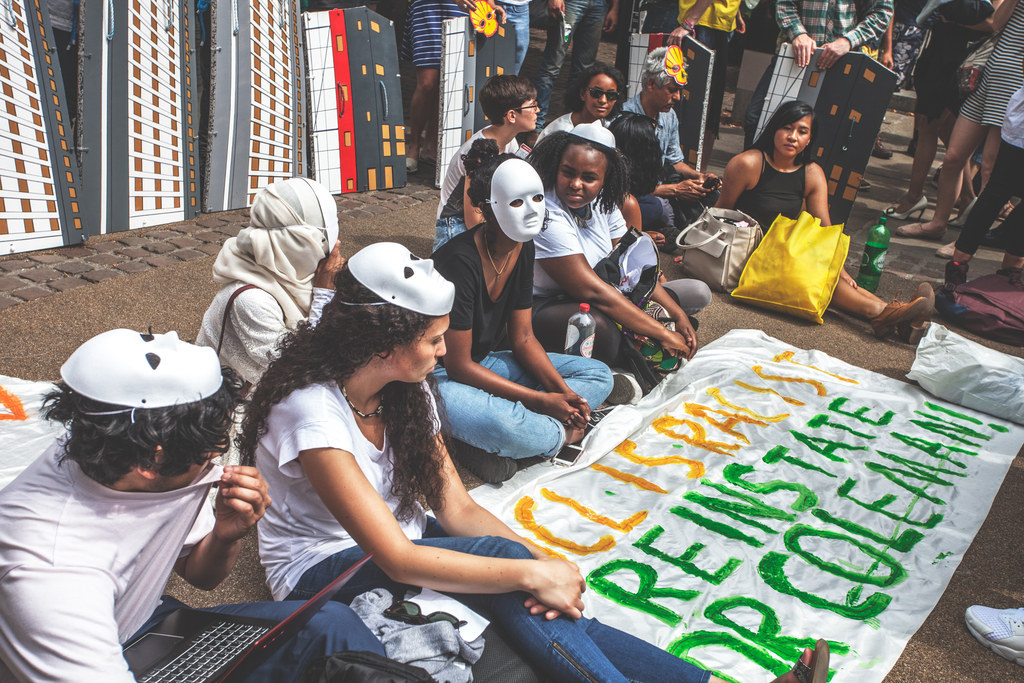 Whilst some campaigners are suggesting there is progress, with Valerie Amos, soon to become the director of the neighbouring School of Oriental and African Studies (SOAS), set to be the first black woman to lead a UK university, they say there's still a long way to go.
Begum, who is also UCL Students' Union's BME officer, explained that her university has now promised to 'liberate the curriculum', by creating a group that will ensure all new courses are more diverse. But she reckons there's a long way to go.
"Yes they have made these promises but there's still a lack of buy in from managers and academics."
"They've turned down a critical race study saying 'we're not ready for it'. Students are ready to take the course, the course material is ready – what are they waiting for? The students who are being failed by the institution can't wait."