Cauliflower Crust Pizza Bites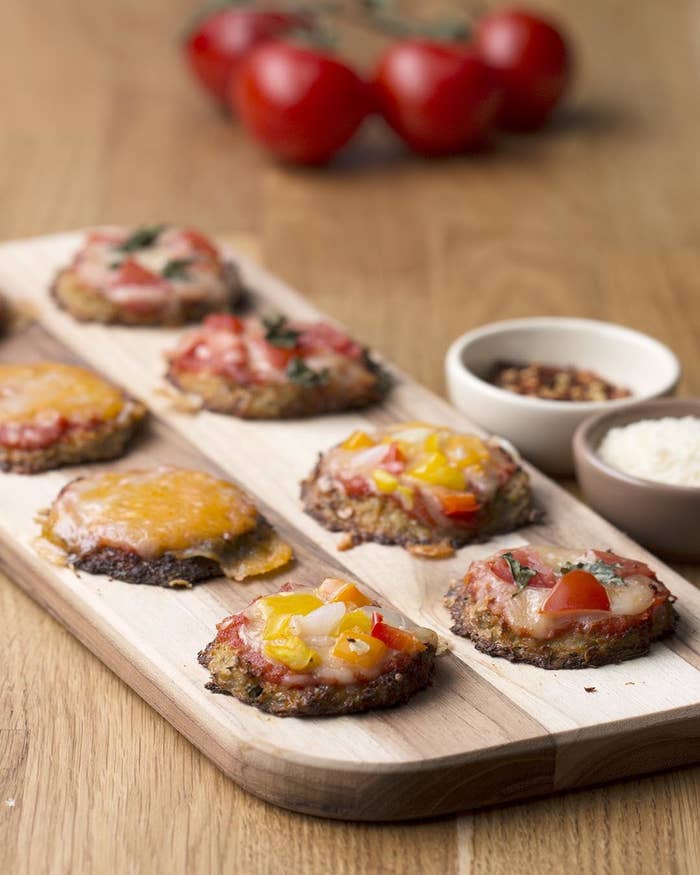 INGREDIENTS
2 heads cauliflower
¼ cup parmesan cheese
1 teaspoon garlic powder
1 teaspoon pepper
1 teaspoon oregano
½ teaspoon red pepper flakes
3 eggs
¼ cup basil
Toppings:
Marinara
Mozzarella
Vegetables of choice
Basil
Any additional cheese of choice
PREPARATION
1.Preheat oven to 350°F/180ºC.
2.Grate the cauliflower into a large bowl.
3.Sprinkle salt over cauliflower and mix together. Set aside for 20 minutes while salt draws moisture out of cauliflower.
4.Pour the cauliflower out onto 2 paper towels. Wrap up the shredded cauliflower and wring it out to drain the excess moisture from the cauliflower.
5.Transfer the cauliflower to a large mixing bowl. Combine the remaining ingredients with cauliflower and mix.
6.On a prepared baking sheet, form little circular pizza crusts with mixture, about ¼ inch thick.
7.Bake for 25- 30 minutes.
8.Spoon marinara and mozzarella onto each crust, top the rest with whatever toppings you like.
9.Bake for 5-7 additional minutes (until cheese is melted).
10.Enjoy!