Spinach Artichoke Dip Onion Rings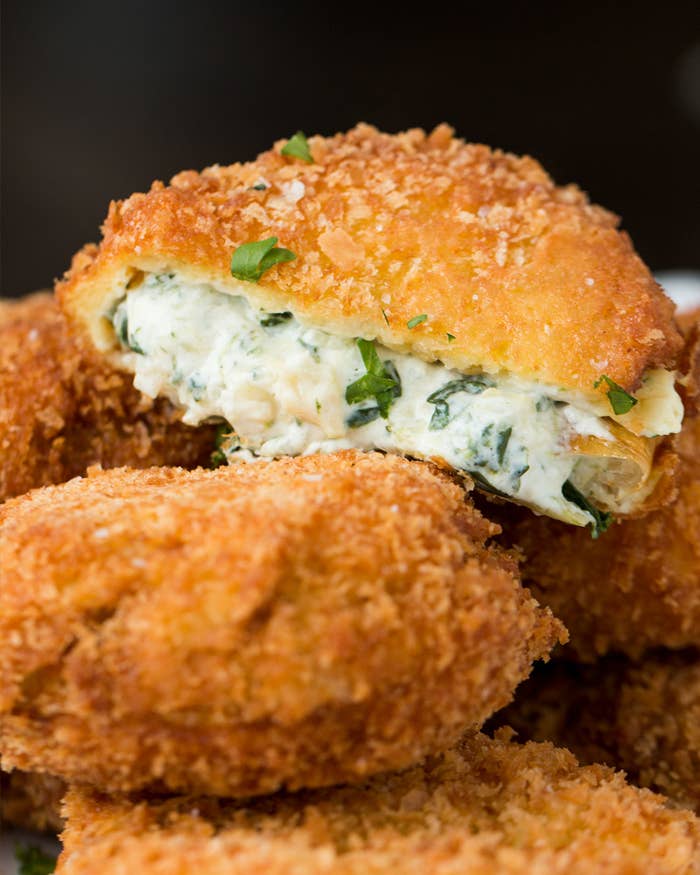 INGREDIENTS
Servings: 10-12 rings
1 clove garlic, minced
5 ounces fresh spinach
16 ounces cream cheese
14 ounces artichoke hearts
1 cup shredded mozzarella
1 white onion
1 cup flour
5 eggs, beaten
3 cups panko bread crumbs
Oil, for frying
Salt & pepper to taste
PREPARATION
1. In a skillet, heat a tablespoon of oil and saute garlic and spinach until spinach is wilted.
2. In a bowl, beat the cream cheese until smooth. Add cooked spinach, artichoke hearts, mozzarella, salt, and pepper.
3. Peel and slice the onion into ½ inch rings, and detach the rings from each other.
4. On a wax paper–lined tray, lay out onion rings and fill each with dip mixture. Place tray in freezer until solid (about one hour).
5. Preheat oil in a pot over medium heat to 350℉/180˚C.
6. Place the flour, eggs, and breadcrumbs into three separate bowls.
7. Dip a ring into the flour, shaking off excess, then dip it into the egg, the bread crumbs, then back into the eggs, and one last time into the breadcrumbs.
8. Repeat with the remaining rings.
7. Fry the rings for 5-6 minutes, until deep golden brown.
8. Drain on a paper towel, then serve and enjoy!
Want BuzzFeed Tasty right in your inbox? Sign up for our newsletter!