Spinach Artichoke Pull-Apart Bread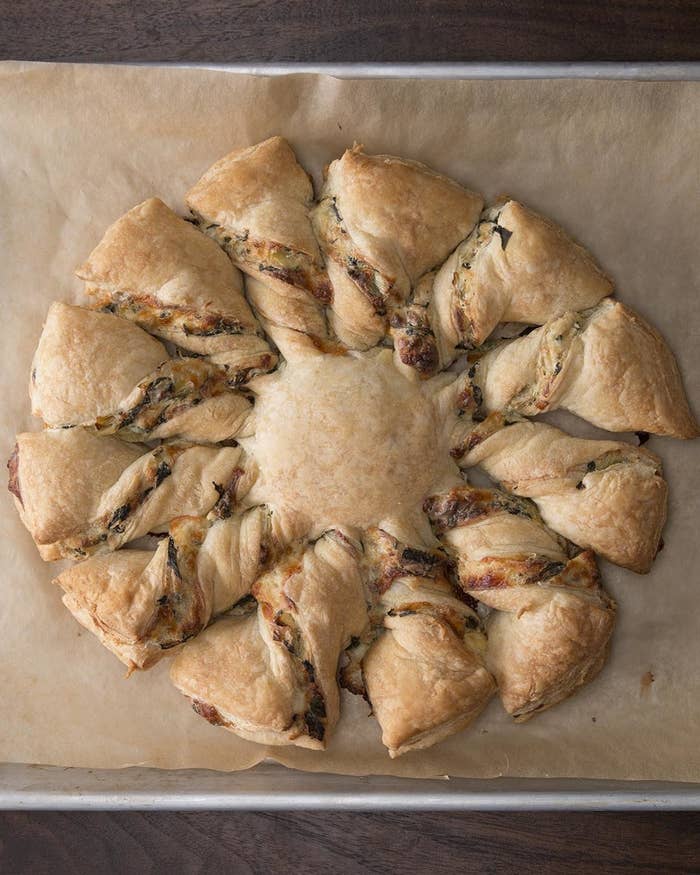 INGREDIENTS
Servings: 6-8
2 sheets of puff pastry, thawed
8 ounces cream cheese, softened
14 ounce can (about 1½ cups) artichoke hearts, drained and chopped
3/4 cup spinach, cooked and drained of excess water (or frozen and thawed)
1/4 cup sour cream
1/2 cup grated parmesan cheese
1/2 cup shredded mozzarella cheese
2 teaspoons garlic powder
1 teaspoon salt
1 teaspoon pepper
½ teaspoon red pepper flakes
1 egg, beaten
PREPARATION
1. Preheat oven to 400ºF/200ºC.
2. In a large bowl, combine cream cheese, artichoke hearts, spinach, sour cream, parmesan, mozzarella, garlic powder, salt, pepper, and red pepper flakes.
3. Place the two sheets of puff pastry on a parchment paper-lined baking tray.
4. Using a dinner plate as a guide, cut out equal size circles from both sheets.
5. Remove the top sheet.
6. On the bottom sheet, spread spinach artichoke mixture.
7. Lay the other sheet of puff pastry on top.
8. Take a glass and place it in the center of the circle.
9. Using a knife, cut away from the edge of the glass to create 12 equally spaced strips.
10. Take each strip and twist.
11. Brush with beaten egg.
12. Bake at 400°F/200°C for 30 minutes, or until golden.
13. Enjoy!
Want BuzzFeed Tasty right in your inbox? Sign up for our newsletter!