4 BBQ Recipes For Your Vegetarian Friends (That Everyone Will Love!)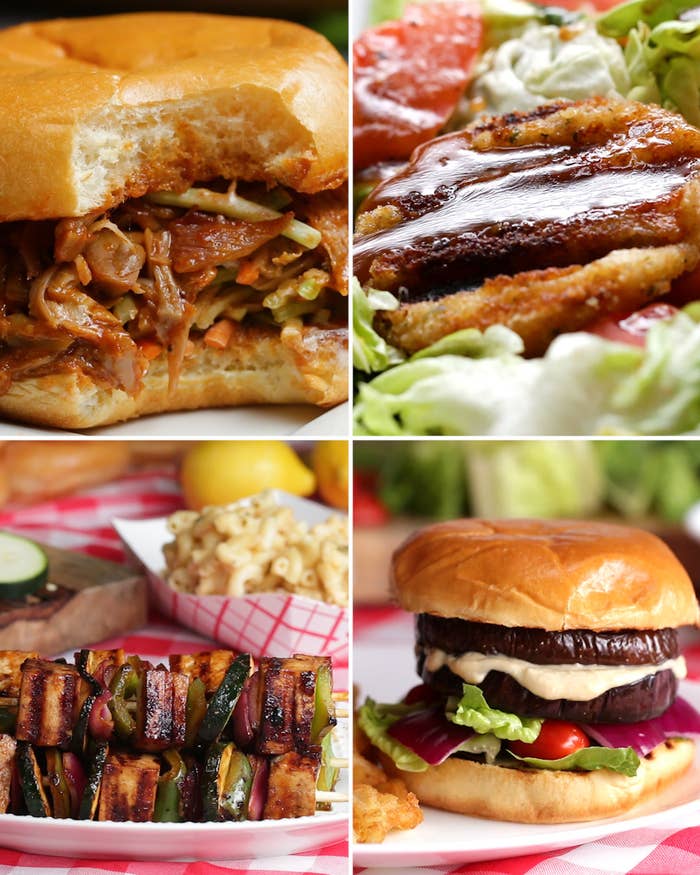 Vegan Pulled Jackfruit
INGREDIENTS
2, 20-ounce cans young green jackfruit, in brine or water
1 tablespoon olive oil
½ yellow onion, sliced
3 cloves garlic, minced
1 teaspoon chili powder
1 teaspoon paprika
1 teaspoon cumin
1 teaspoon liquid smoke
1 teaspoon salt
1 teaspoon pepper
1 cups vegetable stock
¾ cup vegan BBQ sauce
Red onion, sliced, to serve
Tomato, sliced, to serve
Lettuce leaves, to serve
Burger buns, to serve
PREPARATION
1. Preheat your oven to 400ºF (200ºC).
2. Drain and rinse the jackfruit, then cut the jackfruit into smaller pieces, removing the core.
3. Add the olive oil, onions, garlic, salt, and pepper to a large frying pan or skillet over medium-high heat. Sauté until the onions are tender and become translucent.
4. Add the jackfruit, chili powder, paprika, cumin, liquid smoke, salt, pepper, and liquid smoke, and stir.
5. Add the vegetable stock, cover, and cook another 10-15 minutes, until the jackfruit is soft enough that it can be mashed.
6. Mash the jackfruit with potato masher or a couple of forks, until it looks pulled or shredded.
7. Spread an even layer of pulled jackfruit across a parchment paper-lined baking sheet and then bake for 25 minutes.
8. Remove from oven and pour over the vegan BBQ sauce and stir to combine. 9. Back in the oven for more 10 minutes.
10. Build your burger, top with dressings of your choice.
11. Enjoy!
Grilled Smoked-Mozzarella Salad With Balsamic Vinaigrette
INGREDIENTS
1 tablespoon Dijon mustard
1 tablespoon honey
1 teaspoon salt
1 teaspoon pepper
1 cup oil
½ cup balsamic vinaigrette
1½ pounds smoked mozzarella
3 tablespoons olive oil
1 cup breadcrumbs
PREPARATION
1. Combine Dijon mustard, honey, salt, pepper, oil, and balsamic vinaigrette in a small bowl and stir to combine.
2. Slice the mozzarella into ¼-inch slices and toss them with olive oil in a bowl.
3. Press each slice into the breadcrumbs to fully coat the entire surface.
4. Lay the slices out on a parchment paper-lined baking sheet and freeze for about 30 to 45 minutes.
5. Cook each slice in a pan or grill about 2 minutes each side until breadcrumbs are golden and grill marks appear.
6. Transfer each slice onto your salad and top with salad dressing.
7.Enjoy!
Inspired by the recipe here
Tofu & Vegetable Skewers
INGREDIENTS
½ cup water
¼ cup maple syrup
3 tablespoons soy sauce
2 tablespoon BBQ sauce
1 tablespoon oil
1 tablespoon garlic powder
1 tablespoon Sriracha
1 teaspoon black pepper
15 ounce firm-extra firm tofu
Peppers
Onions
Zucchini
PREPARATION
1. Soak wooden skewers in a shallow dish filled with water to prevent burning.
2. Place tofu on a paper towel-lined plate. Top with another paper towel and another plate. Microwave for 3 minutes.
3. Slice tofu into 9-12 cubes and set aside
4. Combine water, maple syrup, soy sauce, BBQ sauce, oil, garlic powder, 5.Sriracha, and pepper then stir.
6. Place tofu in the marinade and refrigerate for at least 1 hour.
7. Heat marinade over a low heat and cook for about 10 minutes, until it reduces and thickens.
8. Assemble skewers, alternating between tofu and veggies.
9. Heat a pan or grill and cook each skewer for 3-4 minutes per side.
10. Enjoy!
Eggplant & Hummus Burger
INGREDIENTS
Hummus
1, 15-ounce can chickpeas, drained and rinsed
2 cloves garlic
¼ cup olive oil, plus more for serving
Juice of 1 lemon
2 tablespoons tahini
1 teaspoon ground cumin
Salt, to taste
Burger
1 eggplant
¼ cup olive oil
1 teaspoon paprika
½ teaspoon garlic powder
½ teaspoon red pepper flakes
½ teaspoon salt
½ teaspoon pepper
2 hamburger buns
Lettuce leaves, to serve
Red onion, sliced, to serve

PREPARATION
1. Combine chickpeas, garlic, lemon juice, tahini, cumin, and salt in a blender and blend until smooth.
2. Slice eggplants into four 1-inch slices. Sprinkle eggplant slices with salt and let sit for 20-30 minutes, then pat dry.
3. In a small bowl, stir together oil, paprika, garlic powder, red pepper flakes, salt, and pepper.
4. Brush each side of the eggplant slices with the oil and spice mixture.
5. Heat a pan or grill on medium-high heat and cook each eggplant slice for 3-4 minutes per side.
6. Build your burger with the hummus sandwiched between two eggplant slices.
7. Enjoy!