Freezer-Prep Breakfast Burritos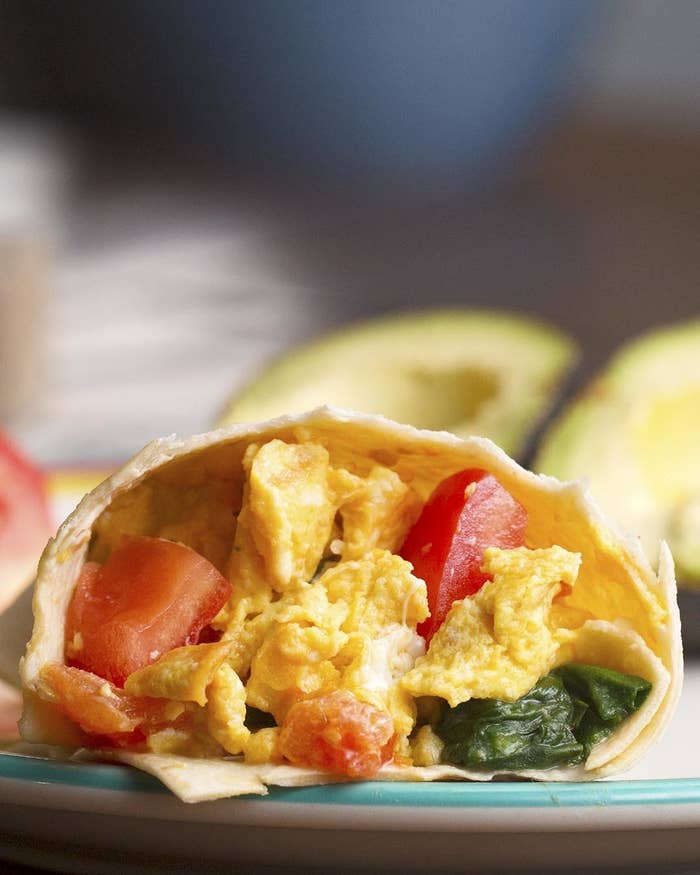 INGREDIENTS
Servings: 8-10
For the scramble:
1 tablespoon oil
5 cloves garlic, minced
14 ounces tofu, broken up
1 teaspoon turmeric
1 teaspoon paprika
½ teaspoons red pepper flakes
¼ cup nutritional yeast
¼ cup vegetable stock
Hot sauce, optional
Burritos
Tortillas
Onions, diced and cooked, optional
Spinach, cooked, optional
Tomatoes, sliced and cooked, optional
Black beans, optional
Peppers, chopped and cooked, optional
Mushrooms, chopped and cooked, optional
Plant-based meat alternatives, cooked, optional
Pinto beans, optional
Potatoes, chopped and cooked, optional
Sweet potatoes, chopped and cooked, optional
Corn, optional
PREPARATION
1. In a medium pan, add oil and garlic and cook until garlic is lightly browned. Add tofu by pulling pieces off to produce the full "scramble" effect.
2. Add the turmeric, paprika, red pepper flakes, and nutritional yeast and stir to combine.
3. Add the vegetable stock and cook until absorbed in the tofu.
4. Drizzle with hot sauce if you desire.
5. Spoon some of the scramble in the center of a tortilla and add any fillings you would like. Leave plenty of room on the ends otherwise food will spill out once it's folded up. Fold the left and right sides of the tortilla in toward the center, then roll the bottom (the end nearest you) up towards the top.
6. Dampen a paper towel and wrap it around the burrito, mimicking the fold of the burrito itself. Do the same with parchment paper.
7. Place your burritos in a plastic bag and freeze until breakfast (safe up to 1 month).
8. When you are ready to eat, take one of the burritos out, remove parchment paper and microwave burrito (still in paper towel) in the microwave for 3 minutes.
9. Allow to cool for 1 minute.
10. Enjoy!
Inspired by:
http://www.emilieeats.com/freezer-vegan-breakfast-burrito/
http://damndelicious.net/2016/08/10/freezer-breakfast-burritos/
http://www.thekitchn.com/how-to-make-freezer-friendly-breakfast-burritos-234556