Chili = the ultimate winter comfort food.
It tastes good, is good FOR you, and is incredibly easy to make. If you can cut vegetables, turn on a stove, and toss things in a pot, you can make this.
Our recipe starts with a protein-packed base of lean turkey, kidney beans, and vegetables — that's kicked up with chili powder, salt, and pepper. It's hearty and delicious on its own, but you can also top it with extra cheddar, sour cream, or anything else you'd like.
Here are the ingredients: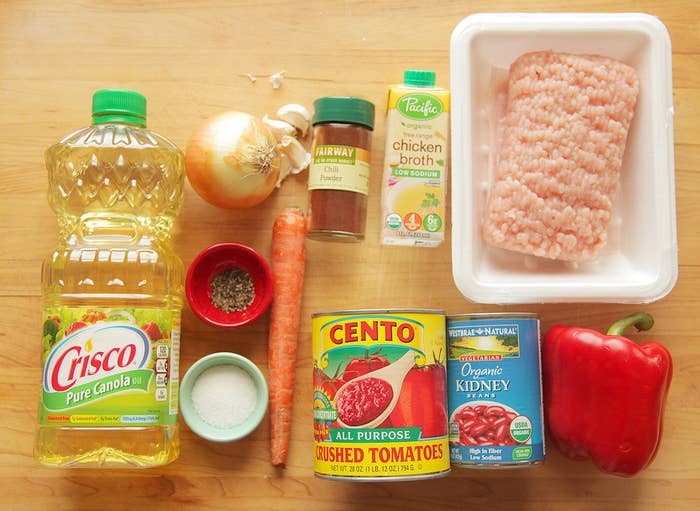 First, peel and slice the garlic: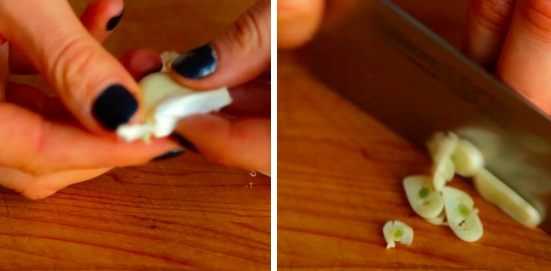 Then peel and chop the onion...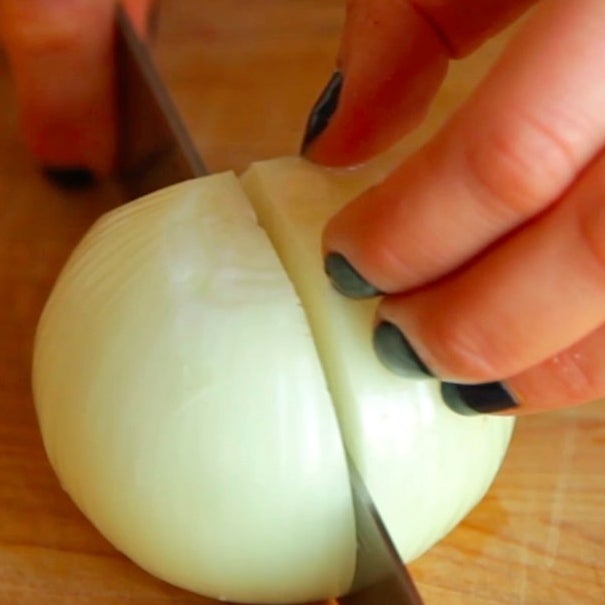 Cut it in half from root to tip, then lay each half flat-side-down.
Make 3 or 4 slices crosswise, and 4 or 5 cuts lengthwise...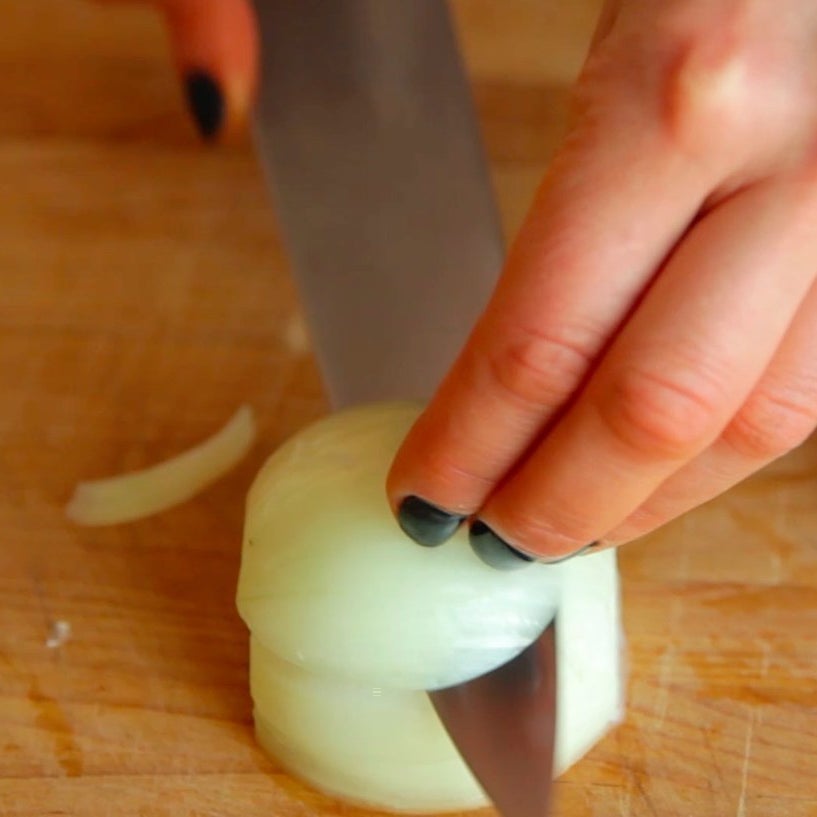 Think of it as an ~onion grid~, and do this with both halves.
Then, when you chop across, you'll have diced onions: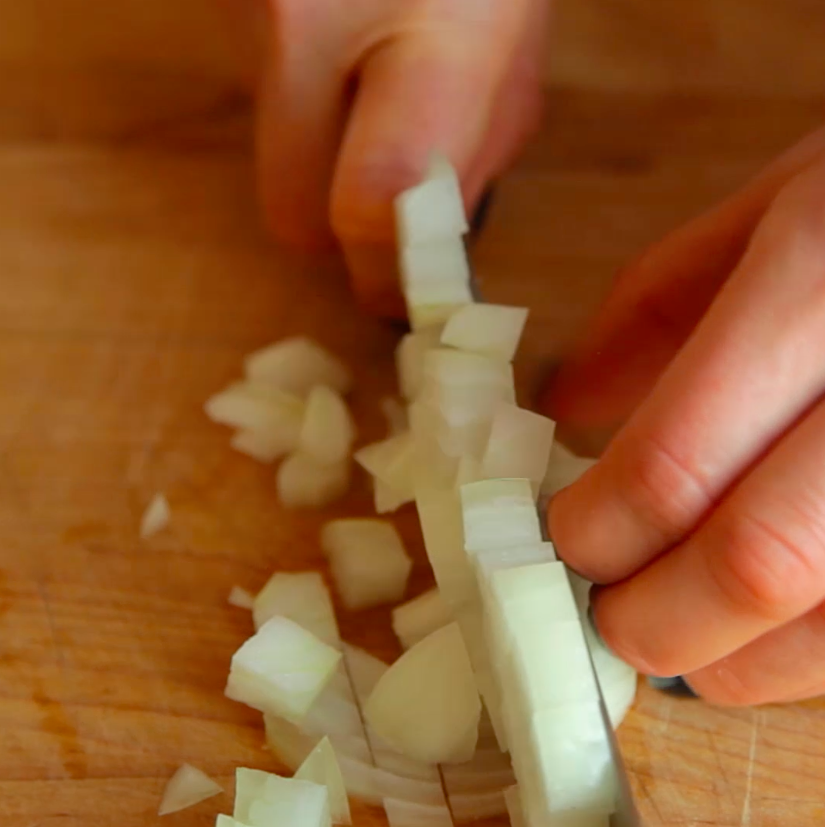 Next, peel and slice the carrot: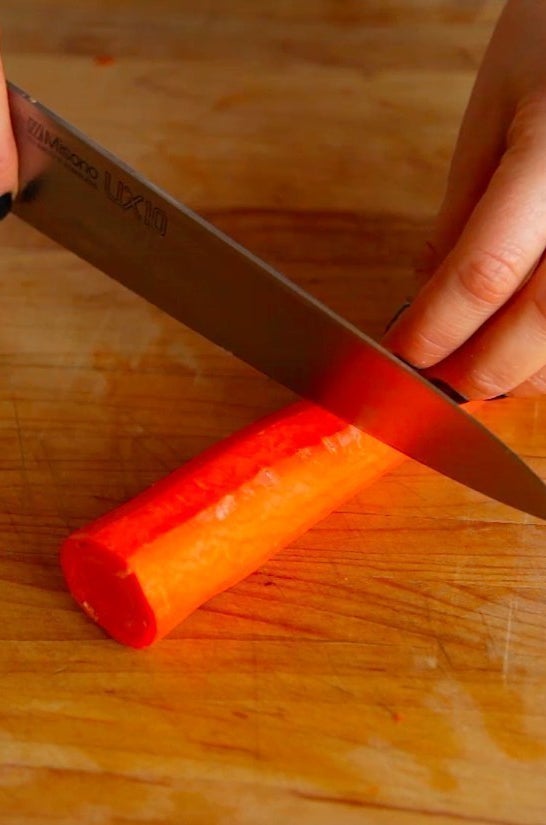 Halve it, lay it flat side down, then slice it.
Then deal with the red pepper: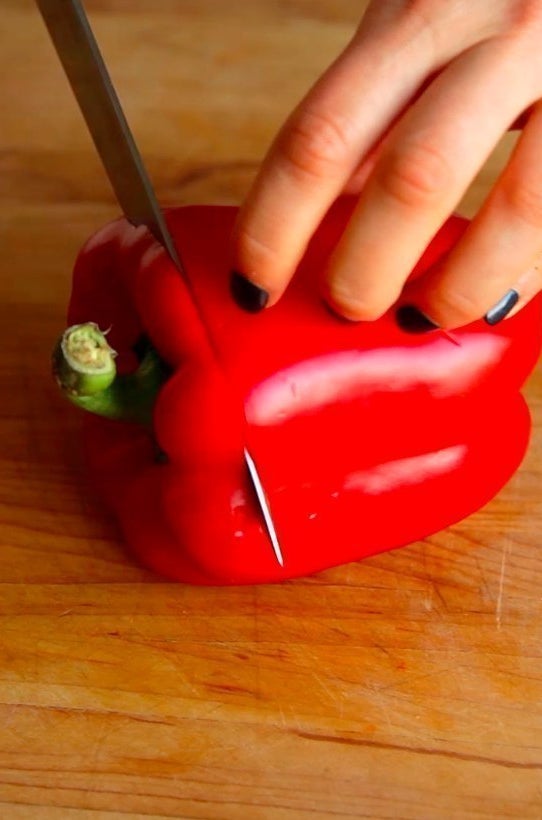 Slice the top off, and pull out the white, seedy insides. Then slice the pepper in half, and use your knife to trim off any of the extra tough, white insides that might remain.
Slice the pepper into strips, then into chunks: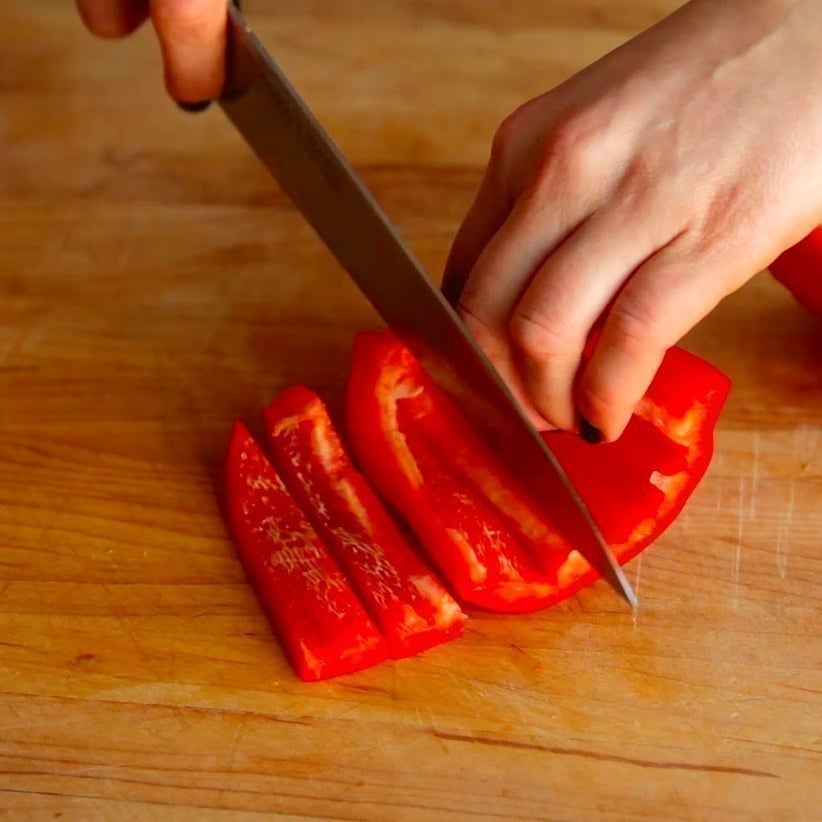 It doesn't have to be perfect, but try to make the chunks roughly the same size as the carrots if you can — so that everything cooks evenly. (And with that, your veggie prep is done.)
Next, heat the oil in a large pot over medium heat, and add the onion:
Then the garlic: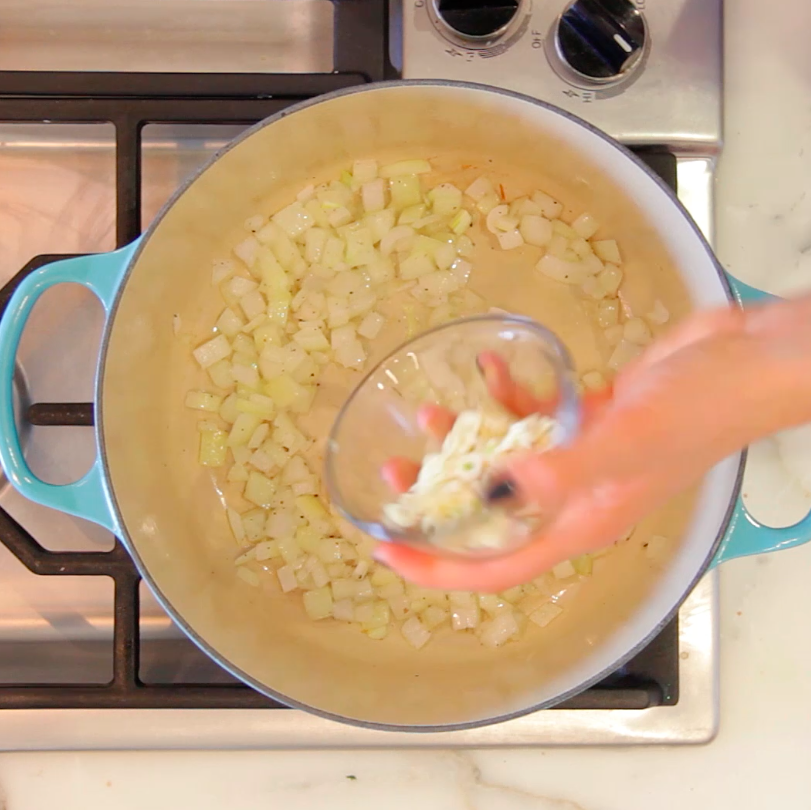 Then the ground turkey and chili powder — and more salt and pepper to season it.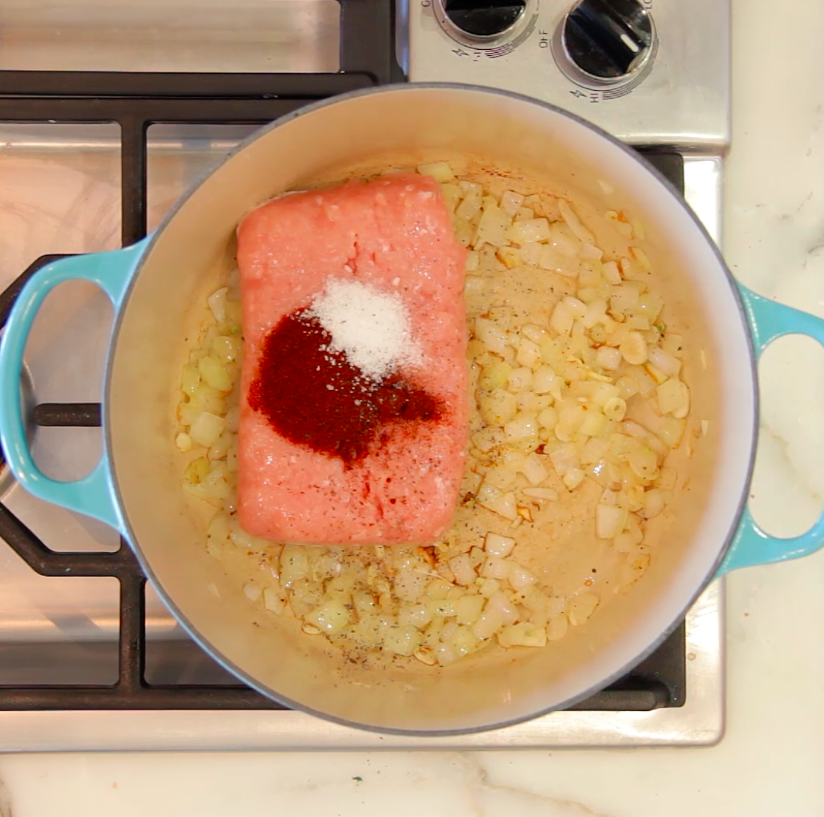 Use your spoon to break up and brown the turkey, and evenly distribute the seasoning.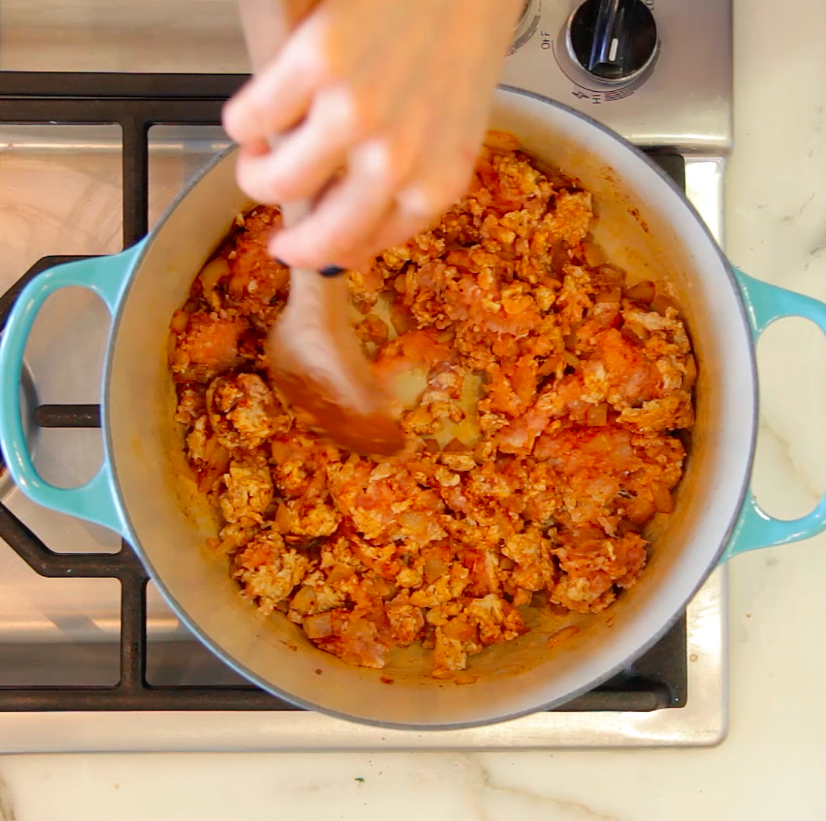 Once the turkey is slightly browned, add the red pepper and carrot.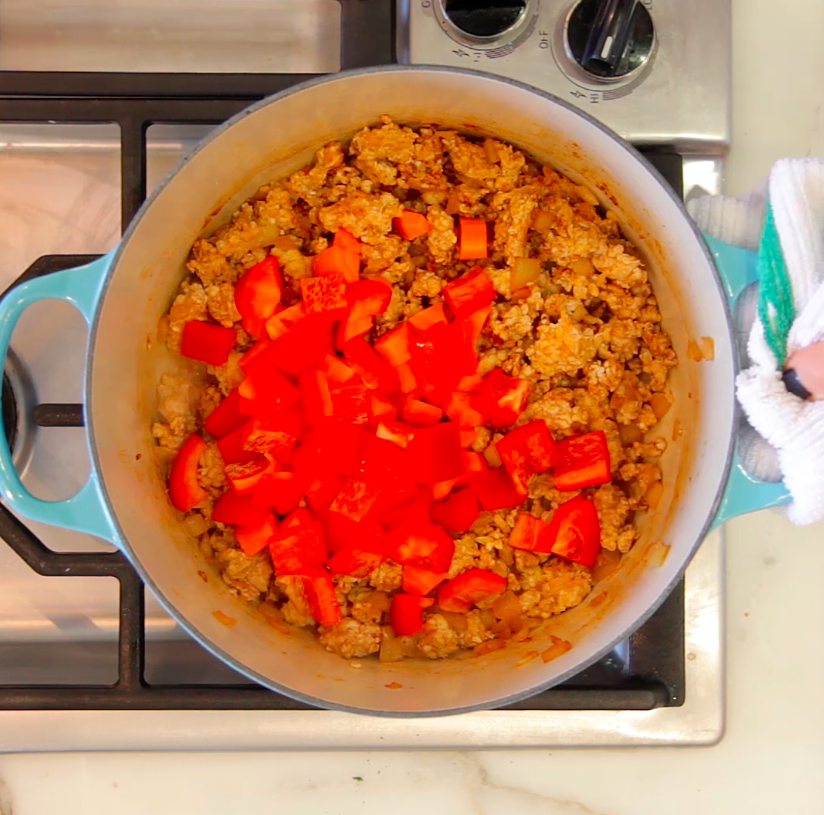 The beans...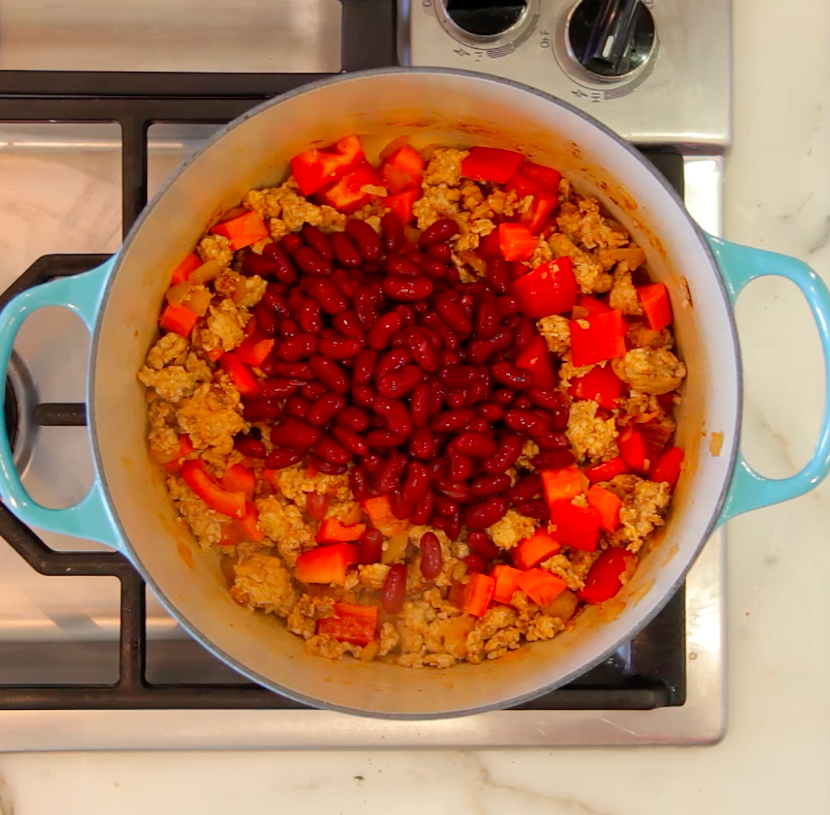 The tomatoes and broth...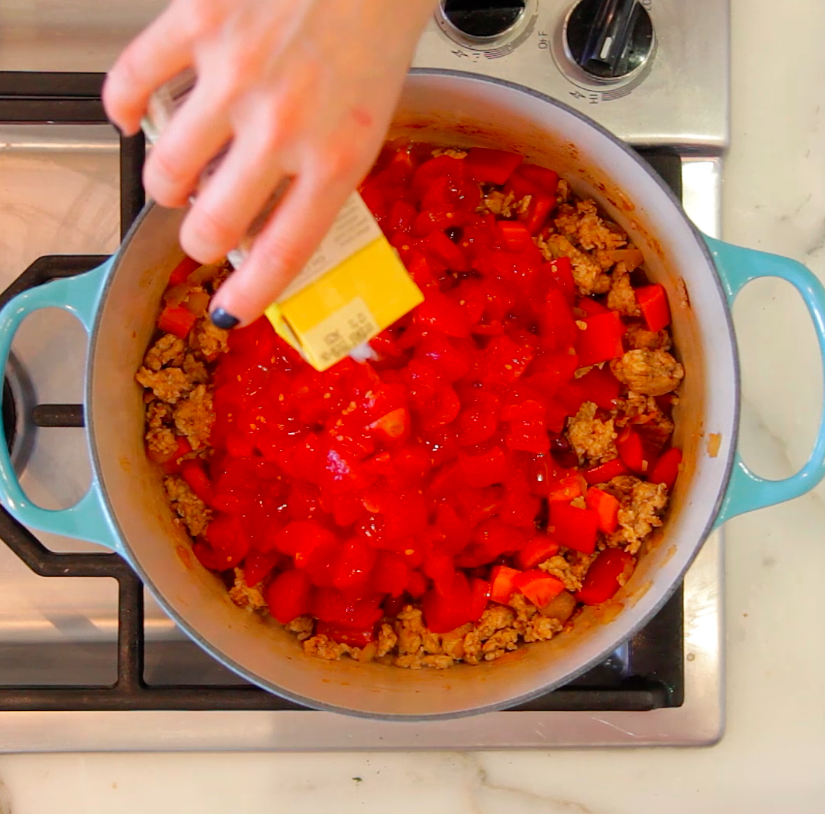 And last, more salt and pepper. Then bring the whole thing to a boil.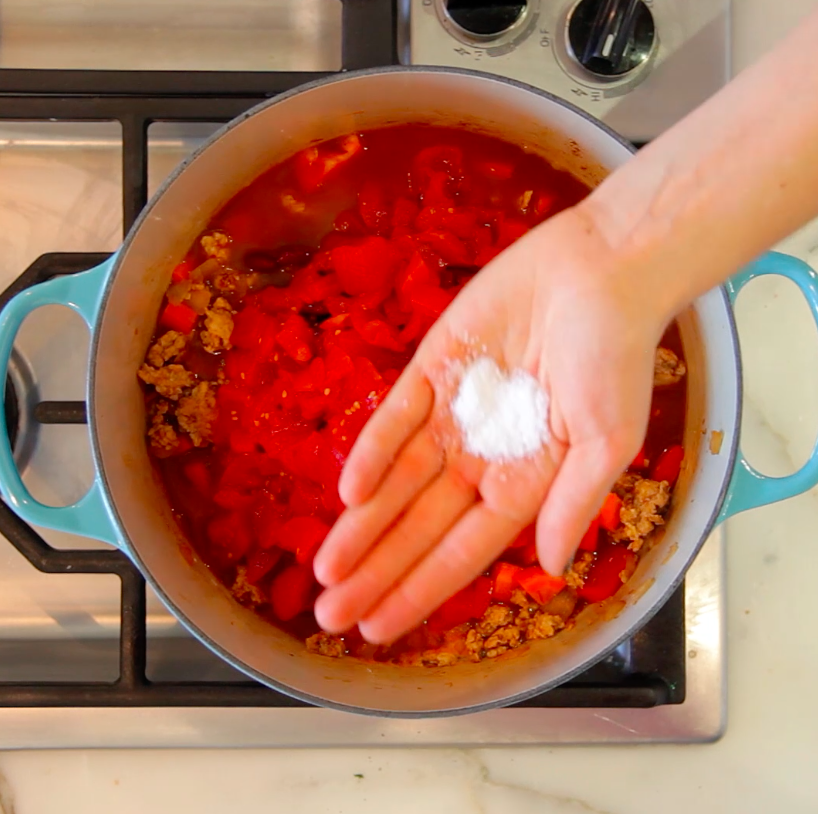 Once the chili is boiling, reduce the heat to a simmer and let it cook uncovered for an hour.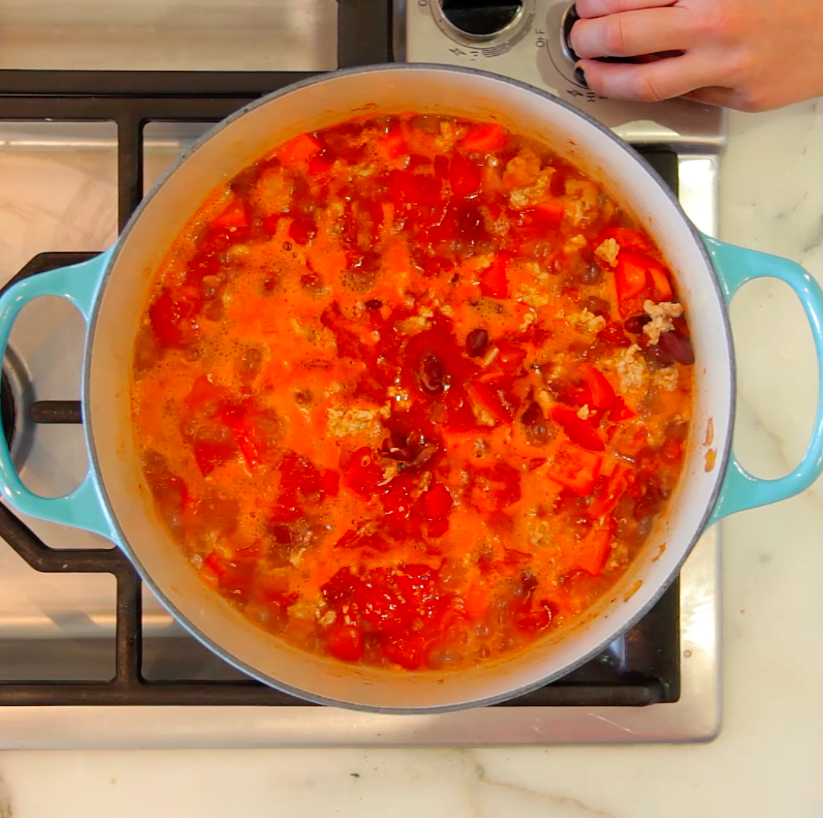 After an hour, give it a taste — add more salt and pepper if you need to — and grab your favorite toppings: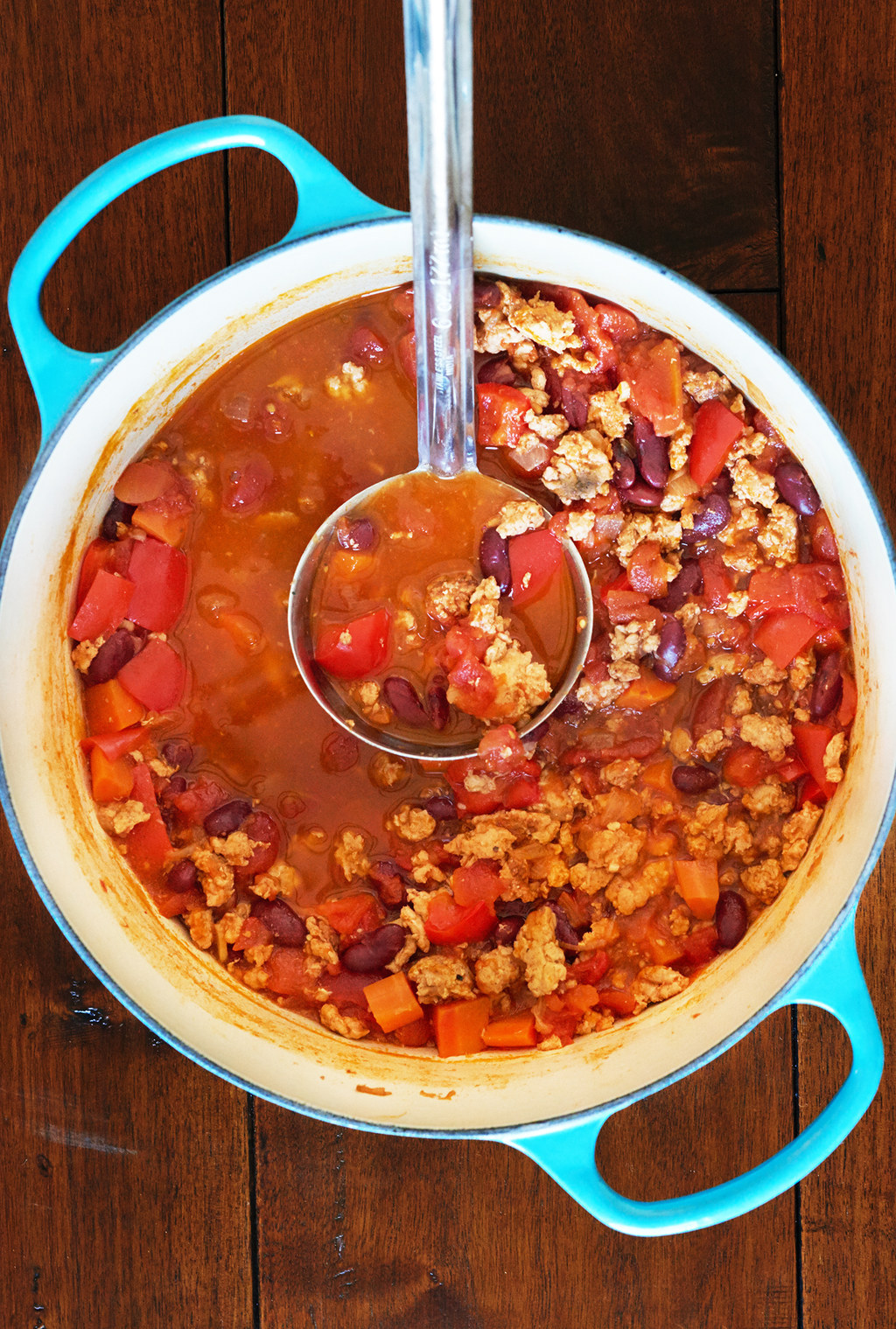 And feast!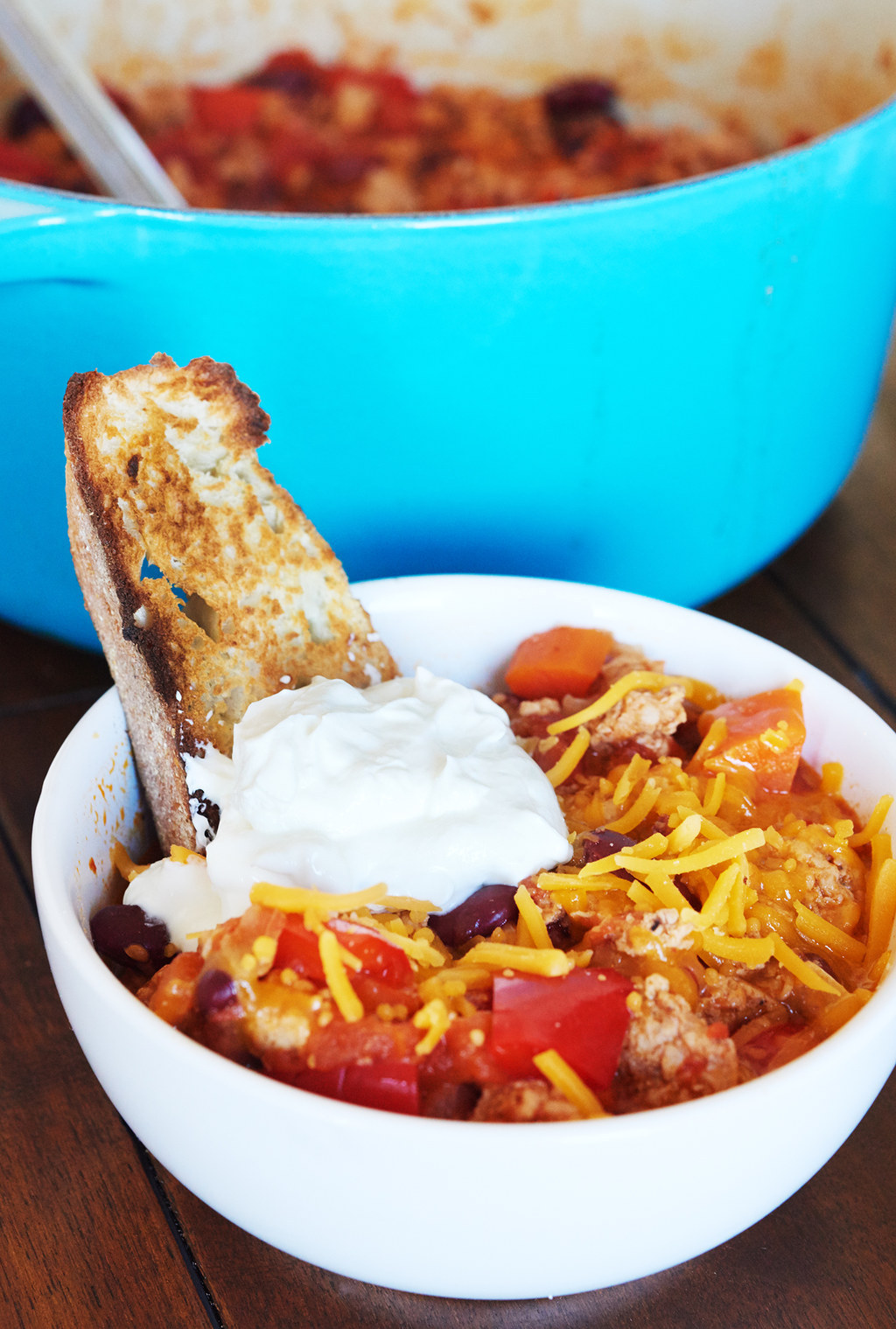 Classic One-Pot Turkey Chili
Recipe by Christine Byrne
Makes 6 servings
INGREDIENTS
1 Tbsp. olive oil or canola oil
Medium yellow onion, chopped
Kosher salt and freshly ground pepper
4 cloves garlic, peeled and thinly sliced
1 lb ground turkey (90% lean is best)
1 Tbsp. chili powder
Medium carrot (about ¼ pound), peeled and chopped
Medium red bell pepper (about ¼ pound), cored and chopped
15-oz can kidney beans, drained and rinsed
28-oz can chopped tomatoes
1 cup low-sodium chicken broth
TO GARNISH (optional)
Bag shredded cheddar cheese
Baguette, for dipping
Container sour cream
PREPARATION
Heat the oil in a large pot over medium heat. Add the onion, season with salt and pepper, and cook, stirring occasionally, until the onion is just starting to soften, about 2 minutes. Add the garlic and cook, stirring often, just until the garlic is fragrant, about a minute.
Add the ground turkey, chili seasoning, and more salt and pepper. Use a spoon to break up the turkey and coat it evenly with the chili seasoning. Cook, stirring occasionally, until the turkey is lightly browned, about 4 minutes.
Add the carrot and red bell pepper, stir everything together, and cook just until the red pepper is starting to soften, about 2 minutes. Add the kidney beans, chopped tomatoes, and chicken broth, season with more salt and pepper, stir, and turn the heat up to bring the mixture to a boil. Reduce the heat to a simmer and cook, uncovered, for 50 to 60 minutes, until the chili has thickened and all the vegetables are soft.
Serve with cheddar, crusty bread, and sour cream, if you want. Let the leftovers cool completely before storing in an airtight container in the fridge or freezer.