One-Pot Pesto Chicken Pasta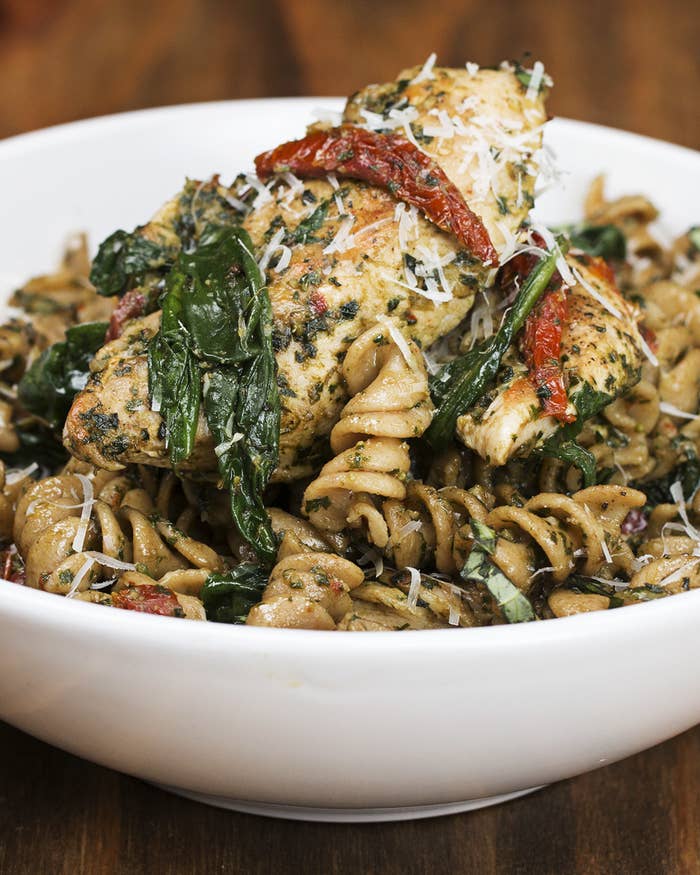 Here's what you'll need:
For the pesto:
* 1 clove garlic, minced
* 4 ounces fresh basil, roughly chopped
* ¼ teaspoon salt
* ¼ teaspoon black pepper
* 2 tablespoons walnuts
* 3 ounces olive oil
* 4 tablespoons fresh parmesan cheese
* 1 tablespoon olive oil
* 1 pound boneless, skinless chicken breast tenders
* 3 cloves garlic
* 2 cups low-sodium chicken broth
* 4 ounces sun-dried tomatoes (drained)
* 8 ounces whole wheat pasta
* ¼ teaspoon salt
* ¼ teaspoon red pepper flakes
* 3 ounces baby spinach
Here's what you'll do:
1. In the bowl of a food processor, add garlic, basil, salt, pepper, and walnuts.
2. Turn on the food processor and slowly add the olive oil in a steady stream and puree thoroughly.
3. Add the parmesan and pulse to incorporate. Set aside.
4. In a large pot, heat olive oil on medium-high heat. Season chicken and brown on both sides. Cook thoroughly for 8-10 minutes. Remove chicken from pan and set aside.
5. Sauté garlic for 1-2 minutes, or until fragrant. Add the chicken broth, sun-dried tomatoes, pasta, salt, and red pepper flakes and mix until combined. Cover.
6. Bring liquid to a boil. Reduce heat and simmer for 10-15 minutes, or until pasta is al dente.
7. Add spinach and stir until wilted.
8. Add pesto.
9. Serve immediately and enjoy!