These Steak And Veggie Zucchini Boats Are Stuffed With All The Goods
Smooth sailing into an easy, healthy dinner!
by
,
Steak And Veggie Zucchini Boats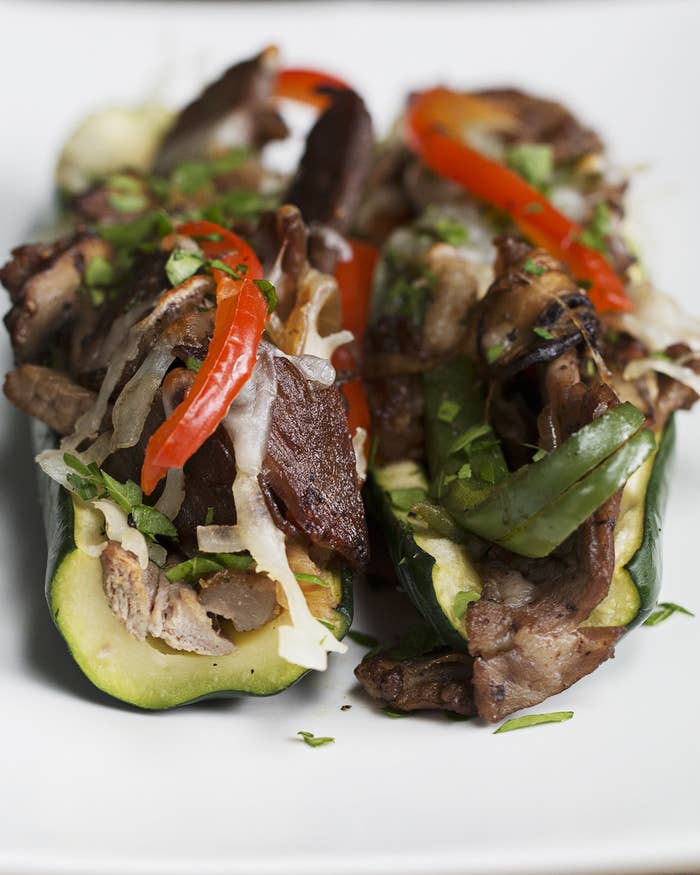 INGREDIENTS
4 large zucchini, trimmed and halved
Olive oil, drizzle
Pepper, to taste
Salt, to taste
1 pound of lean steak, thinly sliced
½ yellow onion, sliced
½ teaspoon salt
¼ teaspoon pepper
Olive oil, drizzle
½ green pepper sliced
½ red pepper sliced
4 ounces of sliced button mushrooms
½ cup low-fat provolone cheese
PREPARATION
1. Preheat oven to 400˚F/200˚C.
2. Cut zucchini in half, and scoop out the insides (repurpose for another dish). Season with olive oil, pepper, and salt.
3. Bake for 20 minutes. Set aside.
4. While zucchini is baking, season steak with pepper and salt and sauté on medium-high heat until steak is browned and cooked through. Set aside.
5. In the same pan, season onions with pepper, salt, and olive oil and sauté for 5 minutes.
6. Add peppers and mushrooms, and cook for another 5 minutes.
7. Toss steak back into the cooked veggie and sauté for 1 minute.
8. Distribute the steak and veggies among zucchini halves.
9. Top with shredded cheese.
10. Bake for 5 minutes, or until cheese is melted.
11. Enjoy!