Maple-Glazed Pork And Roasted Veggies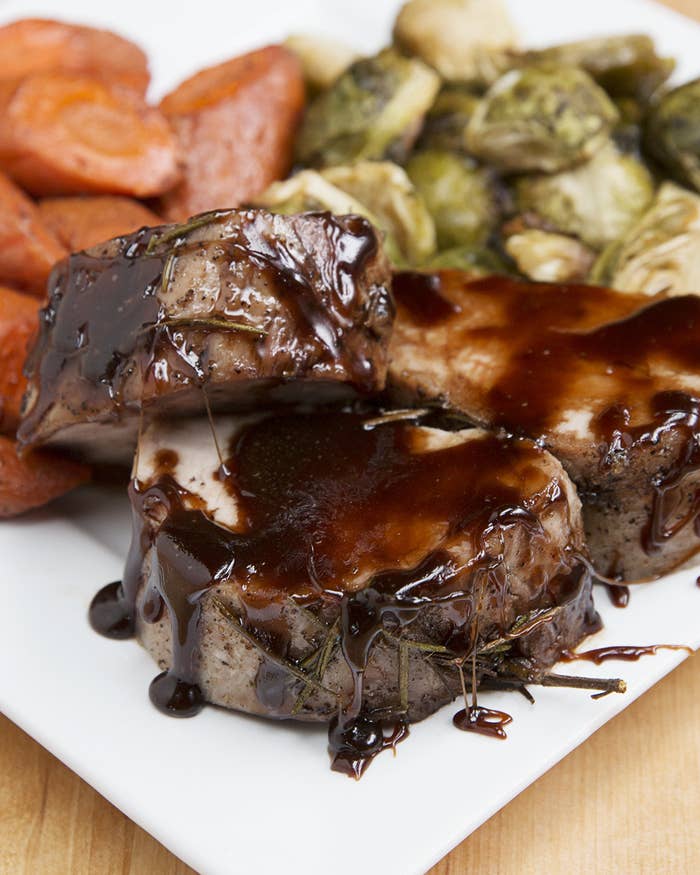 INGREDIENTS
For the veggies:
1 pound Brussels sprouts, ends trimmed, halved
5 carrots, sliced
Olive oil
Sea salt
Black pepper
For the pork tenderloin:
1 pound pork tenderloin
Sea salt
Black pepper
2 sprigs of rosemary
For the glaze:
1 tablespoon olive oil
3 tablespoons balsamic vinegar
¼ cup maple syrup
PREPARATION
1. Preheat oven to 375˚F/190˚C.
2. Place Brussels sprouts and baby carrots separately on a foil-lined baking sheet with room in the center for the pork.
3. Drizzle with olive oil. Sprinkle with sea salt and pepper. Mix to combine.
4. Place pork in center of baking sheet. Sprinkle with sea salt and pepper. Rub to combine.
5. Bake in oven for 40 minutes, or until internal temperature of the pork reaches 145˚F/63˚C.
6. Let pork rest 5-10 minutes.
7. While pork is resting, mix olive oil, balsamic vinegar, and maple syrup in a small saucepan.
8. Cook on medium heat until sauce thickens and reduces by ⅓, about 3-4 minutes.
9. Immediately spoon reduced sauce on the pork.
10. Enjoy!