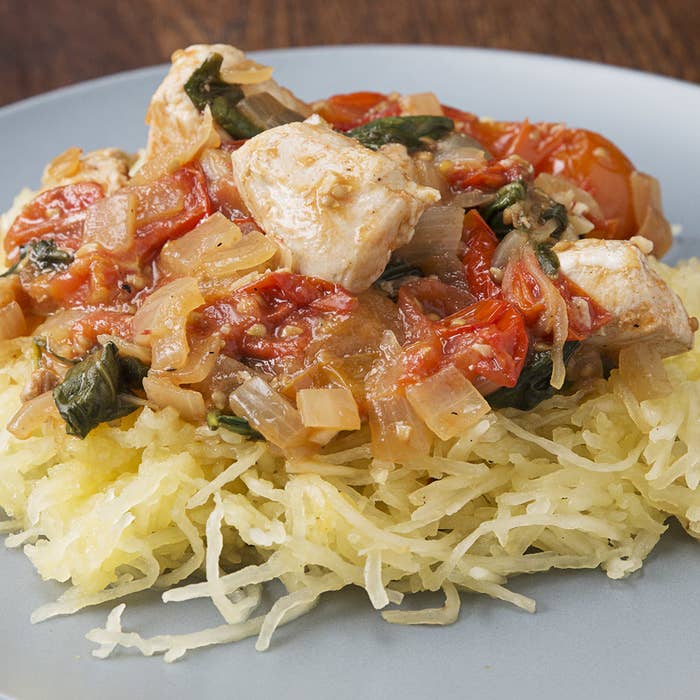 Ingredients:
for 4 servings
1 spaghetti squash
olive oil
sea salt, to taste
black pepper, to taste
2 chicken breasts, cut into 1-2 in (2-5 cm) pieces
SAUCE
1 medium yellow onion, diced
4 cloves garlic, minced
½ teaspoon sea salt
¼ teaspoon black pepper
3 cups cherry tomato, halved (600 g)
½ lemon, juiced
1 cup chicken broth (240 mL)
8 oz baby spinach (225 g)
Preparation:
1. Preheat the oven to 375˚F (190˚C).
2. Poke several holes in the spaghetti squash around the lengthwise center of the squash. Microwave on high for 5 minutes.
3. Cut the squash in half along the holes. Remove the seeds and pulp with a spoon. Drizzle the squash with olive oil, and season with salt and pepper.
4. Place the squash cut-side down on baking sheet and bake for 40 minutes, until tender. Let cool.
5. Heat a bit of olive oil in a medium skillet over medium high heat. Add the chicken breast and cook for 6-8 minutes, until the chicken is golden brown and cooked through. Remove the chicken from the pan and set aside.
6. Add a bit more oil and the onion and sauté for a few minutes, until starting to brown. Add the garlic and cook for 1 minute, until fragrant.
7. Add the salt, pepper, and tomatoes and cook for a couple minutes, until the tomatoes start to release their juices.
8. Add the lemon juice and chicken broth and cook until the liquid reduces by about half, 20 minutes.
9. Add the chicken and cook for 2 minutes, then add the spinach and cook for 2 minutes, until wilted. Remove the pan from the heat.
10. Using 2 forks, shred the spaghetti squash and scoop out onto serving plates.
11. Pour the sauce over the squash. Serve immediately.
12. Enjoy!