1.
A bug bite suction tool for relieving the irritating post-bug bite itching and swelling. It's designed to actually suck out venom, saliva, and irritants so your munchkins don't scratch themselves raw. You may recognize this genius product (which was invented by a mom!) from Shark Tank.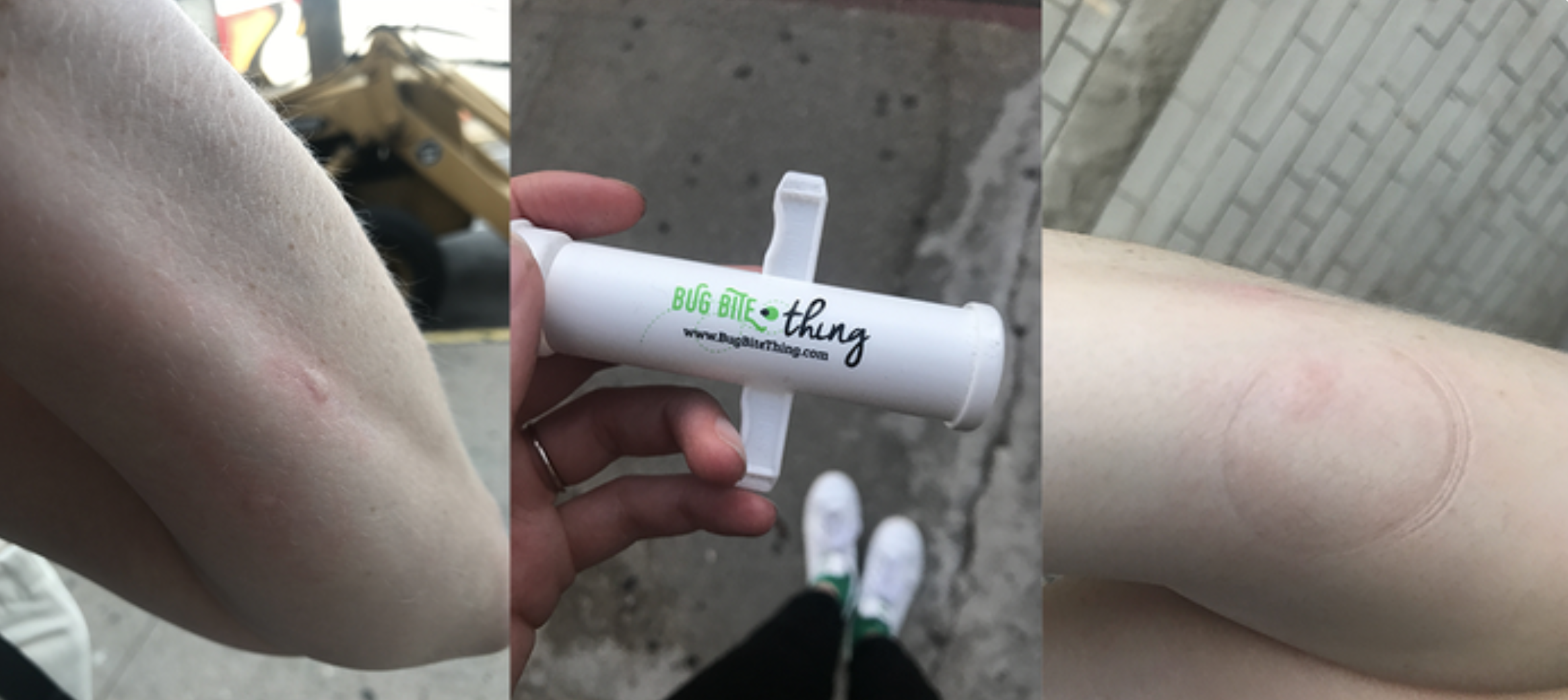 Rebecca O'Connell / BuzzFeed
Promising review: "This is a miracle-worker for my toddler. I bought this after receiving a spider bite on my foot, that was already healed when it came in. Two days after delivery, my 2-1/2-year-old got stung by a bee or wasp and was screaming and in tears. I broke this out, and he immediately went from screaming to laughing as I used it. It was amazing. He got his second sting today, and the same thing happened—instant pain relief. I don't know what I would do without this thing. Plus, he likes to play with it afterwards which further calms him down. A+++" —Briley Black
Get it from Amazon for $9.99 (available in three colors).
2.
An odor-eliminating spray so you can lift stains and odors fast. Each spray releases bacteria that feeds on the ammonia left behind after your pet's accidents, eliminating the urine completely and deterring your pet from peeing in the same spot again.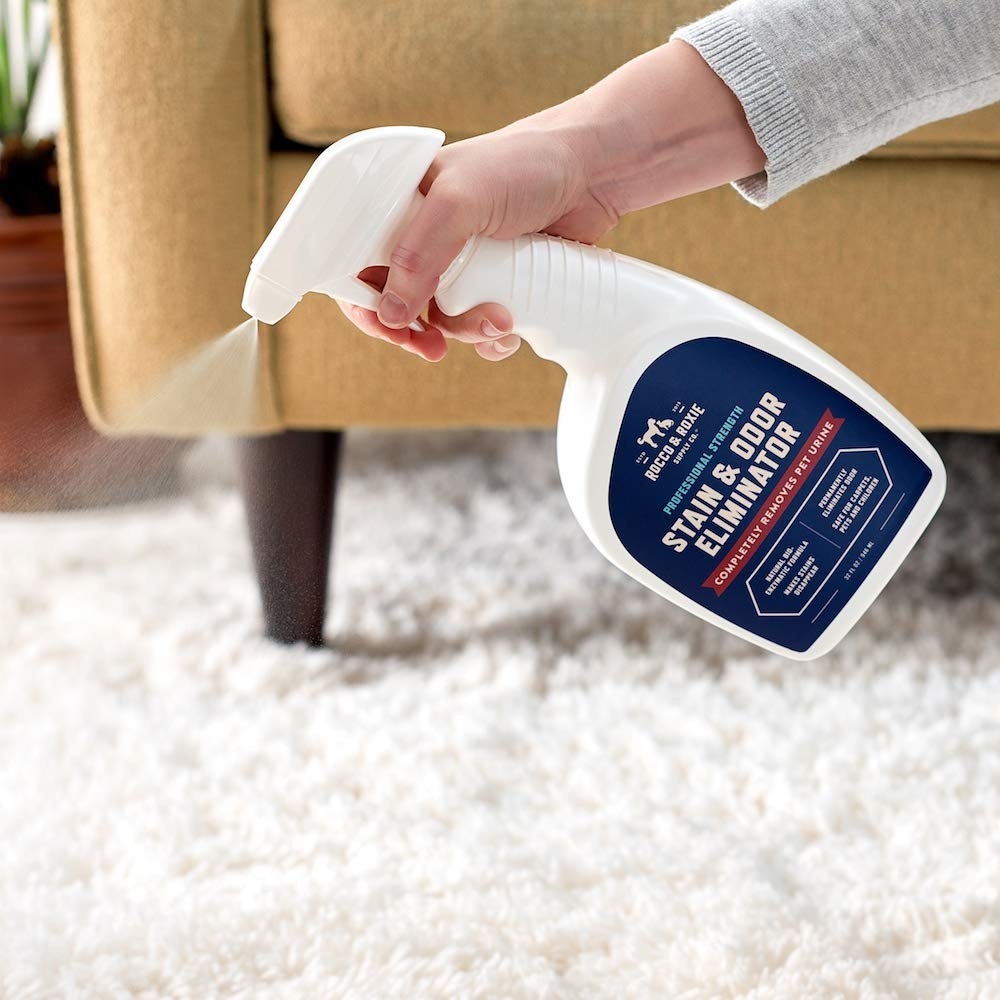 Rocco & Roxie is a family-owned small business named after the Magleby family's pets Rocco, a Labradoodle, and Roxie, a former shelter tabby cat. They make a variety of pet supplies, including cleaners, treats, grooming tools, accessories, and toys.

Promising review: "I have six elderly cats, and a few of them oftentimes leave smelly pee puddles to register their disdain at whatever cats get 'peed off' about. It's not a litter box problem and, although I've caught one or two of them doing it, I can't blame them all. This product works great on fresh messes as well as dried ones. After blotting up fresh pee pods, I saturate the area with Rocco & Roxie's odor remover and let dry. For dried stinky stuff, I just saturate the area and let it dry. It has a pleasant odor and completely eliminates the ammonia odor. Believe me, I've tried all kinds of products, and this one works the best. I buy gallons now just to have on hand. It's better than smelling that awful pee!" —mona mia
Get it from Amazon for $19.97 (or Subscribe & Save for $18.97/month).
Check out our in-depth review of Rocco & Roxie Professional Strength Stain & Odor Eliminator.
3.
A CeraVe salicylic acid body wash if rough, bumpy skin is annoying the heck out of ya. It exfoliates without the harsh microbeads, lifting away dead skin while leaving behind moisturizing hyaluronic acid and calming niacinamide.
Promising review: "I never do reviews...but this product WORKS! I have KP on my legs and it got rid of it 10000%. It must be used consistently and you have to also exfoliate with an actual natural loofa or something similar, but YOU WILL SEE RESULTS. Great product for a great price! Would give 100 stars if I could!" —layla mahmoud
Get it from Amazon for $12.74.
4.
A box of cleaning K-Cups that'll get rid of residue in your machine and prevent flavors from transferring in just one cycle. Or have fun descaling it multiple times. Your choice!
Promising review: "Thought I was having problems with my machine. Used two cups to flush the entire coffee maker out and it started working like new. Totally satisfied!" —Dara Pazooki
Get a box of six pods from Amazon for $9.95.
5.
A Yonanas fruit soft-serve maker because reviewers swear it gives frozen fruit the texture of ice cream or sorbet. Now you can gobble up your dream flavor combinations. And it's great for folks who have dietary restrictions. 
Promising review: "What a treat! It was not noisy at all (my electric toothbrush is louder)! The instructions were easy to follow, as was the cleanup of the unit. I also purchased PB2 and PB2 with cocoa when I ordered the Yonanas. I rolled the slightly thawed (five minutes) bananas in the PB2 and the result was a delicious peanut buttery treat! This machine truly delivers everything it promises and more! No, I'm not a paid spokesperson, just a very satisfied customer!" —Y. C. Turner
Get it from Amazon for $36.60+ (available in five colors). 
6.
A headrest hook to keep your purse nearby so you're not the driver who turns around to dig through their purse in the backseat and misses the green light. It'll also help prevent the contents of your purse spilling all over the car floor if you take a turn too fast or have to slam on the brakes.
7.
A eucalyptus lavender pouch for getting the most out of your baths and showers. The hot steam triggers lavender's and eucalyptus' therapeutic benefits, which include promoting relaxation, decongestion, stress reduction, and encouraging restful sleep.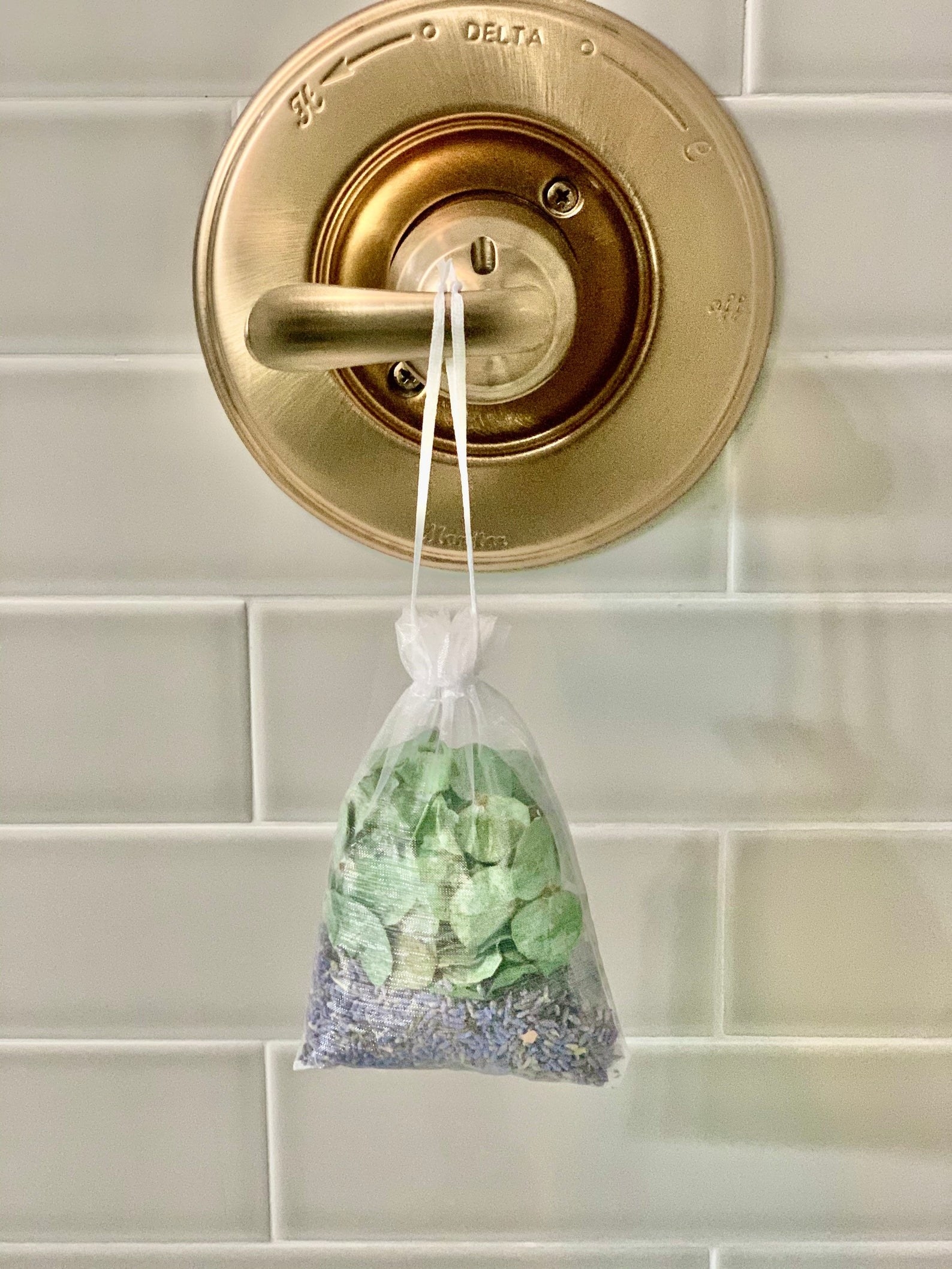 Each bag lasts for two to three showers.
Eucalyptus Blooms is a North Carolina-based small business that specializes in eucalyptus bunches designed to freshen up your home.
Promising review: "These smell AMAZING, and they're such a perfect size for the shower. I used to have big bundles of eucalyptus, but they always took up so much space. These are perfectly sized and the blend of Eucalyptus and Lavender is HEAVENLY." —Maggie
Get a set of three from Eucalyptus Blooms on Etsy for $11.99.
8.
A bleach-free, no-scrub weekly shower spray so soap scum and shower grime buildup goes bye bye without you ever having to wipe. Rinse it clean the next day, and you'll be amazed to see those hard water stains on your shower door are *poof* gone.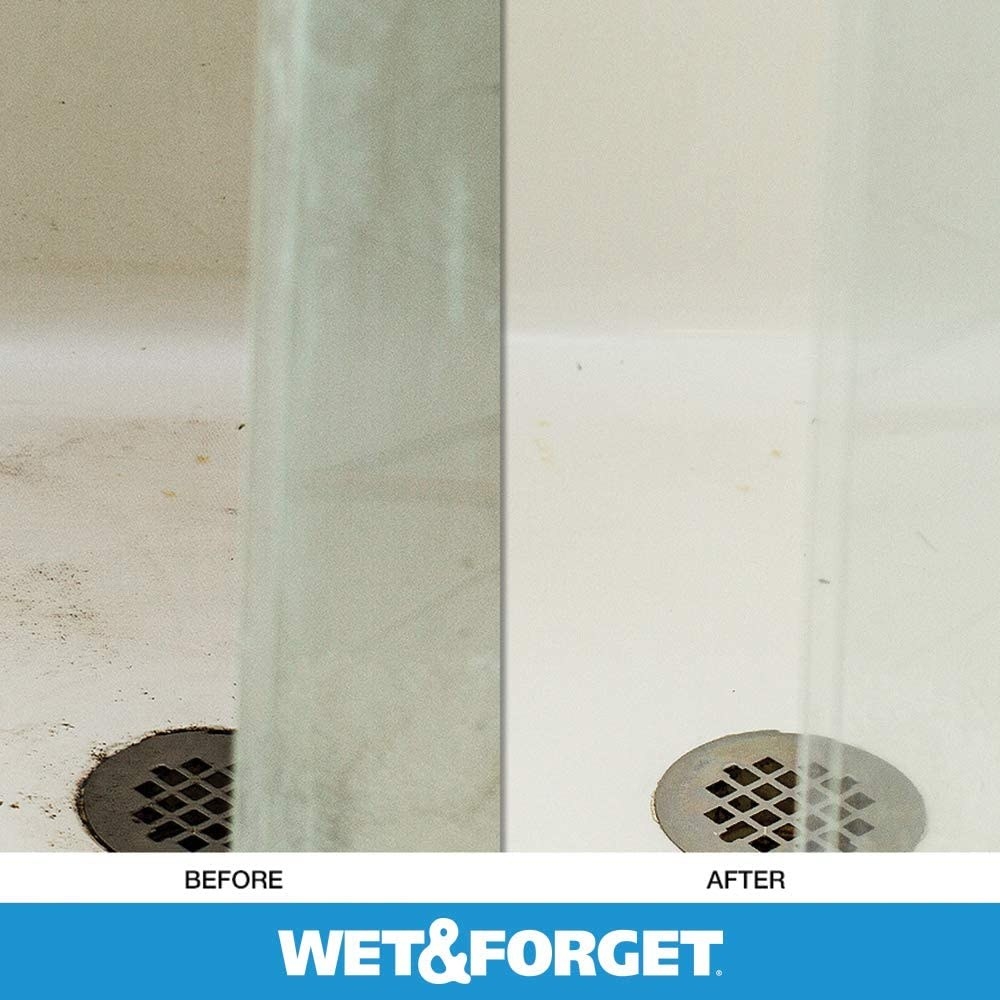 Promising review: "We cannot BEGIN to tell you what a lifesaver this is! We have two old fiberglass tubs with vinyl shower enclosures that no matter what amount of scrubbing we have done with everything from bleach to cleanser to vinegar and baking soda would NOT come clean. After I took my shower last night, I sprayed down the tub and walls. Within minutes, all the built-up water deposits and dirt and grime began to melt away in front of my eyes. I left it on overnight, and when I got up this morning, it did not look like the same tub and shower. This product is a godsend, especially for old folks like us who have difficulty getting down on our hands and knees and scrubbing anything. More importantly, it performs as advertised. We plan on using it as part of our weekly cleanup routine. This is truly an overnight sensation!" —Amazon Customer
Get it from Amazon for $17.97.
9.
A set of adjustable clip holders if you're wearing a racer-back top and need to hide your bra straps. These clips attach to both straps across your back, so from the front no one can see your bra straps.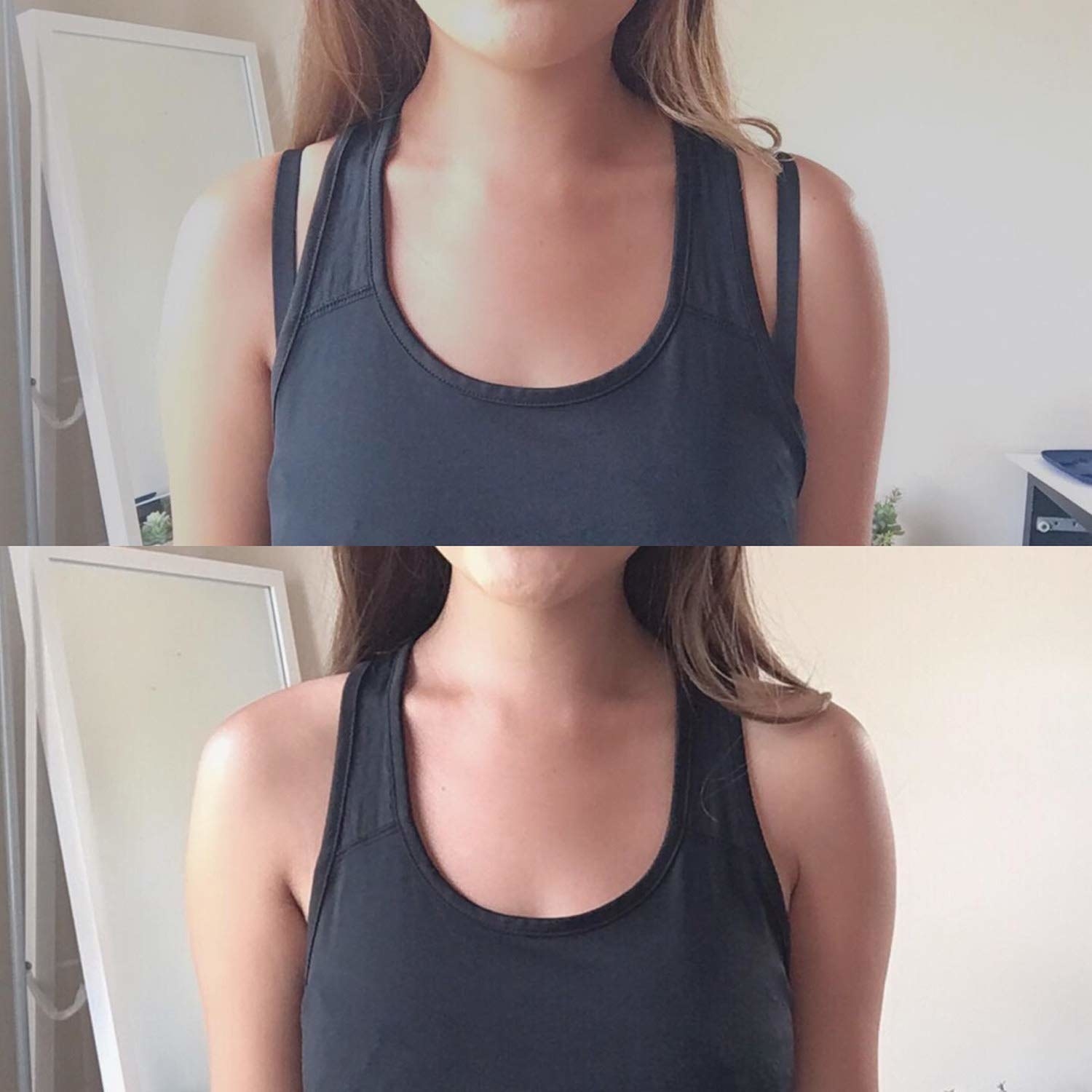 Promising review: "I LOVE this item! So much so that I ordered a second set. They work very well and the quality is great! They are also very comfortable to wear and you can attach them to your bra before putting your bra on, so you're not depending on someone else to help you get dressed. And very economical, a great value. All in all, very satisfied!" —Kay
Get a set of three from Amazon for $5.97+ (available in eight styles).
10.
A pack of Schick dermaplaning razors that'll take care of stray hairs the minute you notice them. Reviewers also say they're great for shaving peach fuzz so makeup applies more evenly.
Promising review: "I saw these on TikTok and was skeptical but they work so well. I use them for any facial peach fuzz and to shape my eyebrows and they're perfect." —Megan Kopicko
Get a pack of three from Amazon for $4.99.
11.
A pack of stain-removing pads because owning a pet = a lot of messes. Pee? Check! Poop? Check! Vomit? Check! (You can even use them to clean up your wine spills.) Just lay them over the spot, give 'em a stomp to activate their cleaning powders, and watch the stain disappear — no bulky carpet steamer necessary!
Promising review: "WOW! Honestly, I was a little skeptical of the promise of these pads, but I bought them just to try out. THEY WORKED AMAZINGLY WELL! Seriously. I have some stains that are 1.5–2 years old. I've tried everything to get them out. I put these pads on the stains (two to cover the spot), let sit for about an hour, pulled them up, and the stain was gone. I truly couldn't believe it. The pad was yellow. Somehow the old urine was soaked up into the pad. My carpet looks like new. I couldn't recommend these any higher for what I wanted and what I got. Wish I could give this more than five stars." —Matt
Get a pack of 20 from Amazon for $24.99.
12.
A roll-up straw hat to keep the sun out of your eyes and protect your face from sun damage (it's UPF 50+, which means it blocks 98% of the sun's rays) while you're enjoying your tropical vacation. And it rolls up so it takes barely any space in your already crowded carry-on bag.
Promising review: "Extra satisfied with this purchase!! I ordered it for a trip to Florida. I wear hair extensions and was worried that it would be too small for my head but it fits perfectly. There is also a ribbon inside of the hat under the band that you can use to tighten/adjust if needed. Soft straw and flexible enough to mold to your head in the humidity and heat. I ordered the khaki color, which is perfect and neutral for any beach our outdoor vacation. I also purchased a few cute broaches to attach to the band to upgrade it a bit. It's easy to flatten out the brim if it gets wrinkled although I haven't had to adjust the top part of the hat yet. I was a little hesitant at first but so happy with this hat. Will def get good use out of it this summer." —Tlikey
Get it from Amazon for $21.99 (available in 20 colors).
13.
A cult-favorite ~secret~ popcorn salt for anyone whose favorite food is movie theater popcorn. Well, lucky for you this seasoning gives regular microwave popcorn the salty and savoriness you've only experienced with popcorn at the movies. In fact, several reviewers who've worked at movie theaters and amusement parks swear this is the stuff they used at work, so you know it's the real deal.
BuzzFeed editor Emma Lord swears by this stuff:
"Our family recently unearthed this because beloved To All The Boys I've Loved Before author Jenny Han mentioned that it was her secret to delicious popcorn, and it may have just wrecked me for other at-home popcorn for the rest of my life. It genuinely tastes just as salty and buttery and savory as fresh movie theater popcorn. I inhaled it so fast that every single one of my organs lit up in mild alarm."
Promising review: "This product really does taste just like the movie popcorn salt. What I like best is the very fine grind of this salt: it is almost a powder and sticks very well to whatever you use it on. You will find other uses for this product besides popcorn. I am very satisfied with this product." —TW
Get it from Amazon for $10.10.
14.
The TikTok-famous poreless putty primer so your skin looks like it has an IRL filter on it. This is the secret to hiding your pores and getting your makeup to stay all day. An added bonus? It contains squalene to protect and hydrate your skin.
Promising review: "I can't think of a time I was more satisfied with a beauty product. I'm a frequent e.l.f. buyer because their products are so cheap and they're usually pretty decent quality but this product went above and beyond my highest expectations. I put this primer on and I literally watched my pores disappear! The only downside is it's a little greasy but for $8 it's completely worth it! I'll be dumping my $35 Smashbox primer for this ASAP!" —Chandler
Get it from Amazon for $8.50.