1.
A mold and mildew remover because you can set it, forget it, and come back in a few hours to see grout that looks like new. If your brain is filled with images of your dirty shower grout every time you close your eyes and try to relax...you definitely need this.
Promising review: "You guys. I'm embarrassed to even show you this. The grout around our tub was DISGUSTING. It was never caulked right and it got gross very quickly. I would scrub. The cleaning lady would scrub. It would get worse. Well, I came across this in a BuzzFeed list, and this stuff made me curious. I don't know why it doesn't have 10,000 good reviews. Seriously. All I did was squeeze it on and walk away. I let it sit overnight. Check this out. Buy it. Like today." —KarynB
Get it from Amazon for $12.99.
2.
A bleach-free, no-scrub weekly shower spray so soap scum and shower grime buildup goes bye bye without you ever having to wipe. Rinse it clean the next day, and you'll be amazed to see those hard water stains on your shower door are *poof* gone.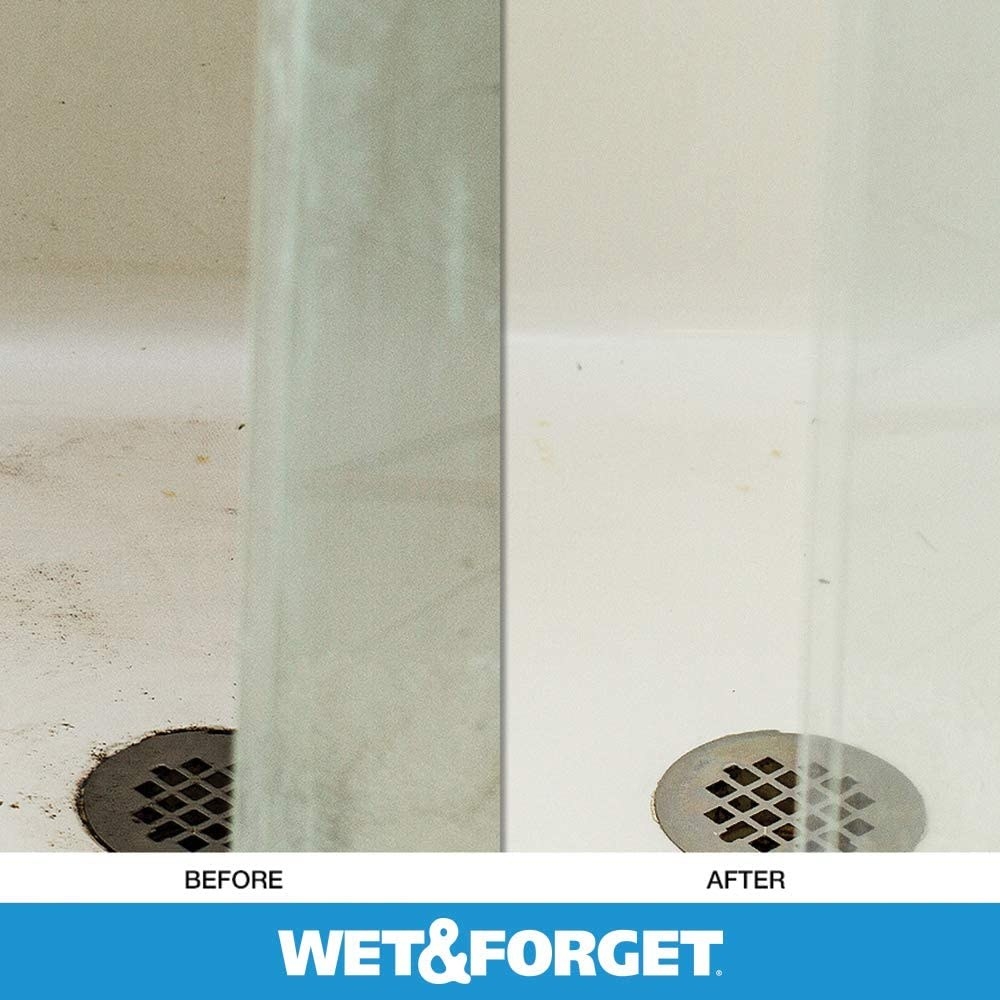 Promising review: "We cannot BEGIN to tell you what a lifesaver this is! We have two old fiberglass tubs with vinyl shower enclosures that no matter what amount of scrubbing we have done with everything from bleach to cleanser to vinegar and baking soda would NOT come clean. After I took my shower last night, I sprayed down the tub and walls. Within minutes, all the built-up water deposits and dirt and grime began to melt away in front of my eyes. I left it on overnight, and when I got up this morning, it did not look like the same tub and shower. This product is a godsend, especially for old folks like us who have difficulty getting down on our hands and knees and scrubbing anything. More importantly, it performs as advertised. We plan on using it as part of our weekly cleanup routine. This is truly an overnight sensation!" —Amazon Customer
Get it from Amazon for $19.98.
3.
A drain clog remover that'll conquer the hair monster in your shower drain, simultaneously impressing and disgusting you. Or you can let the hair glob remain in the pipes and at some point your shower will turn into a bath. Fun!
Promising review: "When I pulled the orange plastic spiked strip from the package, I was immediately skeptical and felt like all those 5-star reviews were from people who exist in an alternate universe. I was tempted to initiate a return on Amazon but decided that I might as well gamble on a piece of $9 plastic before gambling $200 on a plumber. I slipped the plastic strip down my shower drain and literally FIVE SECONDS LATER I was pulling up gobs and gobs and gobs of hair. HOLY COW!!!!!!!! OHMYGOSH. I can't believe I still have any hair left on my head. SO MUCH REPULSIVE GUNK!!!! I saved my prize hairball on the shower floor to show my husband because I knew he would be as skeptical as I was. We both agree it looks like a small raccoon or a large squirrel lying helplessly on my shower floor. It's a grisly, messy, smelly and oh-so-rewarding job." —Chocolate and Chips
Get a six-pack from Amazon for $7.99+ (available in two colors).
4.
An air purifier for anyone who's felt personally victimized by seasonal allergies. This bad boy removes dander, mold, dust, and pollen in the air to help you breathe better.
Promising review: "This is an excellent purifier for those who are affected by cat dander, mold, and other problems associated with breathing difficulties. I have several cats so there is so much hair in the air in addition to their dander. This machine has solved my breathing problems during the night (I use it in my bedroom). In fact I am sleeping better every night, which I'm sure is due to the cleaner air that I am breathing. Another plus is that I'm using a great deal less tissues." —Linda Cruz
Get it from Amazon for $89.99.
5.
A pack of fizzing toilet tabs if you would be perfectly happy to never touch a dirty toilet brush again. These'll make your dream a reality. It's basically a sanitizing bath bomb that disinfects your toilet.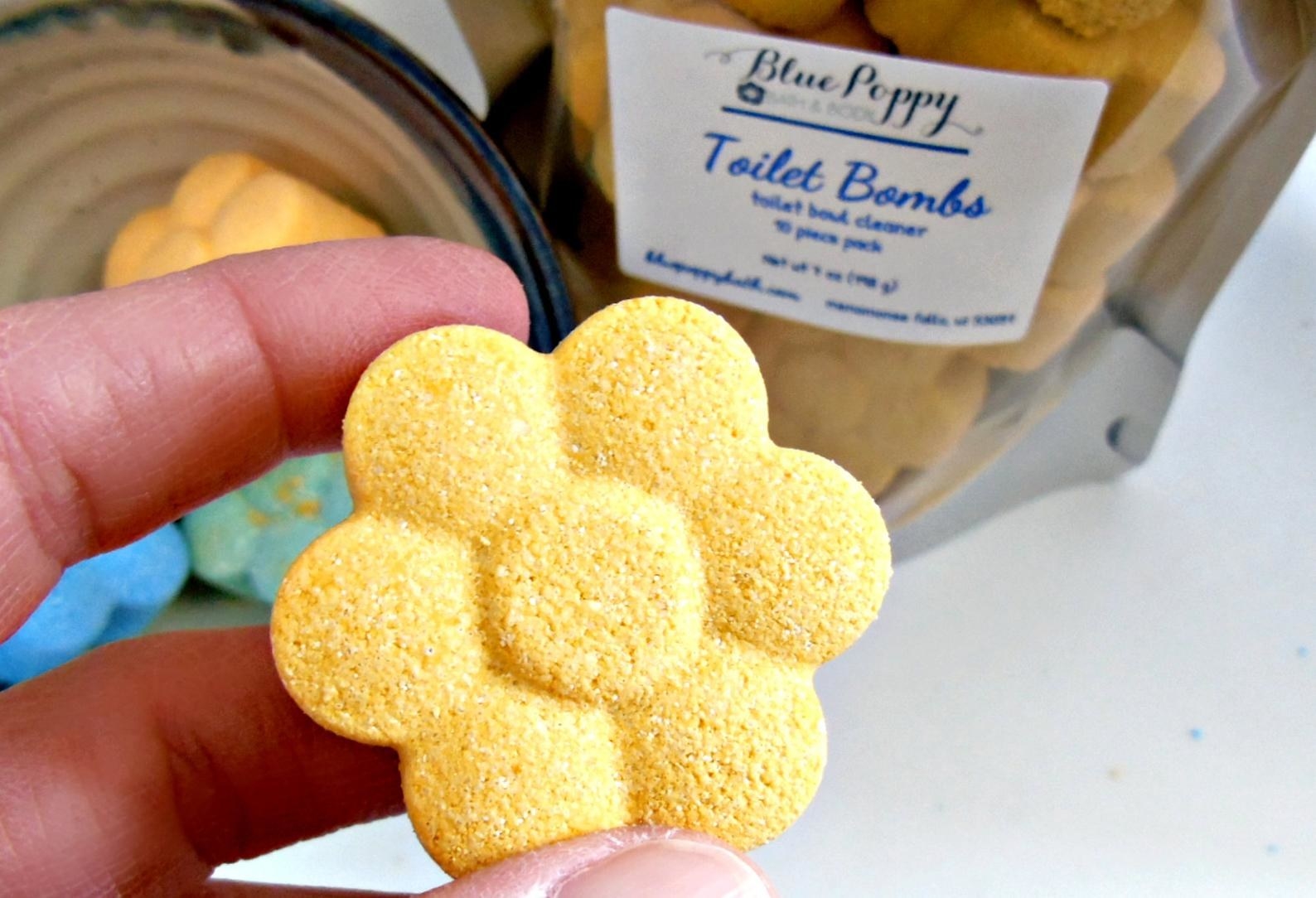 Blue Poppy Bath is a small biz based in Menomonee Falls, Wisconsin. Sheri, the owner, has created an amazing line of chemical-free cleaning and body care products.
Promising review: "These toilet bombs foam in the bowl when dropped in and clean well. Smells great and much more eco-friendly than bottled cleaner!" —Barbara S.
Get 10 tablets from Blue Poppy Bath on Etsy for $9 (available in three scents).
6.
A pack of dishwasher cleaning tablets to clean your machine as it runs. No need to sigh in frustration every time you open your dirty dishwasher to remove your "clean" dishes.
Promising review: "Convenient, easy, quick way to keep the dishwasher fresh and working at peak." —Amazon Customer
Get a pack of six tablets from Amazon for $8.99.
7.
A mattress vacuum because the last time you cleaned your mattress was...? The answer is never. This loosens dust and dirt lodged in your mattress and sucks it up, catching itty bitty particles.
Promising review: "So I brought this for originally for my son who gets really bad allergies to dust. At first we didn't know what was causing this until someone told me to check our beds and furniture. Even though we change our bed sheets regularly, there will be dust left over. So I decided to give this a try and they were right! I couldn't believe much mites and dust there are. I took my time cleaning everyone's bed and our sofa, which was easy to use and light. My son haven't had a reaction in a while for means this product works for my family!" —Lisa
Get it from Amazon for $99.99+ (available in two colors).
8.
A beeswax wood polisher so you can revive your embarrassingly worn, dinged, and dented cabinets and table quick as a flash. Plus, this method is a heck of a lot cheaper than actually replacing the wood or furniture piece, and using this polish on a regular basis can actually help keep the wood hydrated so it lasts longer.
Promising review: "Works as incredibly as the reviews said! Super fast, no strong smelly chemicals, amazing results!" —Michelle B
Get it from Amazon for $9.98.
9.
A Sun Joe pressure washer that'll make cleaning...dare I say...fun. You'll be ~blown away~ by the results.
Promising review: "Great product at a good price. Used this power washer to wash my stucco house for pre painting. Unit worked as advertised. Fairly quiet, but yet powerful sprayer. Great customer service and would highly recommend this product to anyone." —Boy Wonder CTS
Get it from Amazon for $183.69.
10.
A carpet cleaner for getting rid of that questionable stain on your white carpet that's been taunting you and besting every other carpet cleaner you've ever tried — well, every carpet cleaner but this one.
Promising review: "This stuff is AMAZING. We have a 1.5-year-old puppy and have make several futile attempts to clean up carpet stains from her potty training days. Another dog owner clued us into this, and we cannot believe we didn't buy it sooner. Seriously, the same night this arrived, I spilled an entire bottle of beer on white carpet (oops), grabbed the Folex, sprayed a bunch onto the stain, massaged it into the carpet with my finger tips, and blotted with a damp towel. You can't see ANY remnant of a stain. I've also attacked old stains (like one-plus year old) and saw the same results. Seriously, buy this!!!" —AKM
Get it from Amazon for $12.85.
11.
A gel dust cleaner if there's a crumb stuck between your R and T keys and it's bugging the heck out of you. Smushing this slime on your keyboard is weirdly soothing and the end result is dust-free keys.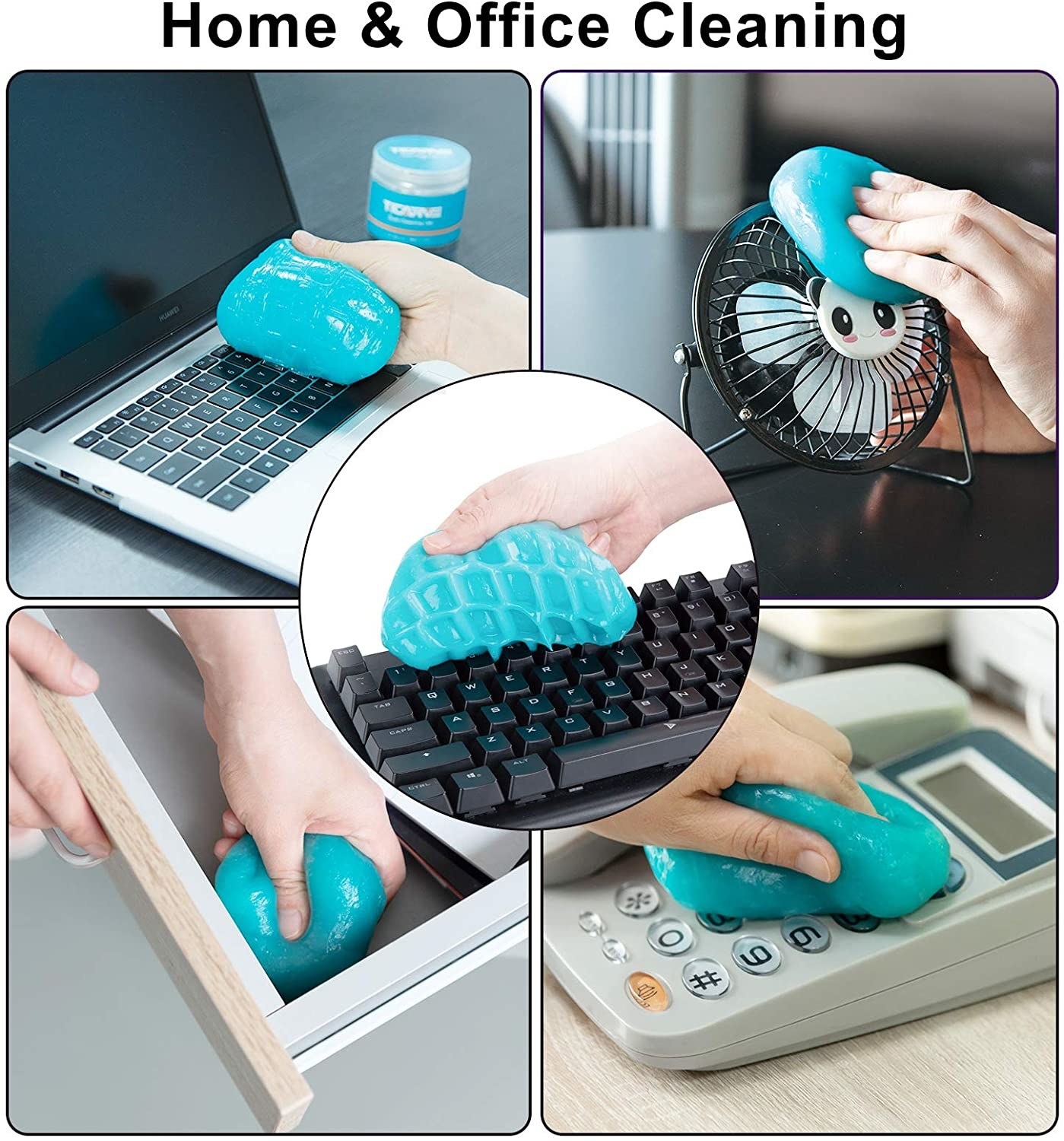 Promising review: "WOW!!! This stuff is incredible! I work in an environment that is very dirty and our office is always covered in a fine layer of dust. Just a few minutes spent mashing this slime into all the cracks and crevices of my keyboard, mouse, phone, etc and it's all clean as can be! This stuff picks up dirt on contact and leaves behind a clean, no smell, no residue surface. I bought a second jar for my vehicle and it works miracles in there as well. My air vents, shifter and seats are now spotless. I couldn't be happier with this product." —Jenna75
Get it from Amazon for $6.98.
12.
A bottle of hard water booster powder to make mugs that look like the one on the left (aka cloudy) look more like the mug on the right (aka nice and shiny). Your precious morning coffee should not be ruined by hard water stains!
Promising review: "I could not get my flatware to come out clean from the dishwasher and I wondered if it was the hard water. I was using up to three soap blocks in each load with only partial improvement. I used this the first time and voilà! Perfectly clean flatware for the first time. I LOVE this!" —Susan A
Get it from Amazon for $6.12 (or Subscribe & Save for $5.81/month).
13.
An odor-eliminating spray because the smell of pee wafting from your carpet — even though you've diligently cleaned up after every pet mess — makes relaxing in the living room near impossible. Each spray releases bacteria that feeds on the ammonia left behind after your pet's accidents, eliminating the urine completely and deterring your pet from peeing in the same spot again.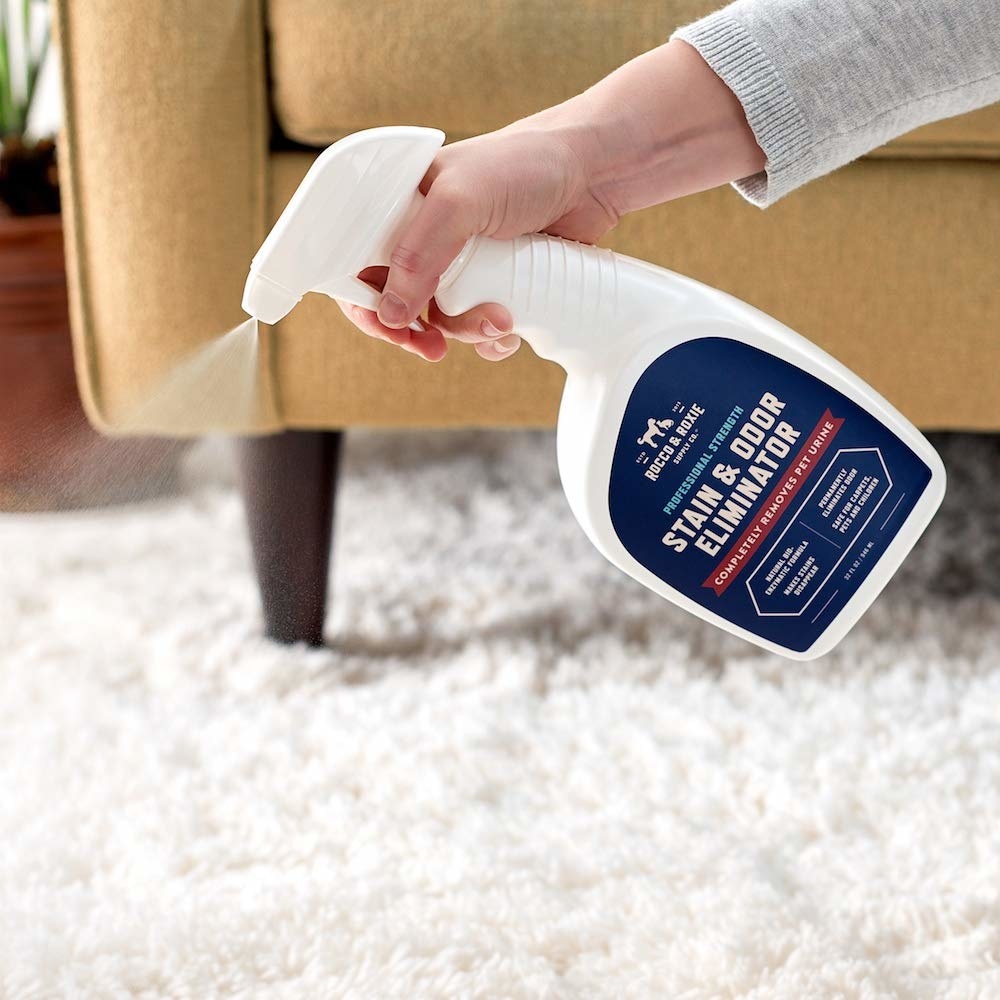 Rocco & Roxie is a family-owned small business named after the Magleby family's pets Rocco, a Labradoodle, and Roxie, a former shelter tabby cat. They make a variety of pet supplies, including cleaners, treats, grooming tools, accessories, and toys.
Promising review: "I have six elderly cats, and a few of them oftentimes leave smelly pee puddles to register their disdain at whatever cats get 'peed off' about. It's not a litter box problem and, although I've caught one or two of them doing it, I can't blame them all. This product works great on fresh messes as well as dried ones. After blotting up fresh pee pads, I saturate the area with Rocco & Roxie's odor remover and let dry. For dried stinky stuff, I just saturate the area and let it dry. It has a pleasant odor and completely eliminates the ammonia odor. Believe me, I've tried all kinds of products, and this one works the best. I buy gallons now just to have on hand. It's better than smelling that awful pee!" —mona mia
Get it from Amazon for $19.97.
Check out our in-depth Rocco & Roxie Professional Strength Stain & Odor Eliminator review.