1.
A pack of dishwasher cleaning tablets to clean your machine as it runs. No need to sigh in frustration every time you open your dirty dishwasher to remove your "clean" dishes.
Promising review: "I rarely post reviews, but this stuff has completely changed our lives. Our dishwasher, utensils, plates, and glasses were covered with dry scale and nothing we tried came close to helping. After using the tablets three times our dishwasher looks like new; our glasses are sparkling like fine china and everything else looks fabulous. Highly recommend, worth every penny, best product BY FAR!!! One great advantage is you can use it with your dishes. Some other products are used to clean the dishwasher but not to clean dishes and glasses. Buy this, you will be blown away!!! It is astounding!" —Jenny
Get a pack of six tablets from Amazon for $8.99.
2.
And some washing machine cleaning tablets that'll clean and freshen the inside while dissolving residue. You keep your washing machine open when it's not in use yet it still smells moldy. What gives?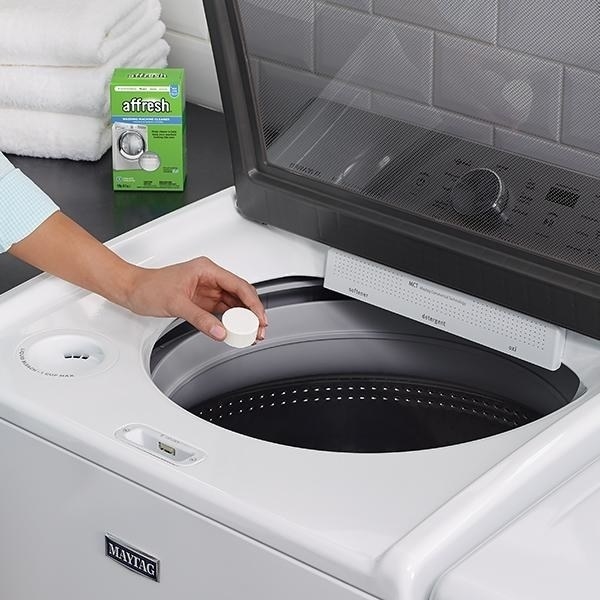 They're safe to use with pretty much any type of washer: HE or regular, top-loading and front-loading.
Promising review: "I have been using bleach to clean my machine for some time, but decided to give this a try a few months ago. My very first clean with Affresh left me surprised and delighted for not only did it clean my machine, it eliminated the nasty smell that always transferred to my clothes thanks to a build up of mold I didn't even know about. Every month now, I toss a tablet into the drum and let it work its magic. Now, my machine is cleaner than ever, and my clothes always smell wonderfully fresh." —Kelli Crawford
Get a pack of six from Amazon for $11.98.
3.
An adorably tiny hanging diffuser because your car still smells like the takeout you ordered last week. Sure, I love french fries as much as the next person, but I also love sitting in my car and smelling the sweet scent of nothing.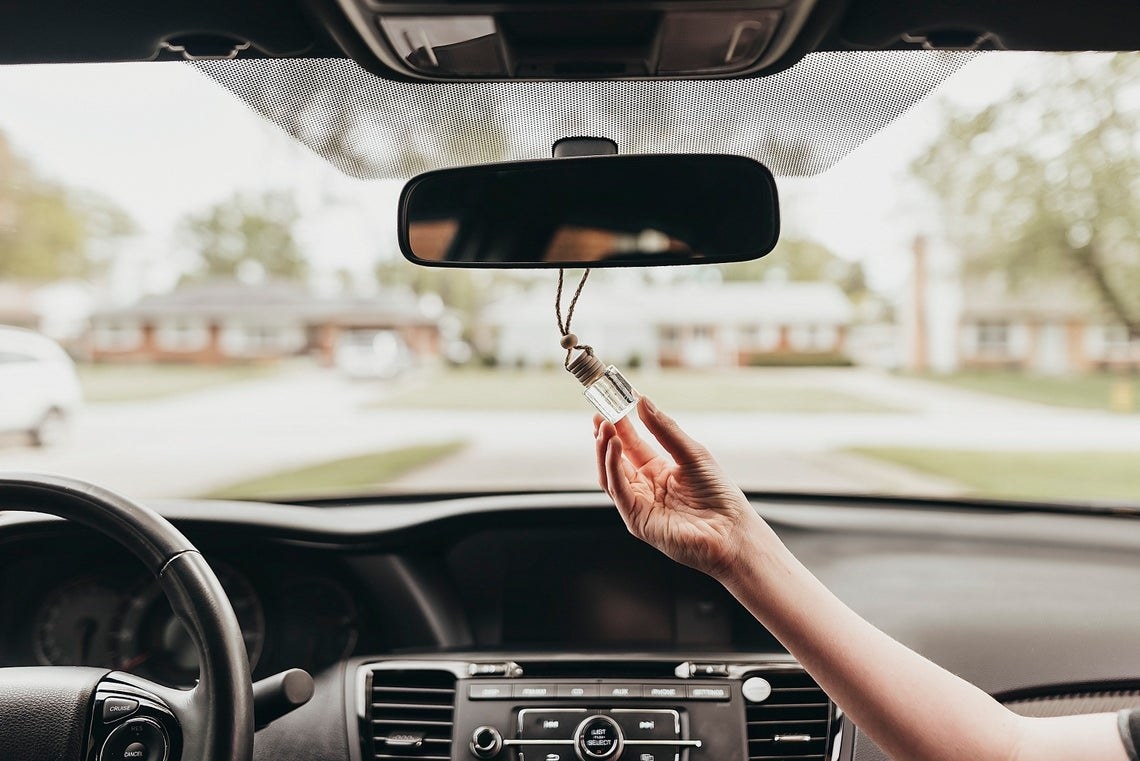 Promising review: "Makes my car smell great and arrived in perfect condition! It has a long-lasting, noticeable smell." —Virginia Keister
Get it from Amber & Wood on Etsy for $9 (available in 15 scents).
4.
A bleach-free, no-scrub weekly shower spray so soap scum and shower grime buildup goes bye bye without you ever having to wipe. Rinse it clean the next day, and you'll be amazed to see those hard water stains on your shower door are *poof* gone.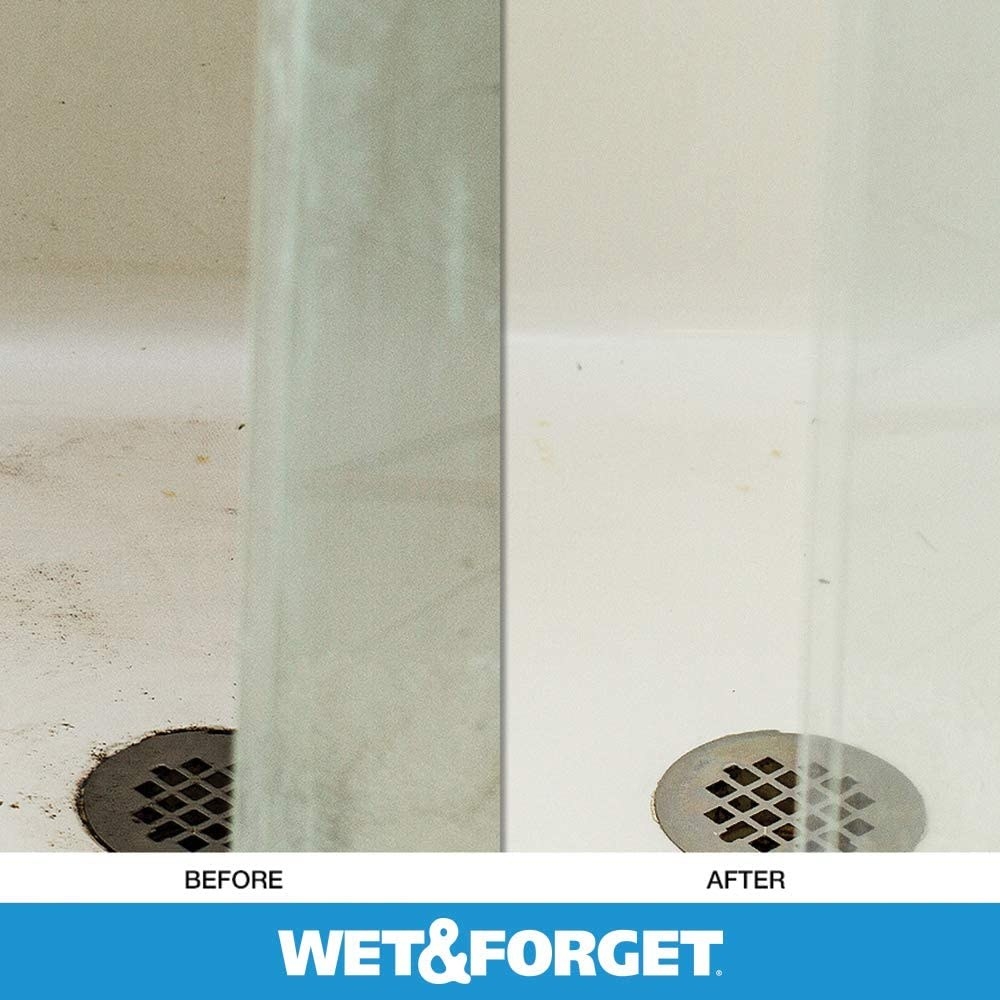 Promising review: "We cannot BEGIN to tell you what a lifesaver this is! We have two old fiberglass tubs with vinyl shower enclosures that no matter what amount of scrubbing we have done with everything from bleach to cleanser to vinegar and baking soda would NOT come clean. After I took my shower last night, I sprayed down the tub and walls. Within minutes, all the built-up water deposits and dirt and grime began to melt away in front of my eyes. I left it on overnight, and when I got up this morning, it did not look like the same tub and shower. This product is a godsend, especially for old folks like us who have difficulty getting down on our hands and knees and scrubbing anything. More importantly, it performs as advertised. We plan on using it as part of our weekly cleanup routine. This is truly an overnight sensation!" —Amazon Customer
Get it from Amazon for $17.97.

5.
A microwave veggie steamer if you can't be bothered to boil a large pot of water just for your single serving of veggies. This steamer has a 2-cup capacity, so it's great for anyone who's cooking (or steaming) for one.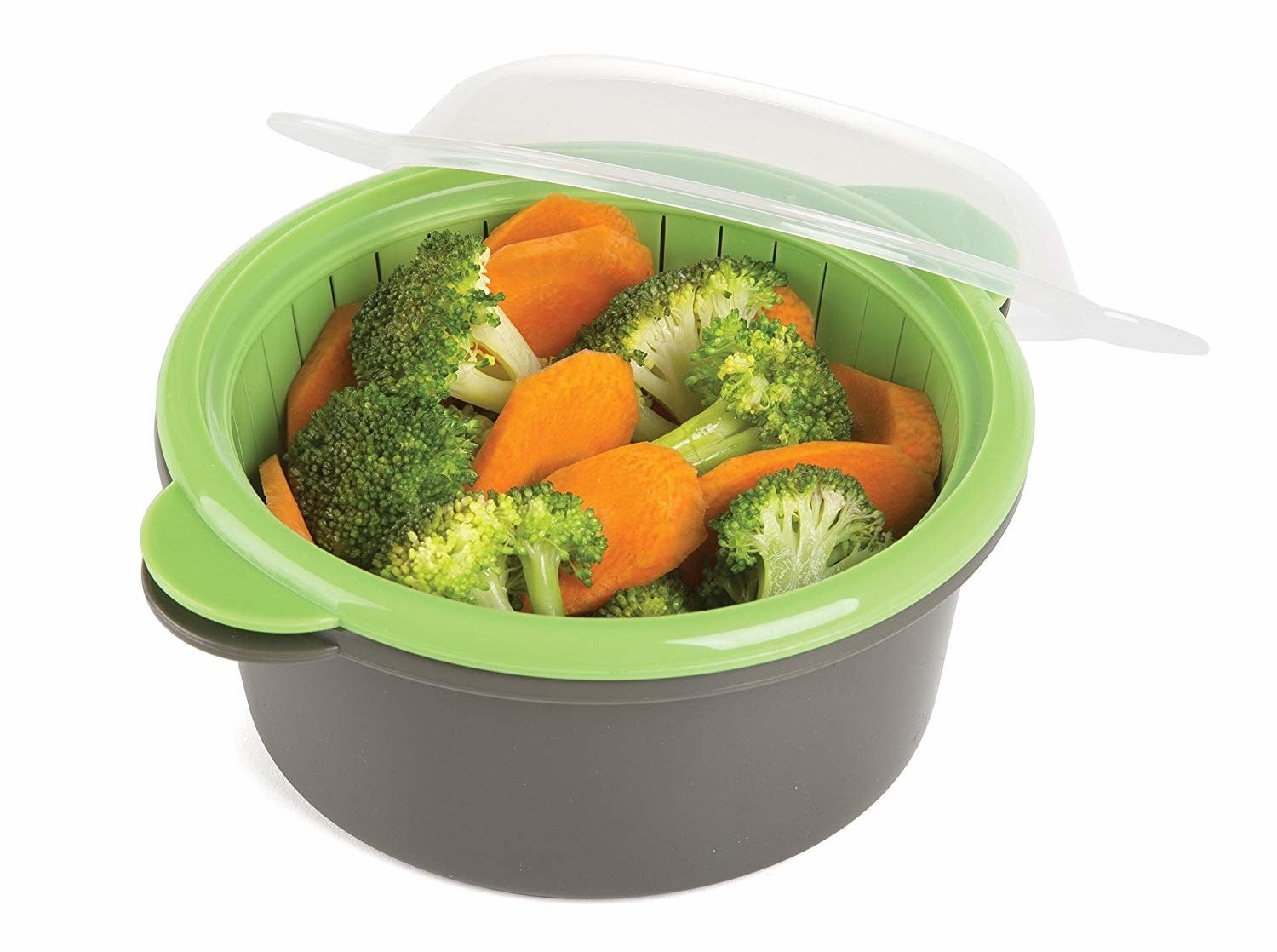 Promising review: "I love fresh vegetables but hate having to cook up the whole batch and store. This little microwave steamer worked out even BETTER than I could have imagined! I use it almost every day now. I can break off a few stalks of broccoli, cut up a some asparagus, carrots, steam it in the microwave for 3–3.5 minutes and I have a wonderful serving of mixed fresh veggies anytime I want. I love it! It is small, so if you're feeding a family, look for something bigger along the same lines. It's easy to clean, and it seems sturdy enough for the dishwasher, but I hand wash it because I had a microwave steamer that got warped after a few runs through the dishwasher. Would definitely buy again." —terifrancis
Get it from Amazon for $9.99.
6.
A bottle of professional grade callus-removing gel for dissolving hard dead skin in literal minutes. (Seriously, reviewers say you should only let it sit for two to three minutes!) Then, give it a good scrub with a foot file and your heels will be baby bottom smooth.
Promising review: "This is a Hail Mary! This is hands down the best product ever!!!! I have been using this product on my clients and it has made my job so much easier and less time consuming." —Diamante Valentine
Get it from Amazon for $13.87.
7.
A headrest hook to keep your purse nearby so you're not the driver who turns around to dig through their purse in the backseat and misses the green light. It'll also help prevent the contents of your purse spilling all over the car floor if you take a turn too fast or have to slam on the brakes.
8.
The Clean Ball, a genius German invention that'll get rid of purse sand — y'know, the fine layer of dirt, dust, crumbs, grit, and who knows what else that you scrape your hand against whenever you're rooting around your bag and you brush the bottom of your tote. Inside the honeycomb pink ball is a smaller sticky ball that picks up debris and washes clean so you can reuse it.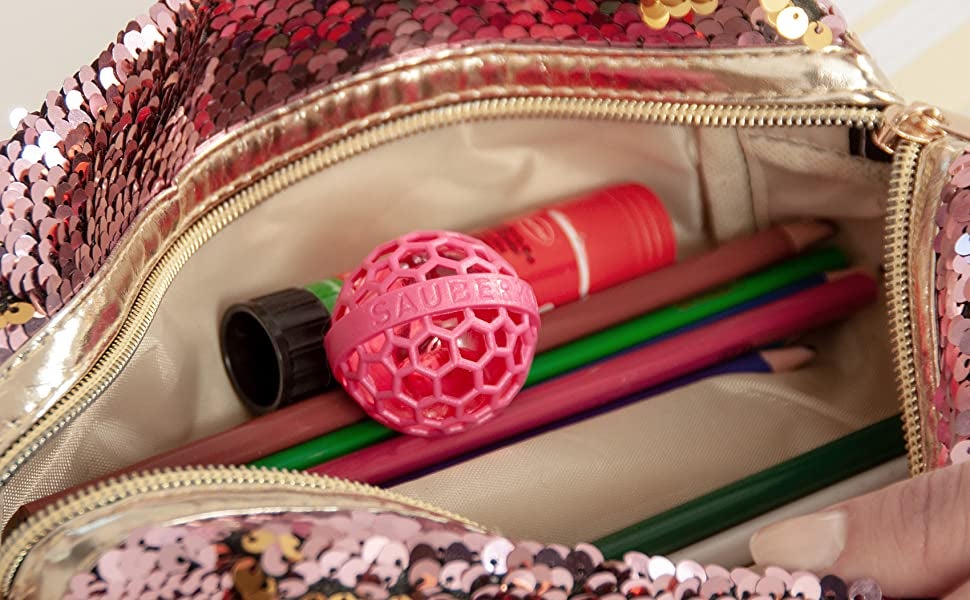 Promising review: "This little ball is genius! It rolls around in my purse, which I live out of. It picks up a lot lint, debris, or even crumbs. It's easy to find with the bright pink. Just remove and wash and it's ready to go again. The price was great and something I can use for years. If you live out of your purse this a must have!!" — dj3biggs
Get it from Amazon for $12.99 (available in pink and gray).
9.
A creamy paw butter because your pet deserves a little spoiling. This balm moisturizes dry, cracked paws and snoots and is safe if licked or swallowed.
Promising review: "One of my puppers is a super athlete who lives for walks and runs. She is about 9 now and the vet gave her a stellar bill of health save one thing: Her pads were getting really rough and worn from paved trails and city walks, and this may be uncomfortable, especially as summer comes and pavement heats up. I was skeptical about any kind of balm as I figured that it would leave a mess on my floors or one/both dogs would just lick it off their feet. No problems whatsoever, and after a single application, both dogs' pads are really soft and supple. Hopefully the dogs can feel the difference. I can surely see it and feel it. Also, the balm smells like oatmeal cookies, so bonus for that." —LRL
Get it from Amazon for $7.87.
10.
A high-voltage bug zapper so you can say goodbye to not only mosquitoes, but also gnats, flies, moths, and other insects within a 1,500-square-foot area.

Promising review: "You will not be disappointed. I just moved out to the country and have been working out in the garage late at night. With the weather getting warmer, I've had the garage doors opened and mosquitos, gnats, and everything else have been finding there way into my garage, so I had to do something about it. I bought this and hung it next to my garage door opener because there's an outlet there and it is way better than expected. I have dead bees, stink bugs, gnats, mosquitoes, and other bugs that I do not know what they are. My 8-year-old son keeps asking me to remove the bottom tray so he can see all of the dead bugs that got zapped. Again, you will not be disappointed, I'm extremely happy I bought this!" —Chris & Jenny
Get it from Amazon for $36.99.
11.
A set of adjustable clip holders if you're wearing a racer-back top and need to hide your bra straps. These clips attach to both straps across your back, so from the front no one can see your bra straps.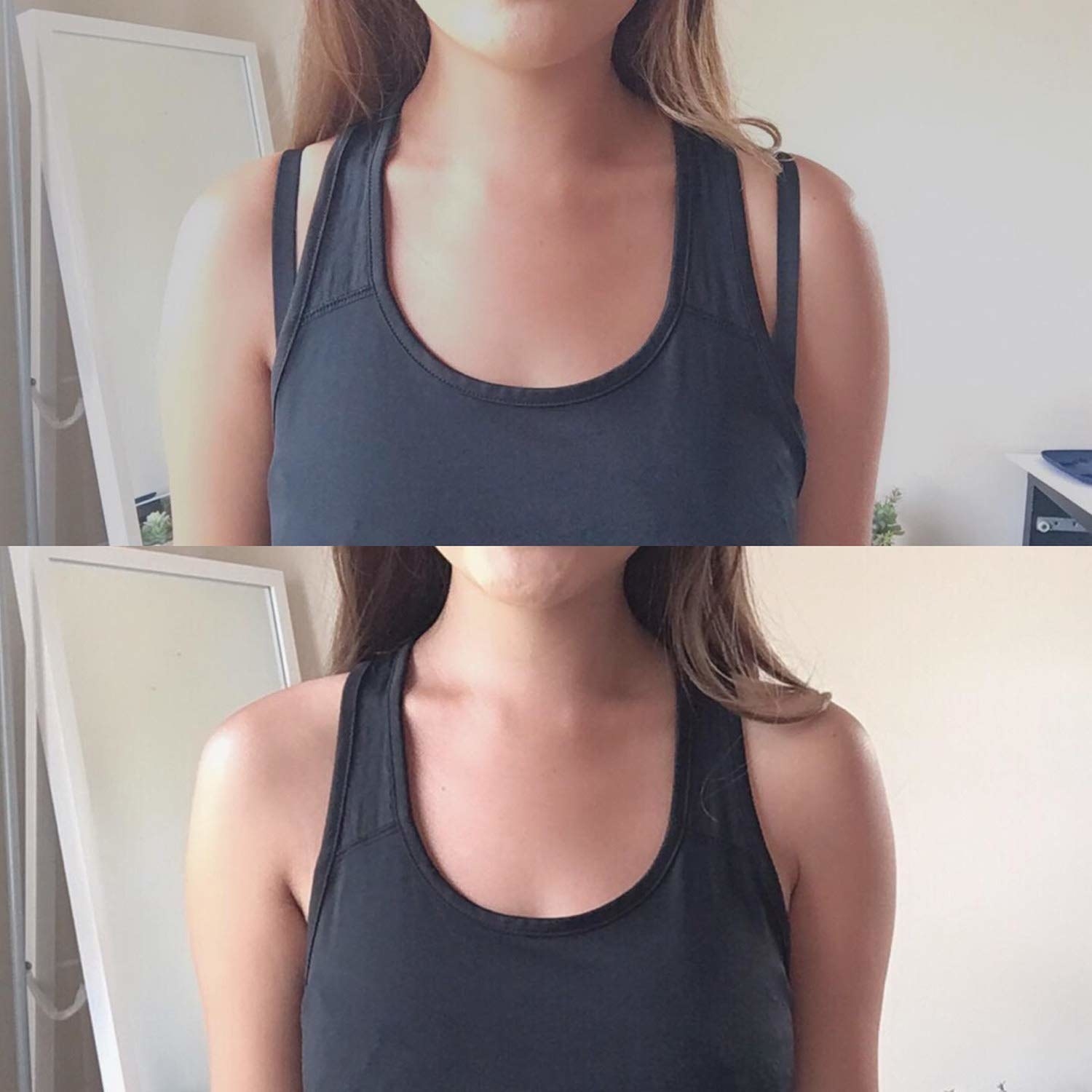 Promising review: "I LOVE this item! So much so that I ordered a second set. They work very well and the quality is great! They are also very comfortable to wear and you can attach them to your bra before putting your bra on, so you're not depending on someone else to help you get dressed. And very economical, a great value. All in all, very satisfied!" —Kay
Get a set of three from Amazon for $5.97+ (available in eight styles).
12.
And a halter neck cropped tank for test driving your new bra clips. This stretchy, double-lined top offers a surprising amount of support and movement, and is so dang easy to mix and match with your favorite skirts, jeans, and more.

Promising review: "OBSESSED. This crop top is thick and holds everything in place. It's an amazing material. My boobs are a size 40D and don't stand up at all!! This makes then look so perky and is so cute and casual. It reminds me of a Skims-style dupe but better." —Amazon Customer

Get it from Amazon for $22.99+ (available in women's sizes S–XXL and 16 colors).
13.
An interactive cat toy to appease your furry rulers and occupy them for a few hours...until they come howling for dinner.
Promising review: "I have a whole room filled with cat toys that my cat is not interested in. It's funny how the least expensive cat toy I have makes him go crazy. He plays with this until he's panting like a dog and I have never seen him jump so high. I'm certain this toy will help him lose his belly. He loves it! I highly recommend it!" —Kwoo
Get it from Amazon for $1.73.
14.
A box of cleaning K-Cups that'll get rid of residue in your machine and prevent flavors from transferring in just one cycle. Or have fun descaling it multiple times. Your choice!
Promising review: "Thought I was having problems with my machine. Used two cups to flush the entire coffee maker out and it started working like new. Totally satisfied!" —Dara Pazooki
Get a box of six pods from Amazon for $9.95.