1.
A bleach-free, no-scrub weekly shower spray so soap scum and shower grime buildup goes bye bye without you ever having to wipe. Rinse it clean the next day, and you'll be amazed to see those hard water stains on your shower door are *poof* gone.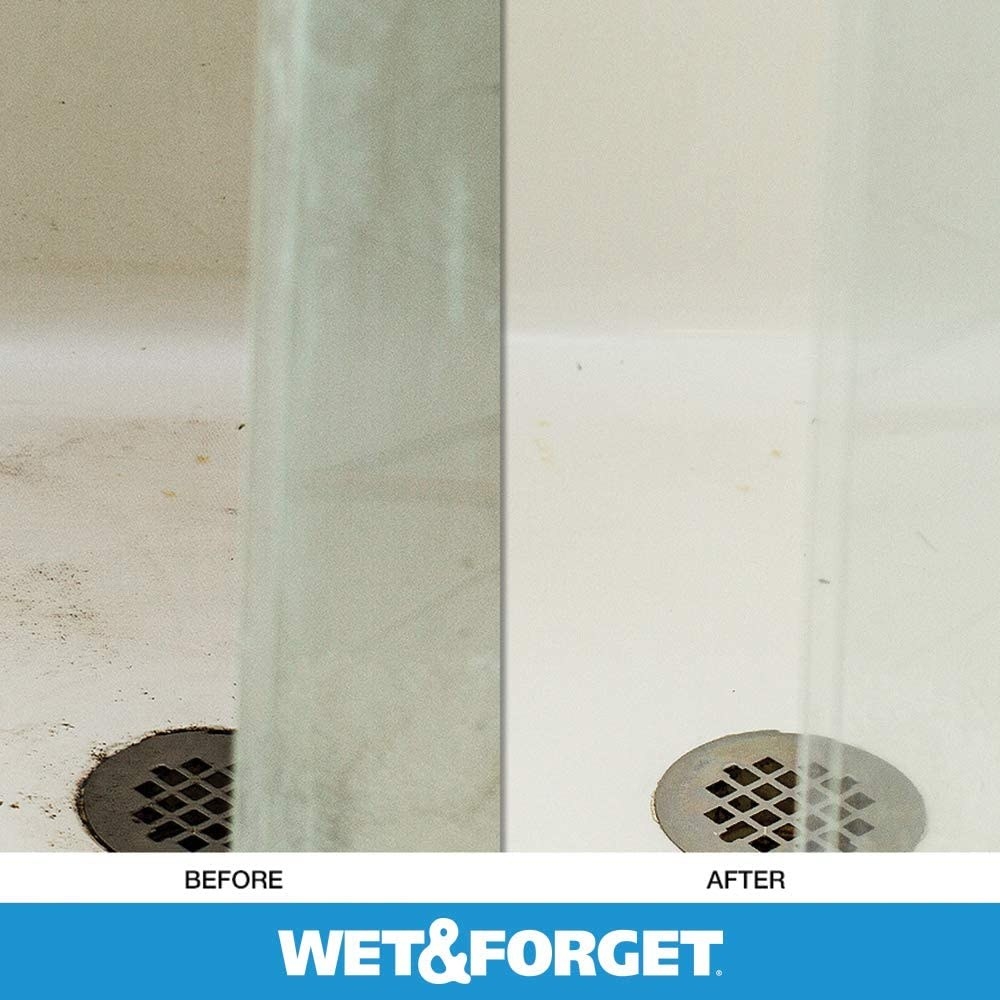 Promising review: "We cannot BEGIN to tell you what a lifesaver this is! We have two old fiberglass tubs with vinyl shower enclosures that no matter what amount of scrubbing we have done with everything from bleach to cleanser to vinegar and baking soda would NOT come clean. After I took my shower last night, I sprayed down the tub and walls. Within minutes, all the built-up water deposits and dirt and grime began to melt away in front of my eyes. I left it on overnight, and when I got up this morning, it did not look like the same tub and shower. This product is a godsend, especially for old folks like us who have difficulty getting down on our hands and knees and scrubbing anything. More importantly, it performs as advertised. We plan on using it as part of our weekly cleanup routine, in addition to purchasing the Wet and Forget Mold and Mildew Remover for use on the vinyl siding of our house. This is truly an overnight sensation!" —Amazon Customer
Get it from Amazon for $18.61+ (available in two scents).
2.
A pack of stain-removing pads because owning a pet is messy business — fortunately these pads can handle 'em. Pee? Check! Poop? Check! Vomit? Check! (You can even use them to clean up your wine spills.)
Promising review: "Our poor older pup started having some incontinence issues and had several accidents in the house. I was really frustrated until I found these. They work amazingly well. They're small, so if the area was larger I had to use two or three, but they pulled up stains and saved the house from being smelly. I even used one on an older stain (that I'm pretty sure wasn't pet related) and it came up after leaving it on for about 24 hours. I make sure to keep a supply of these in the house at all times now." —MC
Get a pack of 20 from Amazon for $27.49.
3.
A heavy-duty oven scrub that'll get the job done right and fast. You're not about to be bested by years of baked-on dinner explosions and drippings that coat the inside of your oven.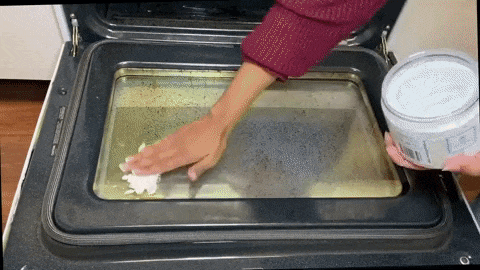 Everneat is a small business based in Fairfield, Connecticut, that specializes in natural cleaning products.
Promising review: "This product is amazing! It works fast with pretty minimal elbow grease. The stainless-steel sponge that comes with it makes it easier. And it smells great!" —Melissa C.
Get it from Everneat on Etsy for $19.99 (available in three scents).
4.
A 2-in-1 garlic press if you're the type of person who's going to add three cloves (minimum!) when the recipe calls for two. This press slices *and* minces so you don't need two separate gadgets.

Promising review: "I have carpal tunnel so I like to minimize straining my muscles. I also have pretty small hands. This garlic press is really comfortable to use, albeit a little bit annoying to clean. I recently tried using a friend's garlic press and the amount of force I needed to use really hurt my hands and wrists. If you've been avoiding getting a garlic press because you fear you lack wrist strength, this is the product for you. I'm never mincing or slicing garlic again." —Jamie Sarmiento

Get it from Amazon for $15.99.
5.
A pack of stick-on fever indicators to keep an eye on your little one's temp without poking and prodding them with a mouth or ear thermometer every hour. These stickers stay put for up to 48 hours so you're constantly aware of your kiddo's temp this cold and flu season.
These stickers shouldn't completely replace a thermometer. But, if your kid has a temp, sticking these bugs on their head will help you keep an eye on whether their fever is rising or going down.
Promising review: "These things are awesome! We have a child who is prone to febrile seizures. These have really changed the amount of stress we have when he's sick. He's almost 7 and loves these. When he's sick he actually asks for one. The best part is they don't fall off in his sleep! So we can monitor his temp in his sleep with no need for an invasive thermometer every few hours. These do not completely replace a thermometer, that's important to know, but they will let you know when a fever is beginning. And, when you have very little time to get a fever down before it spikes to seizure levels these are incredibly helpful." —Nateric
Get eight stickers from Amazon for $6.66.
6.
A nail file board for pups who hate getting their nails trimmed (but the scratch marks their overgrown claws make on your wood floors make you sad). This is like an emery board for your dog!
ScratchPad for Dogs is a small biz based in Atlanta.
Promising review: "Love this scratch pad! We adopted our dog almost a year ago and he's been terrified of clippers and grinders since day one. We've never been able to maintain his nails due to his super reactive anxiety around nail care. That's all changed since we got the Scratch Pad a few weeks ago! He took to it right away and his nails have shown significant improvement in just a few sessions!" —Kira Armajani
Get it from ScratchPad for Dogs on Etsy for $46.95+ (available in four styles and three grit levels).
7.
A mold and mildew remover so finally — finally! — those unsightly black splotches on your tile grout dissolve, never to be seen again. Just set it, forget it, and come back in a few hours to see grout that looks like new. I'm talking basically every speck of black mold is gone! *Cues up "Do You Believe in Magic"*
Promising review: "The words won't do it justice. I had this little bottle for over a year before I finally used it. What a mistake! I should've used it immediately! We have a small leak in our shower, which leads to a lot of built-up mold and mildew. I had tried everything else — commercial cleaners, even — and nothing touched it. Then I came across the little bottle I had bought over a year earlier and had pushed to the back of the cabinet, and I thought, 'What have I got to lose?' IT CLEANED ALL THE BLACK GUNK OUT OF MY SHOWER! I can't say enough good about it. I will buy more and keep some on hand, at least until we can get this leak fixed. What a lifesaver." —REMayRicks
Get it from Amazon for $13.99.
8.
Some discreet plant clips because your vining pothos is thriving in front of your window and its little green arms (or are they legs?) are dangerously at risk of being accidentally stepped on or nibbled on by pets.

Promising review: "I am so happy with these plant clips. Prior to buying them I used a large hook to hold the plants. It was ugly and not practical. These clips work so well and are a great value! It's a bonus that they blend in with the plant." —Paige Johnson

Get a pack of 50 from Amazon for $8.99.
9.
A cuticle oil that'll restore your shredded nails after a gel mani. A combination of sweet almond oil, vitamin E, and jojoba softens the cuticle and strengthens your claws so you'll be proud to show them off.
Check it out in action on TikTok here!
Promising review: "Found it on TikTok and I'm so pleased with the results. My nails are getting stronger and growing. And the best of all not chipping. Love it." —sidna saavedra
Promising review: "This product is amazing. I've always had acrylic or dipped nails because my real nails have always been brittle and always break and peel. I decided to give my nails a break and wanted to try and grow them out. I can't even believe the outcome! They are stronger than ever and growing! I really wish I had taken a before pic to show the difference!" —JOE D.
Get it from Amazon for $8.50.
10.
A pet hair remover if you love your fur baby but hate how much they shed...on everything. Roll it over your couch, bed, favorite blanket, you name it, and watch it lift the fur away. See, we can own nice things!!
Promising review: "This thing is aahhhh-mazing! I've had several kinds of cat hair removers — adhesive strips, sticky rollers, rubber nubby gloves. Nothing else works as well and as quickly. Easy to clean out too. I bought one hand held and a bigger one on a long handle for carpet and area rugs. Love them! They even clean the hair off the stupid red velvet drapes that came with the house when we bought it." —M. Bauer
Get it from Amazon for $28.95.
11.
A pack of dishwasher cleaning tablets to clean your machine as it runs. No need to sigh in frustration every time you open your dirty dishwasher to remove your "clean" dishes.
Promising review: "I have had a film on my dishwasher for quite some time now, I am embarrassed to say. We did not realize that it was necessary to clean the dishwasher from time to time. The buildup had been accumulating for over four years now. I tried several other cleaners to get the buildup off, but failed. I bought this product and figured it was worth a try. We added the product into the dishwasher and ran a normal cycle without dishes. When we opened it back up, it looked like new. Highly recommend this product!" —Phillip and Katherine
Get a pack of six tablets from Amazon for $8.99.
12.
A genius comb called The UnBraider for anyone who's tired of combing out their braids strand by strand. This innovative tool can brush out up to eight braids at once, and works on micro, knotless, box, individual, and cornrows.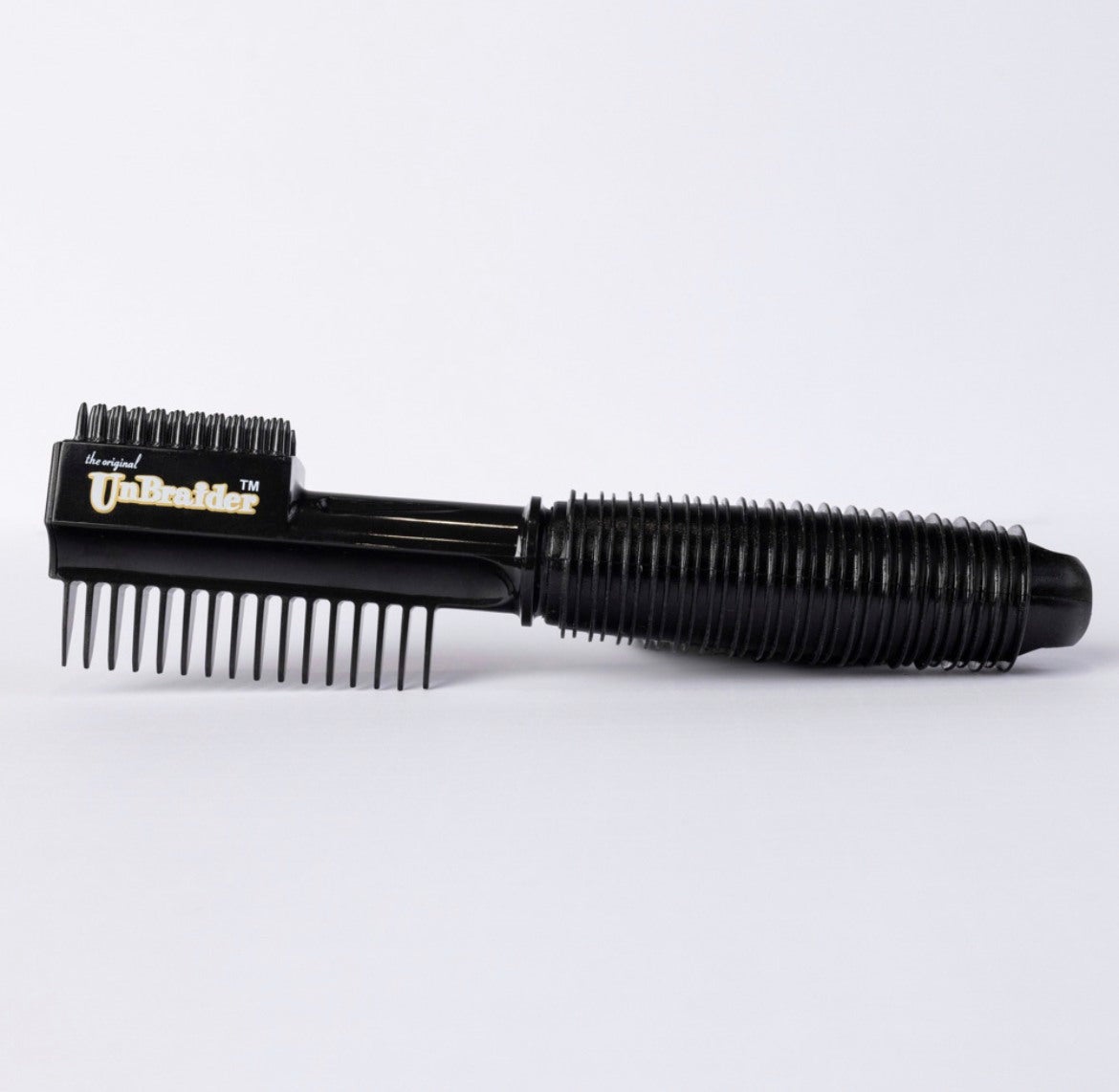 The UnBraider is a Black woman-owned business run by mother and daughter Natasha Anderson-Imara and Khadija Imara.
Get it from The UnBraider for $25.