1.
A booty-shaped vase to make a statement — no ifs, ands, or ~butts~ about it. If fresh flowers are your kryptonite, this is a fun and ~cheeky~ place to showcase them.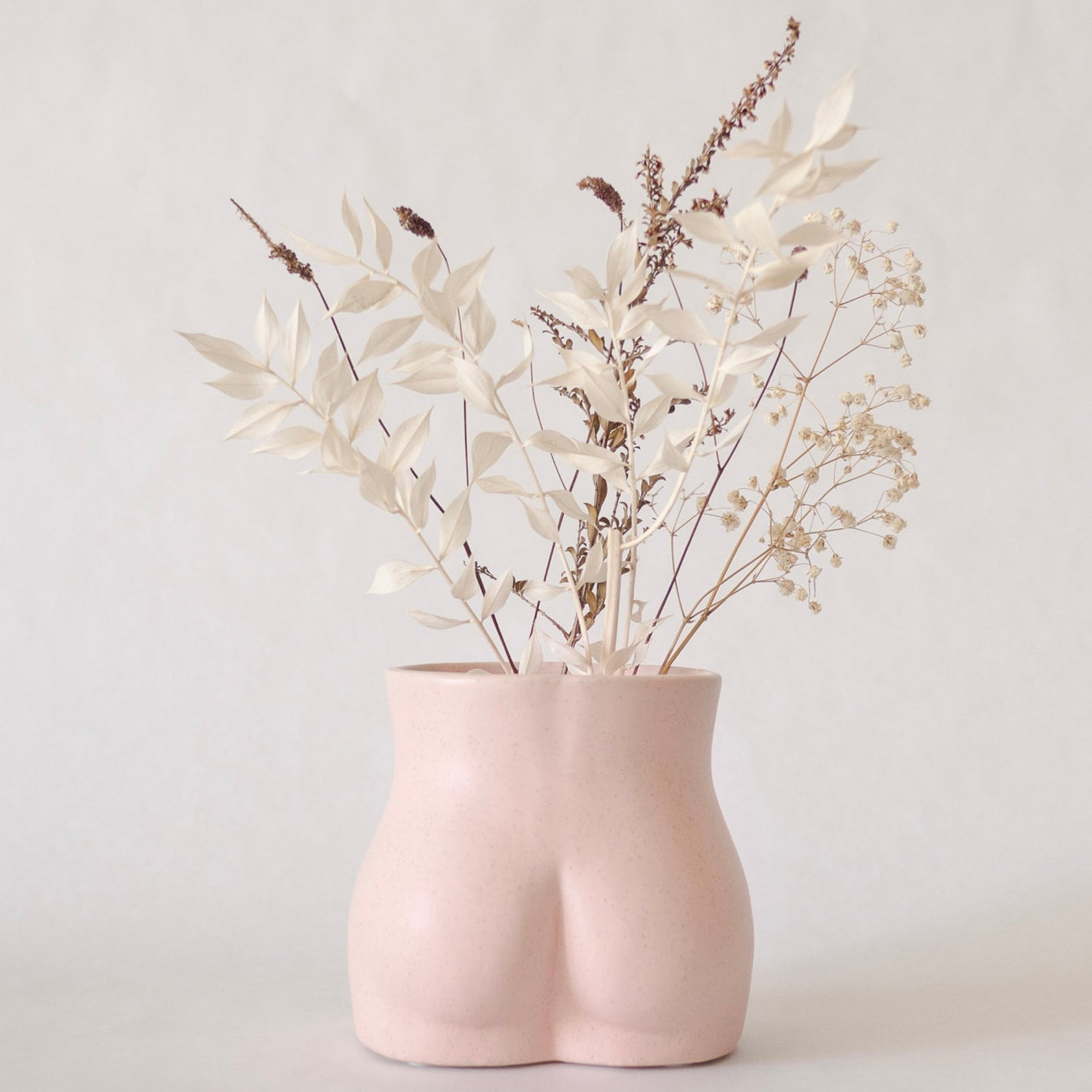 Base Roots is a Los Angeles-based and woman-owned home decor shop that blends modern and traditional design elements.
Promising review: "Love my planter! Shipping was quick and packaging was very good! Good size to put my dried flowers! Have received a lot of compliments from people who visit." —Kathyria Cruz
Get it from Base Roots on Etsy for $18.
2.
A rolling laundry sorter if you've definitely given up halfway through separating your towels from your delicates and just tossed the whole load into the washer. *looks around nervously* Heh heh! Not me! I would never!
Some genius reviewers had the idea of labeling each bag to make it clear what's what. To do that, you'll need some letter stencils and a permanent marker.
Promising review: "Absolutely love it, and I am complimented on it often as well. I love how the bags remove so you can easily transport anything to the wash." —guitar650
Get it from Amazon for $35.87+ (available in three colors).
3.
A beeswax wood polisher so you can revive your embarrassingly worn, dinged, and dented cabinets and table quick as a flash. Plus, this method is a heck of a lot cheaper than actually replacing the wood or furniture piece, and using this polish on a regular basis can actually help keep the wood hydrated so it lasts longer.
Promising review: "I bought this to help rehab a 20-year-old solid cherry china cabinet and hutch. Over the years, we've used various lemon oils and mineral oils in an effort to protect and mellow the natural finish of the piece, but in my experience those oil-based liquids don't last very long and don't give much protection. This stuff, on the other hand, worked almost like magic in comparison. It applied easily and gives a beautiful darkened finish to the wood. The beeswax helps to lock in the oil and (so far at least) lends decent protection against incidental spills and abuse. We've gotten a lot of compliments over the past month since I applied it, and it still looks fresh and new. Highly recommended." —J. Gitzlaff
Get it from Amazon for $8.98.
4.
A balcony bar because you want to enjoy the breeze and sunlight but your itty bitty balcony is trying to ruin your fun. There's zero assembly required; just slide it over your deck rails and enjoy your new spot!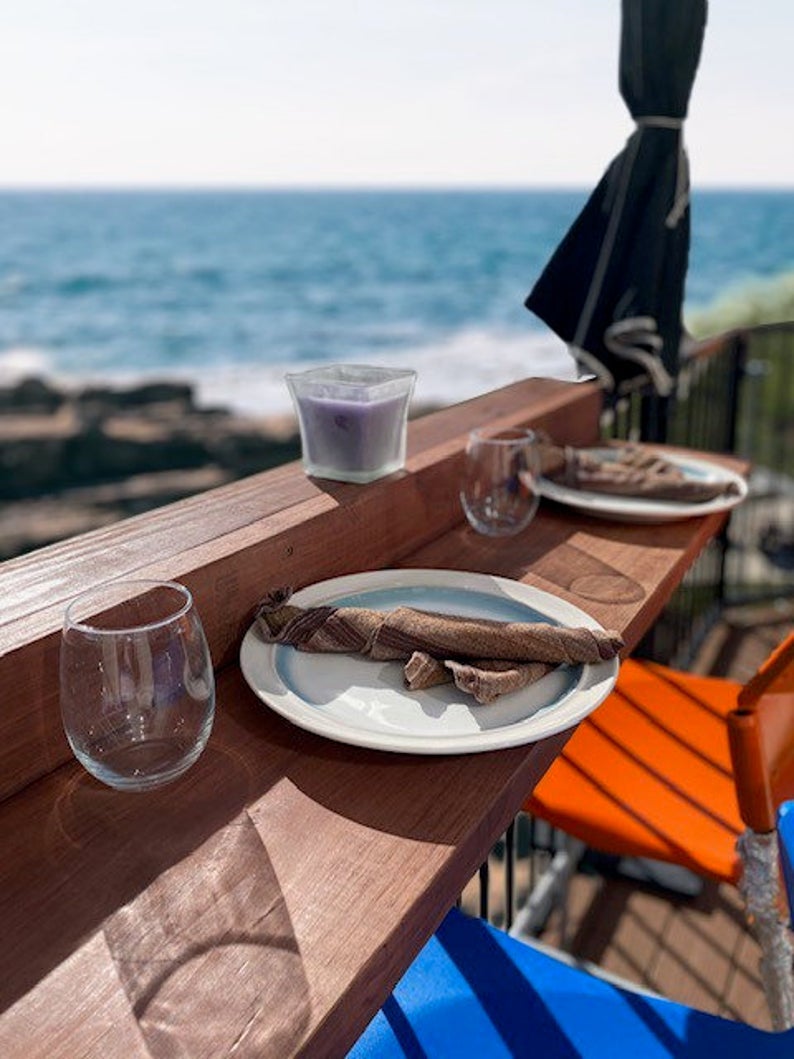 BestBalconyBars makes...the best balcony bars, whether you're looking for space-saving outdoor furniture or you want to turn your patio into *the* place to be.
Promising review: "Beautiful, hand-crafted, custom-fit to my railing. Creator is great to deal with on a custom piece. Everyone compliments it. I eat or have drinks on it every day and prefer it to eating at my dining room table! The second tier is ideal serving dishes, glasses, bottles, and the main tier is ideal for main dishes, computers, and notebooks while optimizing my patio functionality and keeping me at my serene view throughout my day. Great custom piece!" —Travis Horn
Get it from BestBalconyBars on Etsy for $225.95 (available in three colors).
5.
A rustic sideboard buffet with a sliding door for holding your dishes or knickknacks and looking pretty darn beautiful while doing it. Now to find some beautiful dishware...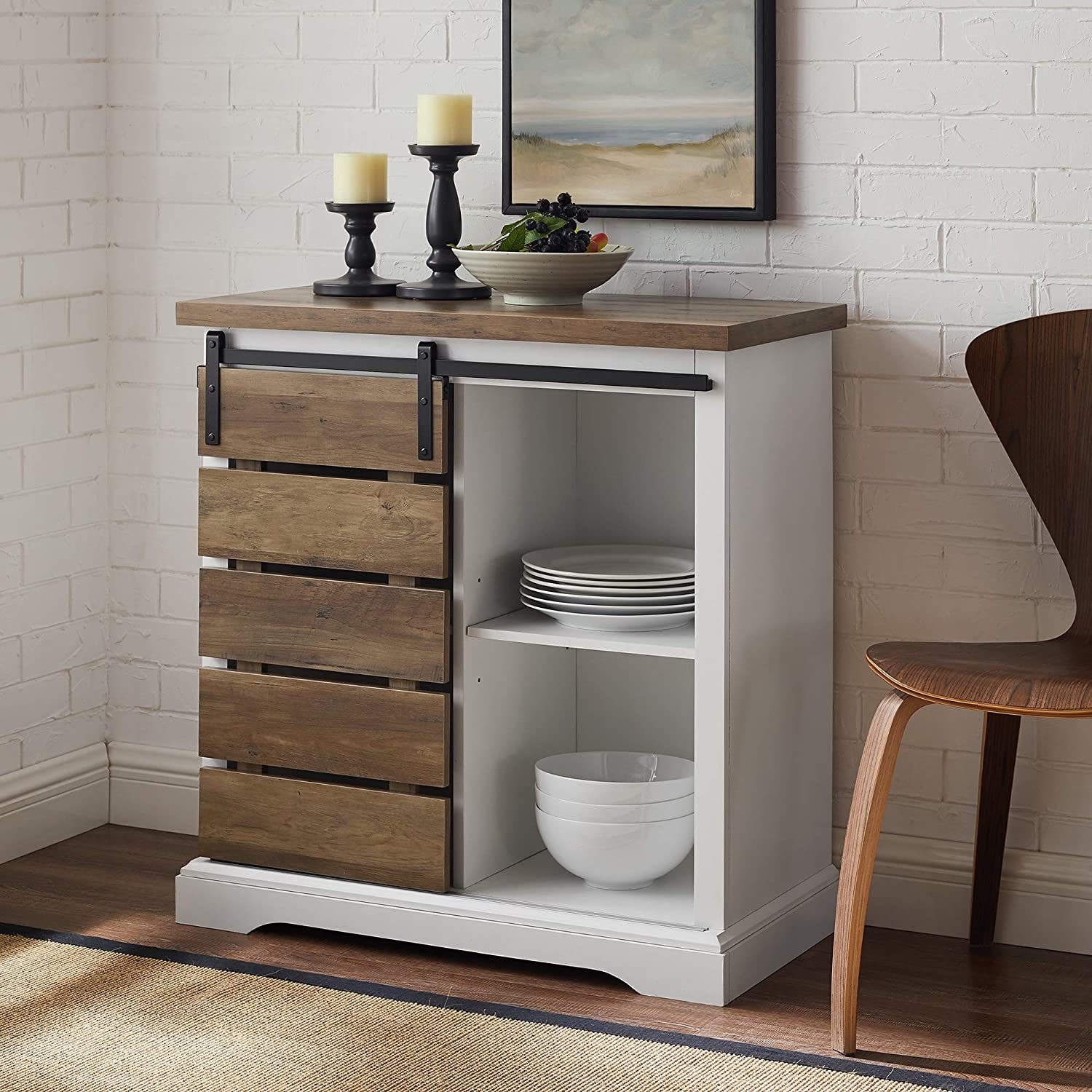 Promising review: "I love this little cabinet so much! It looks great, seems to be well-made, and has held up to the door being slid open multiple times a day by small children (which is also why we've installed a cabinet lock on left sliding door to keep the littlest of our kids out!). It looks expensive, feels sturdy, and is a perfect size. I couldn't be happier with this product! I get compliments all the time. It's definitely a good buy!" —BA
Get it from Amazon for $140.24+ (available in two colors and two sizes).
6.
A lawn repair formula that'll regrow the grass so you have something to mow! It's designed for reversing scorch marks from your pet's urine, damage from their digging, and wear in high traffic areas.

Promising review: "This bag was great. I bought it to seed an area that was killed in my front lawn where some construction was done. I had no problem getting full coverage and was able to get the entire 6x6-ish area to grow again. I threw some cheap topsoil over after seeding and watered mainly at nighttime, and occasionally in the morning too. I also skipped a couple days here and there. I did get more rain than usual in late summer in southern PA but am very pleased with the outcome. I did fill in a couple of other lighter areas in my yard as well, and they filled in very nicely. My neighbor gave me tons of compliments!" —Jason Hebert
Get it from Amazon for $12.99+ (available in five sizes and four styles).
7.
A pack of garage door accents to give your plain garage door a true glow up. Your neighbors will think you had it replaced overnight.
It comes with two accent handles and four hinges. You can also buy window decals to zhuzh it up even more.
Promising review: "These are so awesome! They are light and look so great. I was worried the magnet would not be very strong but they are perfect. I get so many compliments and then people are in awe with the fact they are magnets. great for any home. The price had be worried they wouldn't be that great but they are sooooooooo awesome!" —Jessica
Get four hinges from Amazon for $17.99.
8.
A can of concrete paint if your concrete patio is looking a little rough. What better way to get rid of old stains than to cover 'em with a fresh coat of paint. 
Promising review: "We used this on our deck. So far we have loved the way it covers. Time will tell if it holds up. We painted over a medium brown wood paint (after sanding and scraping loose bits off) and it covered very well. Definitely needed two coats though for a perfect flawless look. We didn't really like the slate gray color; it pulled a lot of blue. (We were expecting it to be a little darker.) But we grew to like it. And have received many compliments on it. Very nice paint. We will be buying more in the future for our projects ahead." —Heather
Get a gallon from Amazon for $28.98.
9.
A plush shag rug so you can WFF (work from floor) comfortably. Did 10-year-old me think I would get paid to lie on the ground watching TV and occasionally sending an email? Probably not.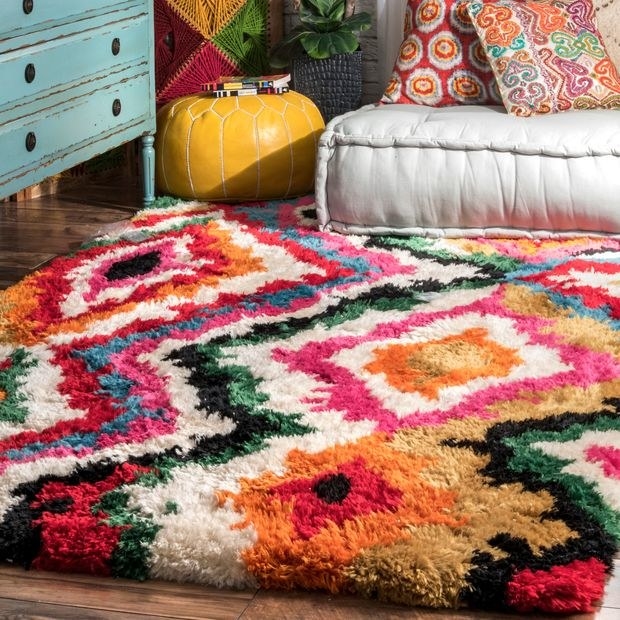 Promising review: "I love this rug! Super shaggy and bright! I get a ton of compliments on it. It really brings my living room together! It does shed a bit, but I just vacuum it every few days on my vacuums highest pile setting and it seems to be OK. Overall, best rug USA purchase yet!" —Jennifer
Get it from Rugs USA for $84.90+ (available in six sizes and two styles).
10.
A weather-resistant wooden path because there are unsightly bare patches where people often walk. This 8-foot pathway can help you get from point A to point B in style *and* protect your lawn. Plus it comes joined so you can plop it anywhere you're envisioning a new walkway. And when it needs to be cleaned, just hose it off with water!
Promising review: "We bought two of these as a temporary walkway from our house to the pool after the lawn was torn up for retaining walls. So far they have survived 4+ months of daily use and we constantly get compliments." —Alison Valentino
Get it from Amazon for $59.91.
11.
A 15-piece set of airtight food containers for helping you achieve a pantry that looks like Clea and Joanna from The Home Edit stopped by. Sure, pasta is great and all but aren't you tired of buying boxes of spaghetti only to realize you had an unopened box shoved in the back of your cupboard? This'll help you figure out what you do and don't have at a glance.
12.
A hardwood floor polisher and restorer that'll remove scratches while leaving behind a protective scratch-resistant layer. If your floors are well-trafficked, this'll help 'em look well-loved and restore a shine so bright you could probably check your reflection with it.

Promising review: "This product creates a protective coating over my hardwood floors and gives them a fresh and shiny look! I get nothing but compliments and praise from others. One application lasts about a month for my high traffic areas and I can't get that from any off-the-shelf products." —A Staten
Get it from Amazon for $13.98.
13.
A pair of minimalist metal planters to take advantage of unused vertical space and encourage your quarantine habit of buying plants, lots and lots of plants.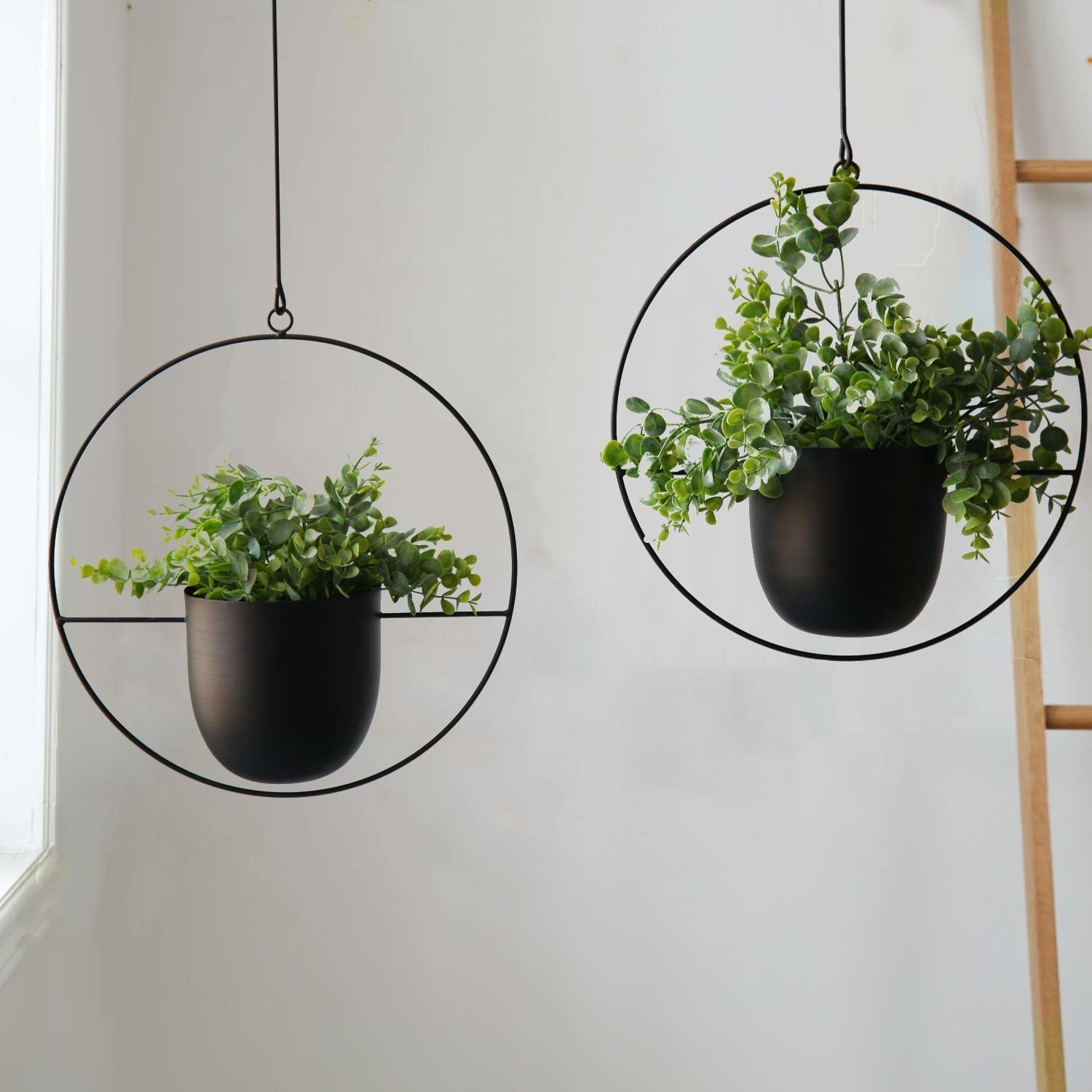 Promising review: "I am nesting on my front porch and embracing a new style of mid century modern. These planters are lovely and so in sync with my new decor. The plants love love love them....the cuttings I put in are thriving happily in their new homes. They are easy to water and turn for better sunlight exposure on all sides. I bought two sets and am really delighted with the look. I love that they are large enough to handle a sizable plant so my plants will be happy in their new homes for quite awhile. I have had so many compliments. I have limited floor and table space so hanging the plants brings green to my room without taking up valuable horizontal real estate." —Mwest guy
Get them from Amazon for $34.58 (or one for $19.99).
14.
A low-stakes wall sticker decal if you don't want to commit to spending the weekend redoing your home office.
Kenna Sato Designs / Etsy
Kenna Sato Designs is a small biz based in Utah run by McKenna Sato.
Promising review: "So happy with these decals! I get so many compliments. It makes the perfect accent. They did take a while to setup on my 10x16 wall. I agonized over how far to space them, but honestly there was no wrong way to do it!" —Alexandra Chan
Get it from Kenna Sato Designs on Etsy for $24.99 (available in a variety of colors).
15.
A string of fairy lights so you can create a little magic in any drab, dreary office.
Promising review: "I absolutely love my twinkle lights! I have gotten so many compliments on them and I plan to keep them up year-round. I hung lavender curtains behind my bed with them behind and I also have silver curtains in my living room that I put them behind. It looks pretty without being gawdy. My kittens love them too...maybe a bit too much." —Rhiann
Get them from Amazon for $17.99.