19 Accessories For Anyone Who's Constantly Using Their Air Fryer
Bone app the teeth.
We hope you love the products we recommend! All of them were independently selected by our editors. Just so you know, BuzzFeed may collect a share of sales or other compensation from the links on this page if you decide to shop from them. Oh, and FYI — prices are accurate and items in stock as of time of publication.
1.
A set of magnetic air fryer cheat sheets for ensuring your foods emerge perfectly cooked instead of still raw or burned to a crisp because you guesstimated the cook time.
Promising review: "So glad that I came across these very handy sheets. I love having this information handy and easy to use. The magnetic sheets are strong and stay in place well, even with the fridge door opening and closing a lot. It's handy having them right in view for quick reference. It helps us to use the air fryer more, as it's easy to glance over and time things correctly. I like that it is a dark color so it doesn't get messy as easily, and it has all the things we are most likely to use the air fryer for. The envelope the magnetic sheets come in is cute and would make a nice gift, perhaps in a basket or bag of related items. Happy to have these!" —Small~Town~Girl
Get them from Amazon for $11.45 (also available in white).
2.
A set of reusable liners because they're less wasteful than single-use paper liners. Not only will they make cleanup a breeze, but they'll also protect the coating on your air fryer basket from chipping since you're not abrasively scraping it with a spatula trying to unglue your food that's stuck to the bottom. 
Promising review: "These silicone mats are a game changer (and you all know not to use non-stick spray on your AF, right? It takes the coating off). Food doesn't stick (not even that ooey, gooey cheese that melts off slices of pizza) and cleaning is a snap. I just pop it in my dishwasher and voila! If you have an air fryer, get these mats!" —Karen G. Pedercini
Get a two-pack from Amazon for $10.99+ (available in two sizes).
4.
An air fryer accessories set if you want to use your new appliance to its fullest extent. This set works for a variety of air fryer brands and sizes, and can help you whip up mind-blowingly delicious cakes, pizzas, french fries, onion rings, roasted veggies, baked goods, breakfast foods, and even crispy kabobs.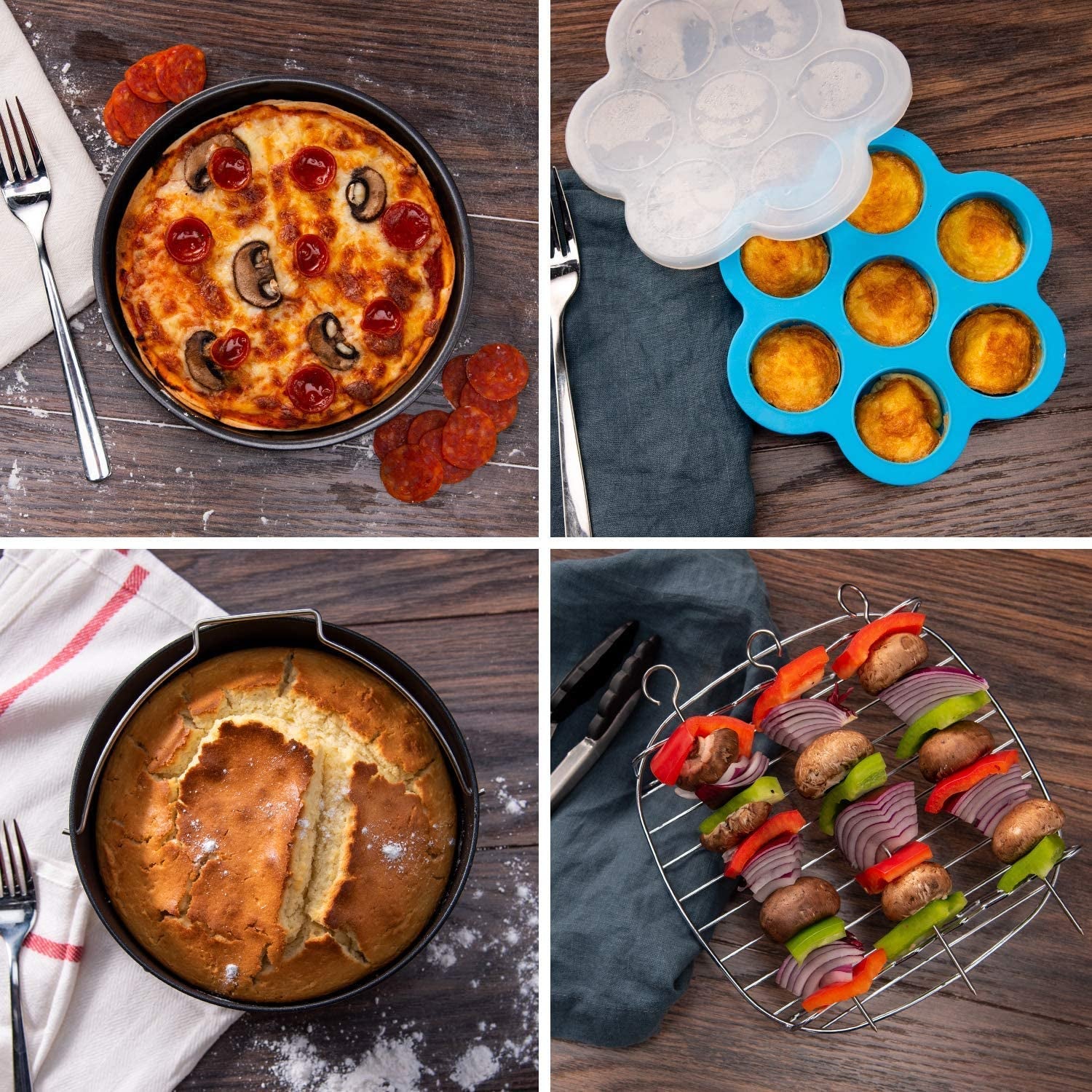 It comes with one cake pan, one pizza pan, one metal holder, one multipurpose rack with five skewers, one silicone mat, and one egg bites mold with a lid.
Promising review: "Just all around what I needed. These gadgets are great and they totally come in handy with my air fryer!! Thanks for making such great products and for helping to make my life so much easier!" —Sharnalei
Get a six-piece set from Amazon for $29.99+ (available in two sizes).
5.
An oil sprayer to guarantee your air fried foods emerge from the basket looking so crispy and delicious that you could start a food ASMR TikTok.
Promising review: "I bought this to spray oil on foods to go in my air fryer. It works great for that with a fine mist spraying out. So far I've used it for coking fried fish, fries, baked potatoes, and okra. Would recommend." —Amazon Customer
Get it from Amazon for $9.99.
6.
A pair of silicone oven mitts that'll protect your fingies and are less bulky than traditional oven mitts so you can securely grab the hot air fryer basket. 
Promising review: "We recently got a new air fryer/toaster/oven combo and MAN does that thing really heat up. Since it's not incredibly big, our big oven mitts were a bit cumbersome to use. We're really happy with this purchase. The mitts fit perfectly on the handle of the air fryer so no need to find a new spot to store. They are easy to slip on when food is done, and perfectly protect your hands from the heat. Note: I wouldn't use these for a full oven.. they don't seem like they would protect your hands in that scenario (not thick enough) but that's not what we purchased them for." —Michelle K
Get it from Amazon for $3.99+ (available in six colors).
7.
A silicone pot for cooks who want the reusability of a silicone liner as well as the support of high walls to keep their food contained. Plus you can easily remove it from the air fryer thanks to its easy-to-grab handles.
Promising review: "My wife and I enjoy cooking with our air fryer even more now with this air fryer pot. Before using this silicone pot it was a hassle to clean all the oil from the air fryer after each cooking. But this pot made all the difference. No more mess inside the air fryer! Also, It allowed all the oils to drain to the edge of the pot making foods more crispy and less oil. This one is a major go!!" —Amazon Customer
Get it from Amazon for $17.99+ (available in two sizes).
10.
An air fryer cookbook if you got an air fryer because all your friends were getting air fryers and you didn't want to feel left out. It's time to test drive your new baby with some mouthwatering recipes that are perfect for beginners (and pros!) alike.