Bacon-Wrapped Burger Dogs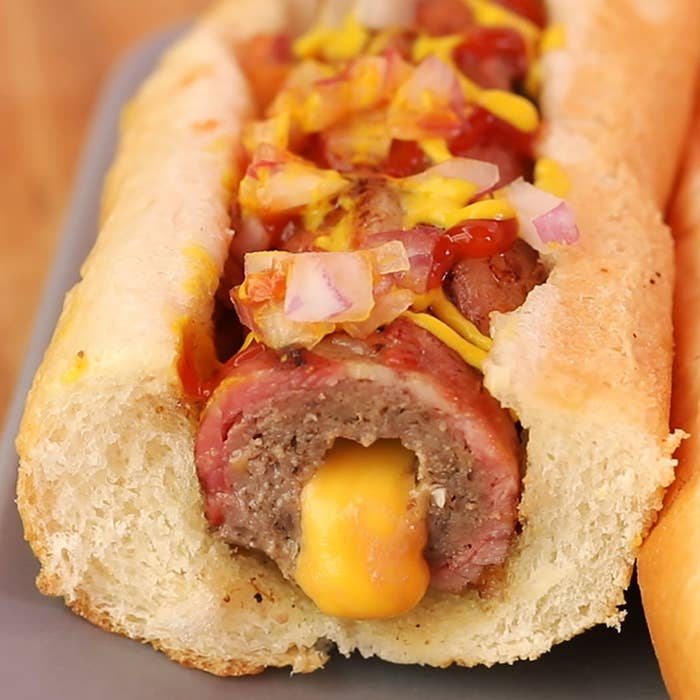 INGREDIENTS
Servings: 4 dogs
1 pound Certified Angus Beef® Brand Ground Chuck
1 tablespoon Worcestershire sauce
Salt, to taste
Pepper, to taste
4 cheddar cheese sticks
4 strips bacon
Toothpicks
Hot dog buns
Your favorite condiments
PREPARATION
1. Season the ground beef with salt, pepper, and Worcestershire.

2. Split it up into four equal servings, then shape into flattened rectangles roughly ½ inch thick and one inch longer than your cheese sticks.

3. Flatten each ball out into a rectangle and place a cheese stick in the middle. Fold burger meat around the sides of the cheese, then pick up and form into a cylinder with your hands. Make sure that the ground beef is evenly concealing the cheese stick. 

4. Starting at one end, wrap a strip of bacon around each burger dog. Use a toothpick on each end to secure the bacon strip.

5. Grill for 5-6 minutes, then flip over burger dogs and grill for 4-5 additional minutes. Dogs are done when bacon is browned and cheese is oozing from your dogs.

6. Serve on hot dog buns with your favorite burger or hot dog condiments.

7. Enjoy!