Bacon Ranch Chicken Sliders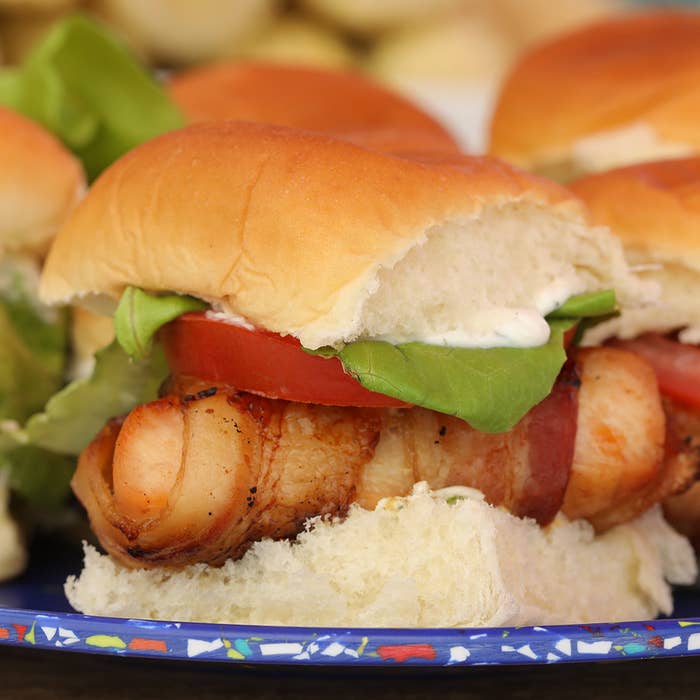 INGREDIENTS
Servings: 8 sliders
2 Meijer True Goodness Chicken Breasts
1 tablespoon seasoning salt
8 strips bacon
4 metal skewers
2 tomatoes, sliced
1 cup leaf lettuce
Ranch Dressing
1 cup Chobani® 0% Plain Greek Yogurt
2 tablespoons mayonnaise
3 teaspoons chopped fresh herbs (italian parsley, dill, chives)
¼ teaspoon lemon zest
1 teaspoon lemon juice
¼ teaspoon garlic powder
¼ teaspoon fresh ground pepper
Salt, to taste
PREPARATION
1. Combine ranch dressing ingredients in a medium mixing bowl and stir to combine. Cover with plastic wrap and refrigerate until serving. 

2. Place chicken breasts on a plastic cutting board and cover with a sheet of plastic wrap. Pound out with a mallet or heavy skillet. Remove plastic wrap and rub chicken with seasoning salt, then cut each breast into 4 pieces.

3. Take a chicken piece and wrap it completely with a strip of bacon. Run a skewer through it, securing the bacon in place. 

4. Place skewers on a grill (gas or charcoal) over medium heat. Cook 10-12 minutes, turning halfway through. Remove from grill when fully cooked through to a temperature of at least 165°F/74°C.

5. Remove from skewers and serve on slider buns with lettuce, tomato, and ranch dressing.

6. Enjoy!