Recently, students at Seattle Pacific University made a big statement during their graduation ceremony, when one after another they handed rainbow pride flags to the university's interim president instead of shaking his hand as they received their diplomas.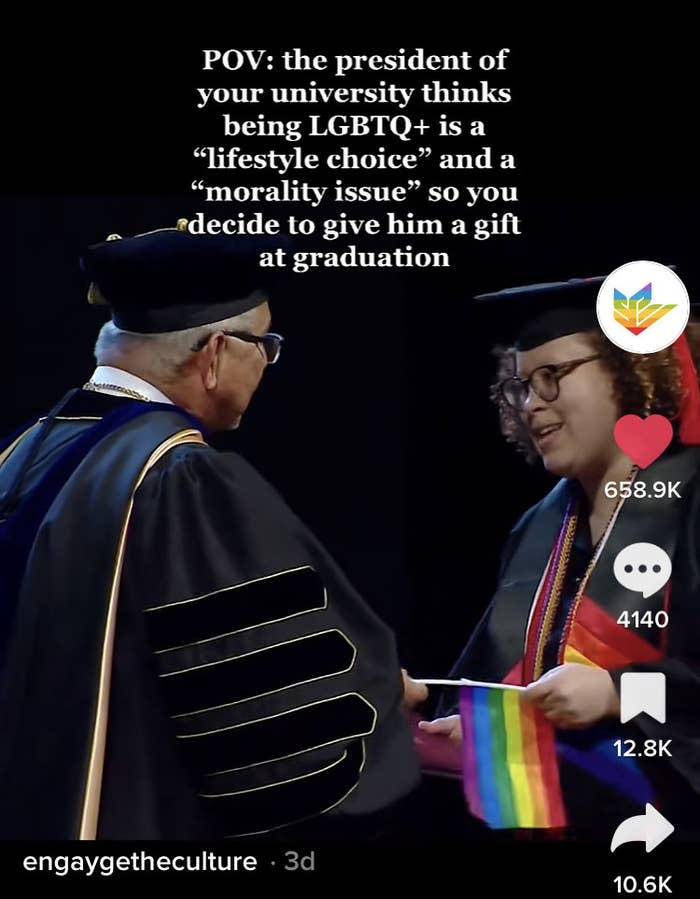 The students were protesting a school policy that bans the hiring of LGBTQ+ people, and they shared video of their demonstration on TikTok, where it has racked up over 3 million views so far. In the caption, they wrote, "We've also been sleeping outside his office for 19 days in a gay sit-in but he usually doesn't say hi to us."
Associated student body president Laur Lugos told BuzzFeed that it's encouraging to see the positive response their video has gotten. "Students at SPU are thankful that we have been able to bring attention to the ways our university discriminates against LGBTQIA+ people."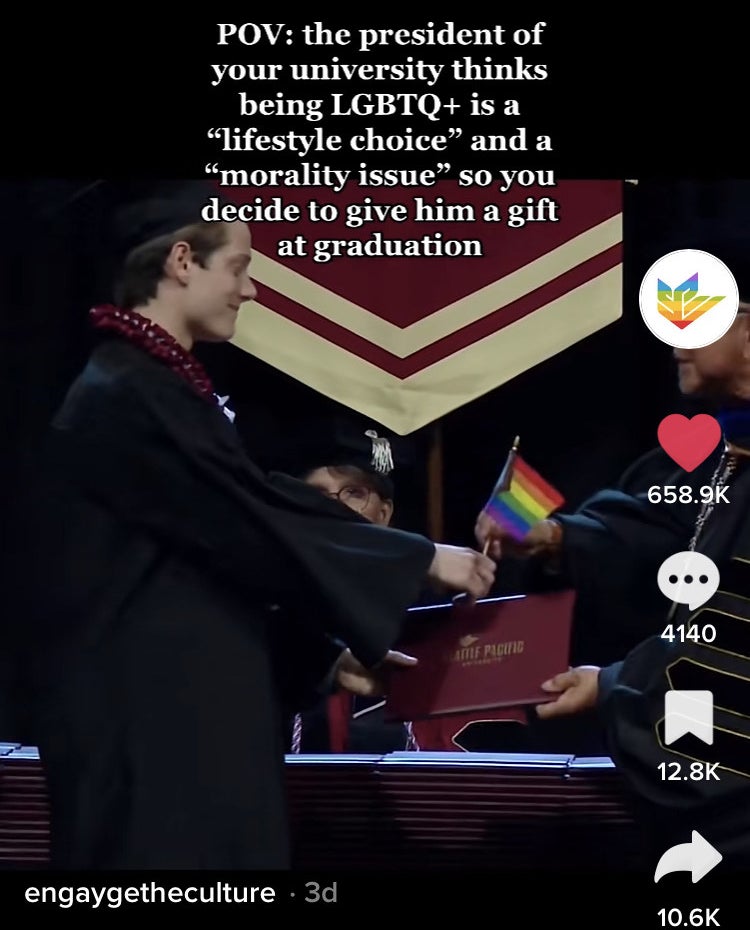 "Though the TikTok specifically addressed our interim university president, this protest was a part of a bigger, ongoing institutional battle to remove discriminatory hiring policies at our university which target LGBTQIA+ employees."
"Our university's board of trustees is the only entity with the power to change these policies, and recently decided to maintain the current employee lifestyle policy despite overwhelming support for its removal from students, staff, faculty, alumni, and community members. As our president is also a voting member of the board, we decided to make a statement in this way through our flag protest, in addition to other ongoing protests."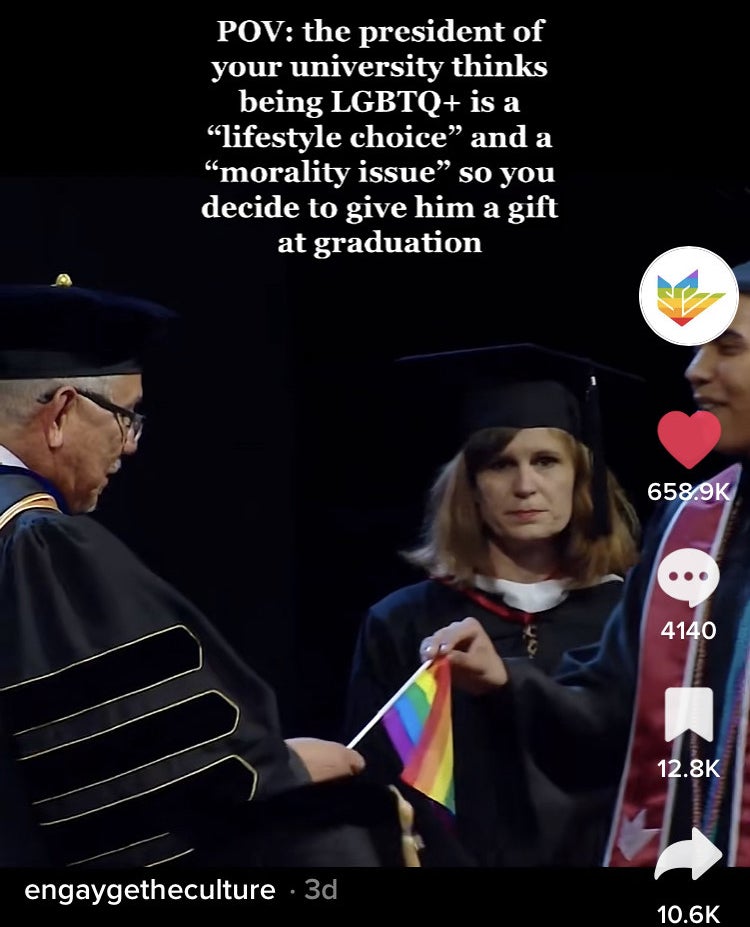 Lugos also says that the majority of the community at the school is in favor of changing the anti-LGBTQ+ hiring policy. "The graduating class was enthusiastic about the protest; we even ran out of flags, so not everyone who wanted to participate was able to."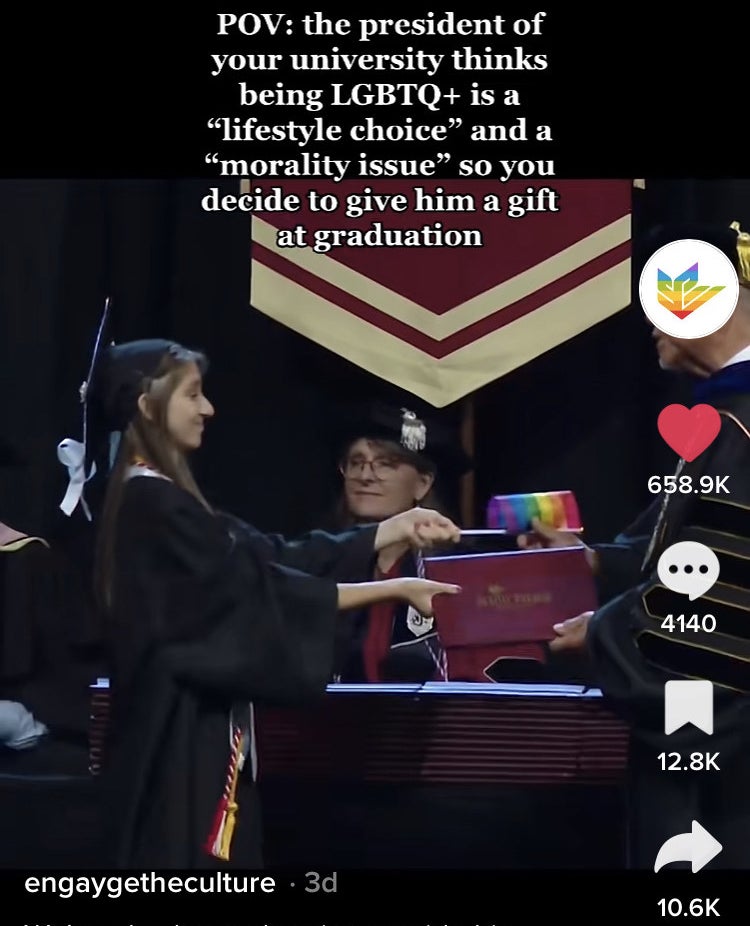 "Many students chose to not shake the president's hand or told him to resign in place of participating in the flag protest. Our university president has acknowledged our protest, but we are continuing to press for institutional change."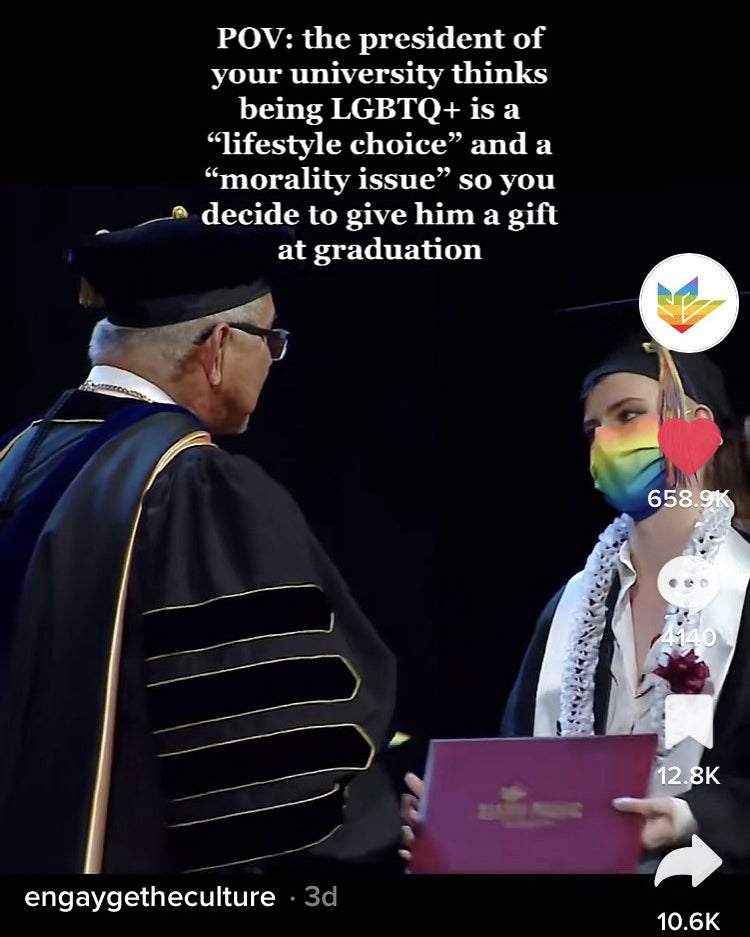 And Lugos also has a message for students at other schools who encounter discriminatory policies. "I would encourage students to stand up for what they know will cultivate inclusive communities for all people. I know that religious institutions can be hard to navigate, but I truly believe that this generation has the power to push for equality in our communities, both big and small."
In a statement regarding "employee lifestyle expectations," SPU's board chair Cedric Davis said, "While this decision brings complex and heartfelt reactions, the Board made a decision that it believed was most in line with the university's mission and Statement of Faith and chose to have SPU remain in communion with its founding denomination, the Free Methodist Church USA, as a core part of its historical identity as a Christian university."
The statement went on to say, "The board acknowledges that there is disagreement among faithful Christians on the topic of sexuality and identity."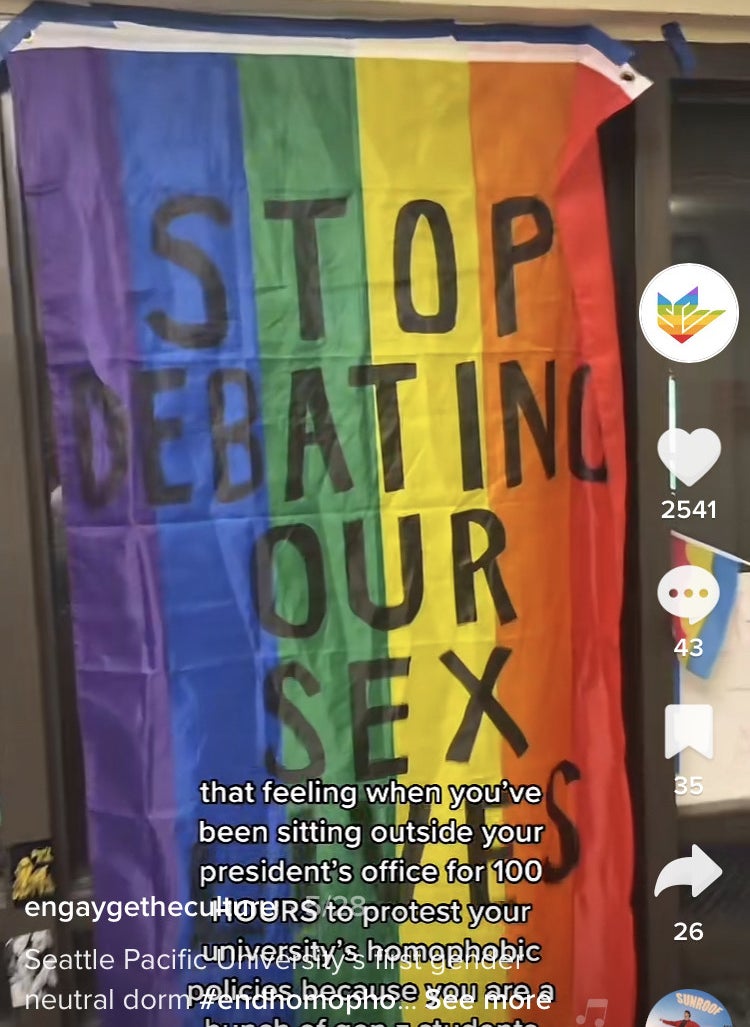 BuzzFeed reached out to Seattle Pacific University for comment, and Pete Menjares, interim president of Seattle Pacific University, said, "It was a wonderful day to celebrate with our graduates. Those who took the time to give me a flag showed me how they felt, and I respect their view."