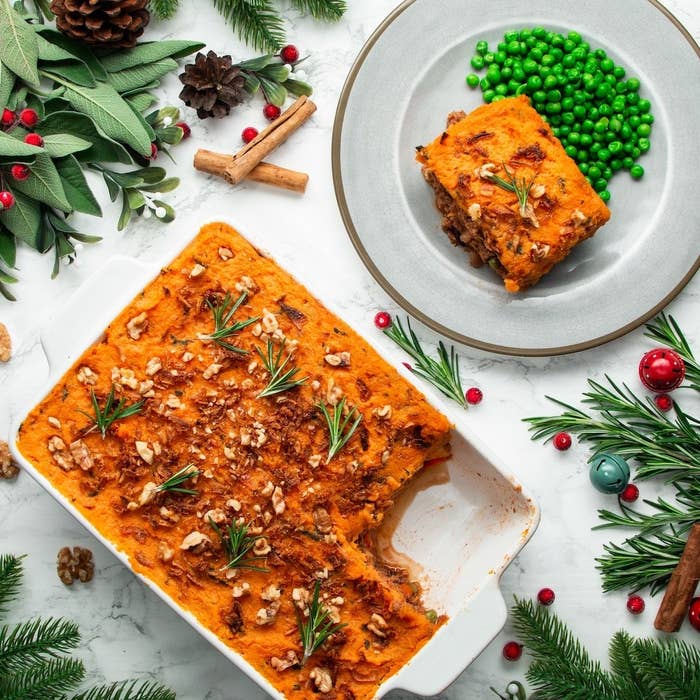 Ingredients
600g The Meatless Farm Co. Meat Free Mince
1.5kg sweet potatoes, peeled and cubed
100g salted butter
6 sage leaves, finely chopped
1.5 tbsp olive oil
1 onion, finely chopped
3 cloves garlic, finely chopped
2 large carrots, peeled and cubed
2 parsnips, peeled and cubed
3 tbsp tomato puree
150ml red wine
300ml vegetable stock
70g dried cranberries
100g frozen peas
3 rosemary sprigs, finely chopped
Salt, to taste
Pepper, to taste
20g crispy onions
30g walnuts, roughly chopped
Rosemary sprigs to garnish
Preparations
1. Start by making the sweet potato mash. Put the cubed sweet potatoes into a pan of boiling water and boil for 10–12 minutes until soft. Drain, then return straight to the hot pan. Add the butter and the chopped sage leaves, season with salt and pepper and then mash until smooth.
2. Preheat the oven to 180°C.
3. Heat the olive oil in a frying pan and fry the onion and garlic until soft.
4. Add The Meatless Farm Co. Meat Free Mince and fry for a further 3-4 minutes until it starts to brown, then add the carrots and parsnips.
5. Pour in the red wine and vegetable stock, stir in the tomato puree and simmer over a medium heat for 10 minutes until the vegetables soften.
6. Finally add the dried cranberries, peas and chopped rosemary, mix well, and then tip the mince mix into a large baking dish.
7. Top the mince with the mashed sweet potato and smooth the top evenly. Sprinkle over the crispy onions and chopped walnuts and then cook in the preheated oven for 20–25 minutes, until the top is golden, peaks in the mash start to go crispy and the mince sauce bubbles underneath. Check the cottage pie after 15 minutes and if the walnuts and onions are starting to catch, loosely cover with foil.
8. Remove from the oven, garnish with extra sprigs of fresh rosemary and enjoy immediately.