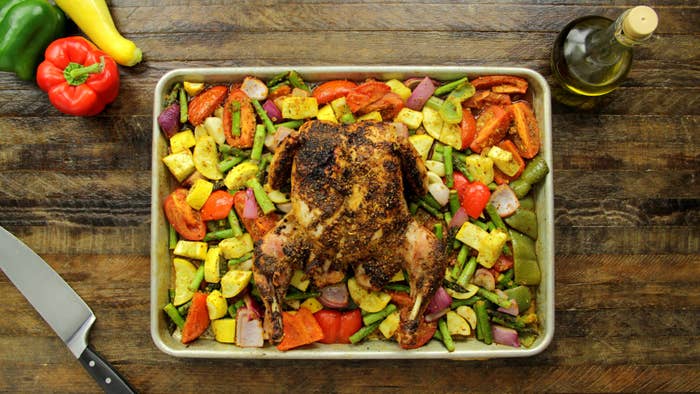 Ingredients
1 whole chicken (approximately 4 lbs)
1⁄2 cup olive oil, divided
2 packets McCormick One Sheet Pan Farmer's Market Chicken & Vegetables Seasoning
2 small summer squash
1 red onion
4 roma tomatoes
1 bunch of asparagus, tough stems trimmed
1 red pepper, core and seeds removed
1 green pepper, core and seeds removed
15 peeled cloves of garlic
Preparation
1. Preheat the oven to 400oF.
2. Brush a large baking sheet (with edge) with 1 tablespoon of olive oil.
3. Remove the giblets and neck from the chicken and discard or save for stock.
4. Flip the chicken over so the breast side is facing down and the backbone is facing up. Using sharp kitchen shears, starting at the tail of the chicken, cut up along the right side of the backbone of the chicken. Repeat on the other side, removing the entire back bone. (The backbone can be discarded or saved for stock).
5. Flip the chicken over and using the heel of your hands, press on the breast of the chicken until it pops and flattens, and then tuck the chicken wing tips under the back of the chicken.
6. Brush both sides of the chicken with 1⁄4 cup of the olive oil and season all over with one packet of the McCormick One Sheet Pan Farmer's Market Chicken & Vegetables Seasoning. Brush the top of the chicken with 2 additional tablespoons of olive oil and place the chicken on the oiled sheet pan. Bake for 40 minutes.
7. While the chicken is in the oven, prep the vegetables. Cut summer squash, red onion, roma tomatoes, asparagus, red pepper, and green pepper into large, bite-sized (one inch) pieces. Toss the vegetables along with the garlic cloves in a very large mixing bowl with the remaining olive oil and one packet of McCormick One Sheet Pan Farmer's Market Chicken and Vegetables Seasoning.
8. Remove the chicken from the oven. Using 2 sets of tongs, carefully remove the chicken from the pan and place on a cutting board. Pour the prepped, seasoned vegetables onto the pan. Using your tongs to lift the chicken, place the chicken back on top of the vegetables. Cook for another 20-30 minutes or until the chicken reaches 160oF when a meat thermometer is inserted into the thigh of the chicken.
9. Remove the chicken and vegetables from the oven and rest for 10-15 minutes.
10. Slice the chicken and serve with the vegetables.
11. Enjoy!