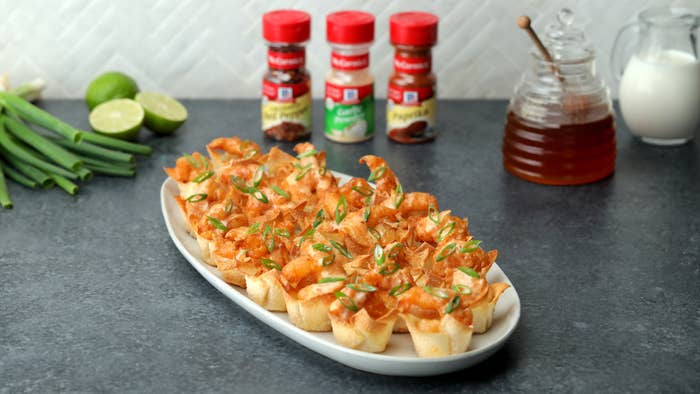 Ingredients
24 wonton wrappers
Neutral oil, for brushing and frying
24 shrimp, peeled and deveined (smaller size, not giant)
1 cup buttermilk
1 cup cornstarch
2 teaspoons McCormick Garlic Powder
1 tablespoon kosher salt
Sauce
1⁄2 cup mayonnaise
3 tablespoons sweet chili sauce
1⁄4 teaspoon McCormick Crushed Red Pepper
1⁄4 teaspoon McCormick Paprika
1 tablespoon lime juice
1 teaspoon rice vinegar
1 teaspoon honey
1⁄4 teaspoon kosher salt
4 scallions, thinly sliced on a bias, for garnish
Preparation
1. Preheat oven to 375oF (350oF for convection ovens).
2. Brush one side of each wonton wrapper with oil. Press a wonton wrapper (oil side down) into each space of a mini muffin tin so that it forms a cup. Once all the wrappers are in the tin, brush the edges with a little more oil. Sprinkle each with a pinch of kosher salt.
3. Bake for 5–8 minutes until golden brown and crispy. Once cool enough to handle, remove each cup from the tin and let cool.
4. Pour buttermilk over the shrimp and stir to coat.
5. In another bowl, whisk together cornstarch, McCormick Garlic Powder, and kosher salt. Remove each shrimp from the buttermilk and dredge in the cornstarch mixture, shaking off any excess.
6. Heat 2 inches of neutral oil in a pot to 375oF. Fry the shrimp in batches until golden and cooked through, 1–2 minutes. Drain on paper towels.
7. Sauce: Whisk together all ingredients.
8. Drizzle some sauce over the shrimp in a bowl and toss. Drizzle with a little more and toss again. Shrimp should be lightly coated with sauce, not soaked.
9. Place a shrimp in each wonton cup. Dab a little bit more sauce on top of each and garnish with two scallion slices.