Chicago Blackhawks Win Stanley Cup 2–0
For the third time since 2010, the Chicago Blackhawks on Monday won the Stanley Cup, beating the Tampa Bay Lightning four games to two in the best-of-seven series.
by
,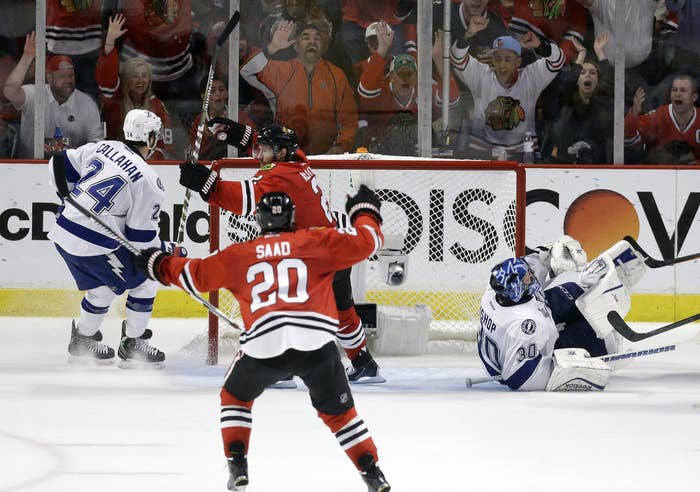 The Blackhawks won the Stanley Cup on Monday after beating the Tampa Bay Lightning 2–0 in Game 6 of the finals.
Speaking to an NBC reporter on the ice, team captain Jonathan Toews said the win "doesn't feel real right now."
"We just keep growing, we keep maturing, this what it's all about," he said. "I gotta say, it doesn't get any better."
The win on home turf is the team's third championship title since 2010 and adds to the budding legacy of head coach Joel Quenneville, who was hired in 2008.
Addressing the crowd prior to the cup's hoisting, NHL Commissioner Gary Bettman said that after six championships, "You have a dynasty."
It was also the first Stanley Cup win on home ice for the Blackhawks since 1938. Other championships for the Blackhawks include 1961 in Detroit, 2010 in Philadelphia and 2013 in Boston. All three recent Stanley Cups were won under head coach Quenneville.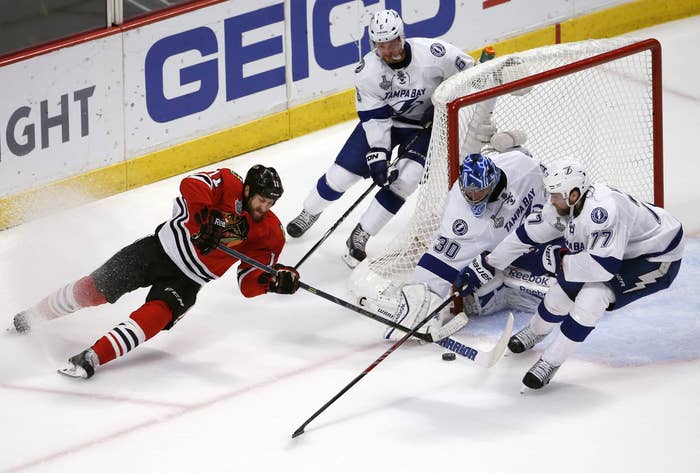 Blackhawk scorers Patrick Kane and Duncan Keith secured the victory, first with Keith's goal in the second period with 2:47 left on the clock, then with Kane's goal with 5:13 left in the game.
Tampa Bay's star, Steven Stamkos, had several near goals, but each time he was either blocked or just off the shot.
Keith was selected unanimously as the most valuable player.
The last team to win three Stanley Cups within a six-year period was the Detroit Red Wings, who achieved that record between 1997 and 2002.
Meanwhile, fans — many of whom paid more than a $1,000 for tickets — erupted into jubilation at the home-turf championship win. Some tickets went for as much as $11,000, ESPN reported.
As midnight approached, huge crowds of fans took over Clark Street in Wrigleyville as bars closed. With mounted police watching on the ground and helicopters in the sky, the fans were raucous but otherwise largely peaceful, but just a handful arrests reported, according to the Chicago Tribune.