As a child, I couldn't have been more giddy to attend the NFL Experience during the buildup to Super Bowl 32 in San Diego. Despite all the activities geared toward young fans like myself, my most vivid memory is catching a Q&A with Archie and Peyton Manning. The aura was palpable in the presence of football royalty.
Fresh off a second-place finish in Heisman Trophy voting, Peyton was about to be drafted first overall by the Colts. When asked which team he wanted to play for, however, Peyton's quick-witted response gave a glimpse of the entertainer and pitchman he'd become. His answer: the Packers or Broncos, the Super Bowl contestants who wouldn't go on the clock until long after he'd been taken. Rebuilding in Indianapolis it was.
But as fate would have it, Peyton's whimsical wish to play for Denver ultimately came true. With the league's best defense at his back, the Super Bowl's golden anniversary on the outskirts of the Golden Gate is his golden opportunity to go out on top, much like Broncos legend and current executive John Elway did while Peyton's professional career was just beginning.
Of course, one man's sunset is another's sunrise. MVP Cam Newton and the 17-1 Panthers make for a formidable foe awaiting Peyton & Co. Boasting six first-team All-Pros, Carolina comes in as a deserving favorite eager for its moment of glory.
In addition to the point spread, the plethora of props posted provides value for the taking for those who play their cards right. Time to rock and roll.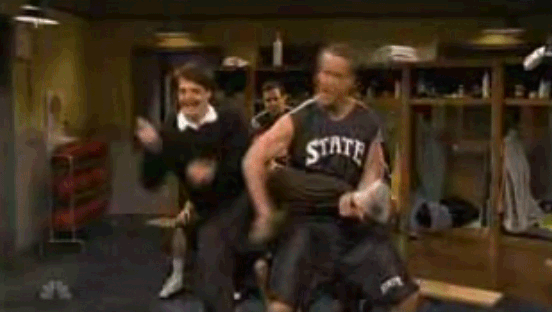 Game Flow Props: No Score in the First 5:30, 1st Half Under 23, 2nd Half for Highest-Scoring Half
The beginning of a Super Bowl is often compared to the first round of a prized heavyweight bout. The competitors consistently start out conservatively, feeling each other out and settling in on the sport's biggest stage, looking to avoid costly mistakes.
While things will open up as the game progresses, executing the basics early is the path for each team to playing on its own terms late.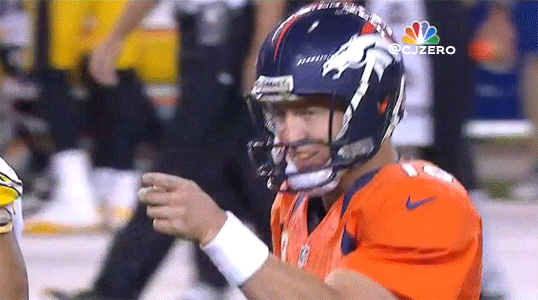 "Just Say No" Props: No Overtime, No Safety, No Defensive or Special Teams Touchdown
There's plenty of appeal to the notion of risking a little bit to win a lot, but so many recreational players act on this impulse that the lines offer deflated payouts even when long shots come through.
The flip side, laying a lot to win a little, doesn't sound like any fun. Acquiring a no overtime or no safety ticket requires fronting several times the potential winnings. But by waiting to pounce until game day, after the boatloads of "yes" money have inevitably poured in and shifted the odds accordingly, the real enjoyment can begin. The probability of these "no" tickets cashing makes the gut check more than worthwhile in most instances. Case in point: none of the previous 49 Super Bowls have gone to overtime.
Since a defensive or special teams touchdown is more likely to occur than an overtime or a safety, less risk is involved up front relative to the possible payout. But because the "yes" side pays out at better than 1-to-1, it still attracts the masses, creating another scenario in which the laws of probability make it clear: Let the "yes" money flow, then just say no.
Side: Denver +6
On the eve of the conference championship games, the Panthers were projected to be favored by a field goal over the Broncos should both teams advance. After Denver held on for dear life to defeat the Patriots, followed by Carolina's demolition of the Cardinals, the point spread was destined to increase. But it never needed to double, calling for the Panthers to beat the NFL's No. 1 defense by at least a touchdown in order to cover. The avalanche of Carolina money that moved this line up so high helps explain why NFL teams to score at least 40 points in a playoff game are only 5-23 against the spread in the following game.
As dominant as the Panthers have looked throughout the playoffs, they've benefited greatly from an inordinate turnover ratio of 9-to-1. In the Divisional Round, Carolina fumbled twice against the Seahawks and recovered both times, including the second play of the game on a tone-setting opening drive that resulted in a touchdown. Seattle's ensuing drive resulted in the first of those nine turnovers and another Panthers touchdown in the form of a Luke Kuechly pick-six. From there the rout was on, although not before a 24-0 Seahawks rally in the second half that appears to have faded from the market's memory much more than the Broncos' frantic final moments against New England.
In the NFC Championship Game, it was lights-out for Carolina and wheels off for Arizona from the get-go, Carson Palmer throwing four interceptions while fighting through a battered index finger on his throwing hand. And once again the fumbles bounced in the Panthers' favor, the Cardinals putting the ball on the ground three times and Carolina scooping it up on each occasion.
The Panthers could have gone without all nine turnovers and still won both contests, but if not for big breaks on several game-changing plays that had as much to do with good fortune as good football, how invincible would they appear to be?
For all Denver's offense lacks in big-play ability, they've kept it clean throughout the playoffs, turning the ball over only once in two games. Simply staying the course should be enough for the Broncos and their dynamic defense to keep it competitive throughout.
Of course, a spread this big leaves the door open to Denver covering even if, when it's all said and done, Carolina still ends up dabbing on 'em.
Total: Under 45.5
In a game featuring two great defenses and one very limited offense, a low total would be expected. At 45.5, that's not the case.
Furthermore, a correlation to the Under can be construed with either side covering. If the Broncos are to hang around, the game can only be seen as low-scoring, as a shootout is the last thing they're built to withstand. If the Panthers amass a sizable lead, forcing Manning to take shots downfield, a one-dimensional Denver offense could struggle mightily while the Broncos' defense keeps Carolina reasonably in check.
Newton may be playing like Superman these days, but it's the defenses who should rule this particular day.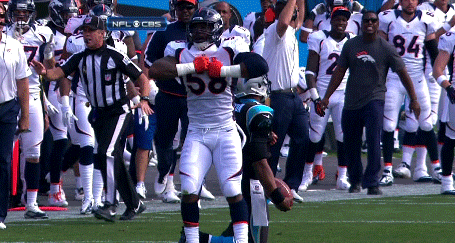 Pick of the Week: Peyton Manning Under 245.5 Passing Yards
When Peyton Manning last played for the Lombardi Trophy two years ago, he set a Super Bowl record by completing 34 passes. Those 34 completions only gained 280 yards, however, and an array of factors suggest he might not even attempt 34 passes this time.
First and foremost, his arm strength has all but vanished since that fateful showdown with the Seahawks. His pre-snap brilliance means he can still put his team in the best position to succeed, but that position rarely involves throwing the ball downfield.
Denver will look to control both the ball and the clock, likely translating to a heavy dosage of rushing attempts at the outset regardless of what could be a meager yards per carry average. As long as the game stays close, most of Manning's passes should be short, high-percentage attempts geared more toward a balanced, efficient offense than big chunks of yardage.
As alluded to in the Under 45.5 breakdown, if the Panthers build a big lead, the Broncos may be forced to abandon the ground game and take deep shots - never a strong suit of Manning's, let alone in his current physical state. And if the Carolina cushion becomes comfortable enough down the home stretch, Manning might make an early exit, getting one final curtain call to ensure a dignified end to a legendary career however things unfold.
Super Bowl Record: 2-0 (side and total), 4-3 (props)
2015-16 Season: 40-23-2 (sides, totals, teasers)
2015-16 Picks of the Week: 13-5-1