Throughout the season, motivation is a common theme across the sports media landscape. Most of it is little more than white noise, with effort rarely lacking in players and coaches whose jobs are always on the line. Week 17, however, is a different animal.
Some playoff-bound teams will rest starters, preserving them for more meaningful games ahead. Likewise, some teams eliminated from contention will show less focus than usual as they merely play out the string. But with seemingly little at stake across the board on New Year's Day, Week 17 is the unique NFL setting in which there's plenty to gain by properly anticipating motivation.
Vikings -6 vs. Bears
Not only are the Vikings better than the Bears, but they also have more to play for in an otherwise meaningless game. While they've gone off the rails after a 5-0 start, they have a good coach in Mike Zimmer and strong core of players poised to return next season and make things right. Going out with a dominant victory Sunday would be a good first step.
Chicago, meanwhile, is a franchise at a crossroads. We don't know who the Bears' coach will be next season, and an abnormal amount of their current roster will likely be elsewhere come next fall. This has the makings of a difficult setting for them to get their first and only road win.
Factor in that Matt Barkley has been throwing interceptions left and right against defenses far inferior to the unit he'll face in Minnesota, and the home team could resemble the Purple People Eaters of old.
And for added motivation, expect Zimmer to have his players ready to deliver some payback after getting the snot kicked out of them earlier this season in Chicago.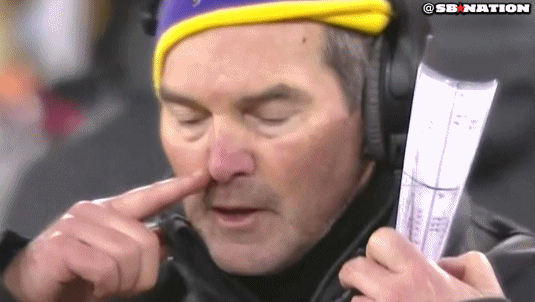 Dolphins +10 vs. Patriots
Almost exactly a year ago, the Patriots met the Dolphins in Miami with a chance to lock up the AFC's No. 1 seed with a Week 17 win. The Dolphins' victory cost New England home-field advantage, ultimately sending the Patriots to Denver for a nail-biting loss in a conference championship game that may well have seen a different outcome if played in Foxborough. With the top seed once again New England's for the taking, Bill Belichick and his team will undoubtedly go all out this time around.
The stakes for the Patriots explain why this point spread is inflated - under normal circumstances, New England would probably be favored by less than a touchdown. But after reading into Miami's motivation, the spread appears to be too inflated.
While the Dolphins are already in the playoffs, their seed isn't set in stone. With a win and some help Miami can claim the 5 seed, meaning a trip to Houston instead of Pittsburgh for Wild Card Weekend. That's enough to remove any doubt about the Dolphins' level of focus.
And as long as they're fired up, Matt Moore and the home team should be able to keep this one within single digits.
Pick of the Week: Teaser - Redskins -1.5 vs. Giants, Raiders +7.5 at Broncos
Washington is the one team currently out of the playoff picture that is essentially in with a win. Given the Redskins' desperation and the Giants' expected indifference as the NFC's 5 seed no matter what happens, the point spread is far beyond where it would normally be in this matchup. But instead of banking on Washington to win by a significant margin, by teasing Kirk Cousins & Co. down to -1.5 a victory of almost any margin will do.
In the second leg of the teaser, one of the best options on the board applies: the chance to take a small underdog up through the key numbers of 3 and 7 in what projects to be one of the lowest-scoring games of the week, magnifying the relative value of each point. Motivation also looms large in the Mile High showdown - a win clinches the AFC West and a first-round bye for the Raiders, while the Broncos had their playoff dreams crushed on Christmas in Kansas City.
With Derek Carr sidelined due to a broken leg, backup QB Matt McGloin becomes the big X factor for Oakland. His physical skill set is a far cry from Carr's, but with McGloin's experience in the system, an elite offensive line in front of him, Pro Bowl-caliber production flanking him at running back, and arguably the league's best WR tandem at his disposal, through basic game management the Raiders' signal-caller can give his team reason to maintain its swagger.
Scoreboard
Last Week: 1-2
Season: 21-27
Picks of the Week: 9-7