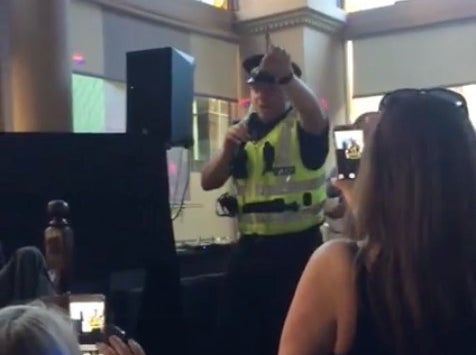 An officer called out to an alleged assault at a bar in Glasgow rounded off his police work by singing Gloria Gaynor on the karaoke.

Sergeant Jon Harris, in full uniform, belted out "I Will Survive" to a cheering crowd on Wednesday evening.
Video of his karaoke performance was broadcast on Facebook Live by Peter McKenna-Boyd, who said the atmosphere was "electric" after Sergeant Harris took to the stage.
"Everyone couldn't stop talking about it for the rest of the night, it definitely made the night for us," he told BuzzFeed News.

"I would say it is deffo one of the most unexpected, weirdest things I've seen in a bar in Glasgow, but I think he is probably a better policeman than singer."
Sergeant Harris and other officers had been called following an incident at Waterloo Bar in central Glasgow.
A 23-year-old man was arrested and was due to appear in court on Thursday.
"Once the inquiry had concluded and the victim's safety ensured, Sgt Jon Harris from our city centre community policing team was encouraged to participate in karaoke ongoing in the pub," Police Scotland Chief Inspector Mark Sutherland said in a statement. "'Sgt Jon' took to the stage, which helped to defuse any simmering tensions in the pub.
"I was pleased to see that once the incident had been professionally concluded, my officers were able to share a lighter moment with those who remained in the pub."
Sergeant Harris has at least one fan: Gloria Gaynor herself.