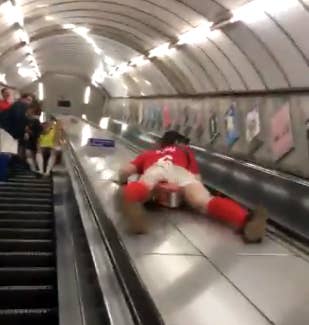 Transport for London says a man seen sliding backwards down an escalator at London Bridge station in a viral Twitter video is lucky to be alive.
A video of Freddie Andrews sliding down the chute between two escalators before colliding with an emergency stop button and a metal sign, and then flipping into a man coming up the escalator, has been watched almost 9 million times on Twitter.
The 22-year-old told the Sun website that he had been drinking at Wednesday's PDC World Darts Championship at Alexandra Palace prior to the video being filmed, adding that the stunt felt like a "good idea at the time".
Two years ago a woman was left with a fractured back when a man collided with her after sliding down an escalator handrail at Holborn station.
Linda Soulsby suffered a fractured vertebra and was left permanently shorter as a result of the incident, a court heard.
The man who struck her, Frans Bekker, pleaded guilty to endangering the safety of a person conveyed by railway, and was ordered to complete 200 hours of unpaid work and pay £4,000 in compensation to Soulsby.
Fortunately, neither Andrews nor the man on the other escalator sustained any serious injuries in the incident, but Transport for London said it was not "super pleased" with his actions.
"Safety is our top priority and pranks like this are dangerous for not only those involved but also to other customers," a spokesperson said.
"We have frequent PA announcements reminding customers to be careful when using escalators, and we also run safety campaigns throughout the year to encourage customers to take care whilst traveling on our network."