On a Saturday morning in July 2011, Nigel Lang, then aged 44, was at home in Sheffield with his partner and their 2-year-old son when there was a knock at the door.
He opened it to find a man and two women standing there, one of whom asked if he lived at the address. When he said he did, the three strangers pushed past him and one of the women, who identified herself as a police officer, told Lang and his partner he was going to be arrested on suspicion of possessing indecent images of children.
He knew he was innocent but was powerless to prevent what happened next, as over the coming days, weeks, months, and years, through absolutely no fault of his own, events took place that would cost him his health and his career, and put serious strain on his relationships with those he loved the most.
Lang described the arrest, and what followed, as "the most horrendous and horrific time of my life."
What makes Lang's ordeal all the more shocking, BuzzFeed News can now reveal, is that his wrongful arrest, and all the consequences of it, stemmed from what police called a "typing error".
He was told that when police requested details about an IP address connected to the sharing of indecent images of children, one extra keystroke was made by mistake, sending police to entirely the wrong physical location.
But it would take years, and drawn-out legal processes, to get answers about why this had happened to him, to force police to admit their mistake, and even longer to begin to get his and his family's lives back on track.
Police paid Lang £60,000 in compensation last autumn after settling out of court, two years after they finally said sorry and removed the wrongful arrest from his record.
Today, six years after it first began, Lang speaks publicly for the first time about his "horrendous nightmare", in part to help make sure that no one else has to go through what he endured.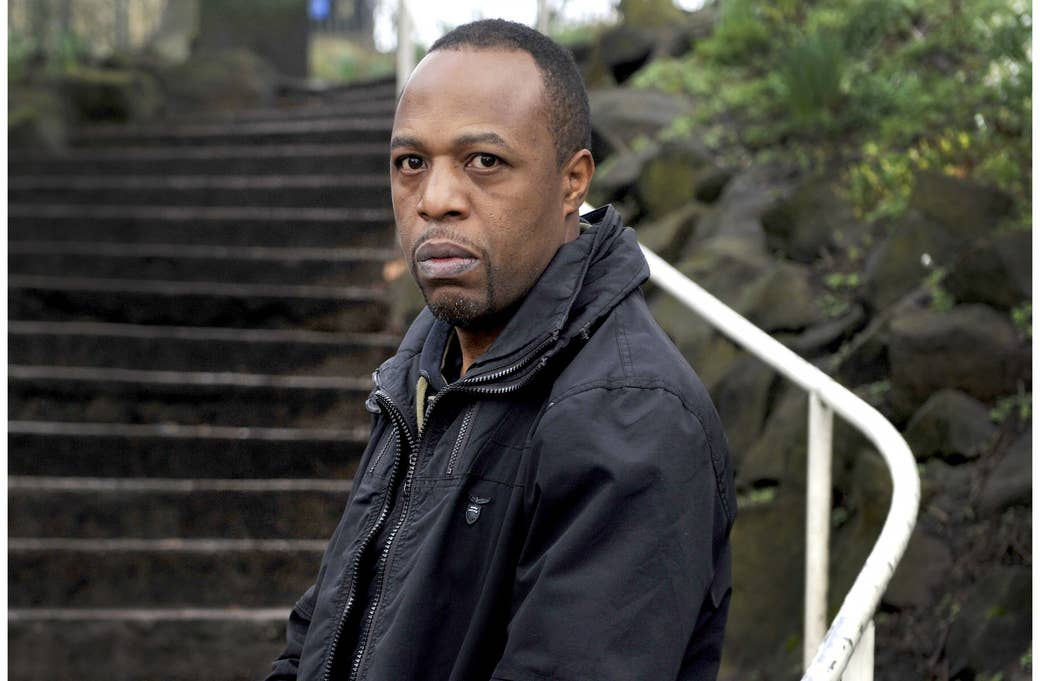 The moment of the arrest is seared into Nigel Lang's mind. He remembers screaming out in shock, and likens it to being shot in the chest with a double-barrelled shotgun.
After being arrested and having the desktop and laptop computers in his house seized, he was taken to a nearby police station, where he spent the next four hours. Within two, Lang said, "I lost my fucking mind." "They asked me if I wanted a solicitor, and I said, 'I don't fucking want one, I don't fucking need one!'" He eventually requested a solicitor, and interviewed under caution he denied all allegations that he was in possession of, and distributing, indecent images of children.
Lang was bailed, but under strict and devastating conditions. Social services had visited his partner at home while he was being interviewed to conduct a "safeguarding assessment", and it was decided he could not live at the family home, visit his son there, or have any unsupervised contact with his son anywhere.
"Not being able to look after my kid, it was heartbreaking," Lang recalled.
He also has a grandson who was 14 months old at the time and was due to undergo a major brain operation while Lang was on bail. He said he felt unable to help the boy's mother due to the strict conditions. "It was a really fucked-up time. I couldn't give them any support."
He was working as a drug recovery worker helping troubled teenagers at the time, and when he informed his employer what had happened, he was suspended immediately.
Lang was initially told it would take between three and six months to complete searches on the computers seized from his house – which would have meant spending months away from the family home, unable to visit his son there – but under pressure from his workplace and Sheffield city council, police completed their investigation in three weeks: Nothing had been found on the computers, and Lang was free to collect them. He was completely innocent, as he had always maintained.
While he was able to return home – he had spent those three weeks living with his mother – and to work, Lang felt his reputation "was in tatters", with a huge shadow over him. And the battle to clear his name, to find out what had happened to him, was only just beginning.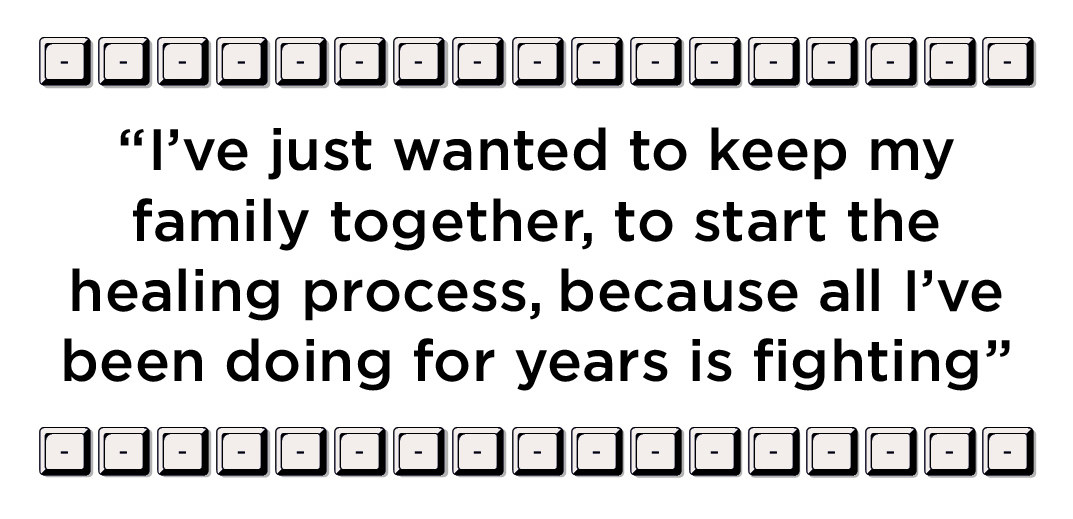 The summer of 2011, when Lang was arrested, was a time of heightened public awareness over child abuse because of media coverage of high-profile cases involving celebrities, and he said that made his situation much worse.
"People who knew me well, my best friends, they knew I didn't do it. They knew what type of guy I am," he said. "But people who only knew me a bit, didn't know me that well, they became funny. 'No smoke without fire.' I was afraid to take our son to nursery; I became a recluse."
"I was accused of the thing that I most despised," Lang said. "One of the hardest things was going home to tell my 78-year-old mum. It was devastating for her. I had to tell her gently – I didn't want her to have a heart attack."
His relationships with his partner and their son suffered. "I love her," he said of his partner. "But she had to look after our boy – I was really depressed. This was on my mind 24/7, I just couldn't get it out of my mind.
"The most horrific thing is that your life is turned upside down. There's just no hope," he said. "We might have had more kids, but with all that was happening that just went out the window."
Their son, meanwhile, suddenly saw his father as unreliable, Lang said, and would cry, not understanding why he had disappeared and couldn't come home for three weeks.
He remembers his young son asking: "'Why can't Daddy come home?' That brought me to fucking tears. I'm welling up now thinking about it."
Lang has another son, who was around 21 at the time of the arrest. "He had to deal with people talking about his old man, this and that. It affects everyone, not just you."

In June 2012, almost a year after his arrest, Lang contacted South Yorkshire police to find out why all this had happened to him. After all, he still had no idea why he had been arrested – nothing about it made sense.

Lang said that at the time of his arrest he was not fully computer literate, using the internet infrequently to listen to music on YouTube. He and his partner had only recently got the internet in their home. In his most recent performance review from work prior to his arrest, he had set himself a target of improving his computer skills. "In the police interview, they asked me about browsers. 'What the fuck is a browser?' I said. 'Do you mean Google?'"
With no real inkling about what had led police to his door, he lodged a complaint that the force was institutionally racist and sexist, because the home internet account was registered in the name of his partner, who is white, but she was never asked about the images. Her smartphone – Lang did not have a smartphone at the time – was also not seized.
Lang told BuzzFeed News he believes police made assumptions as soon as they walked through his door. "A hundred per cent, they assumed that because I'm black I was guilty. A hundred per cent," he said.
Lang said that before he was able to officially lodge the complaint, an officer called him, questioning his need to complain and asking him whether his arrest had even had any impact upon his life.
The complaint was rejected. But the letter he was sent revealing this explained for the first time that the information that led to his arrest had come from another police force over 100 miles away, Hertfordshire constabulary.
South Yorkshire police's DI Sean McMahon, who investigated the complaint, wrote that in May 2011, officers had received information from their colleagues in Hertfordshire that they had identified an IP address that had shared more than 100 images of children via peer-to-peer software in April that year. Hertfordshire police had established that the IP address belonged to the account in the name of Lang's partner.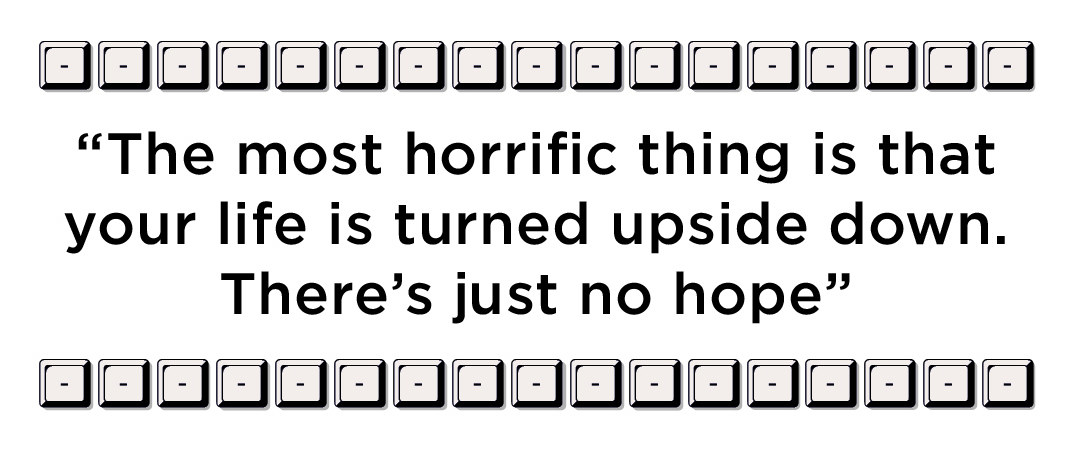 "Other than some brief intelligence work locally, there was little further to be done other than to swear a warrant out with the court and execute it," the letter, seen by BuzzFeed News, said.
Nevertheless, it went on to say: "The issues around the downloading of IIOC [indecent images of children] are that statistically out of a cohort of offenders, the predominant characteristic is that the offence will be committed in the main by white males. Only a very small percentage will be black, around 3%, and only around 2% will be female. Consequently, any arrests that are made for this offence will revolve around the male in the address as the starting point for the investigation.
"As such, on the day the warrant was executed Mr Lang was arrested."
The letter to Lang concluded "there is no evidence that the [arresting] officer acted in a discriminatory manner".
Lang said that when he met McMahon in person at a police station at the end of June, after receiving this letter, the DI gave him a much more succinct version, saying what he had been arrested for was "a white man's disease".
But huge questions remained. No one had explained to Lang how or why the investigation had come about.
In the letter, Lang was told there were five possibilities:
That someone had "piggy-backed" on to the router in the house (something that was ruled out by police).

That someone staying with the family had downloaded the indecent images, something categorically denied by Lang.

That the images had been downloaded on a device not found by police.

That some technical aspects of the router could have allowed unsecured access by an unknown third party.

And, finally, that South Yorkshire police had been provided with incorrect information.

However, Lang was told that "owing to the passage of time", that last possibility could not be checked.

McMahon's letter concluded: "The overriding point here is that there is nothing that the police have done, which should not have been done."
It added: "In terms of the complaint, as much as Mr Lang wants a complaint registering, there is actually nothing for him to complain about."
Lang had got in touch with police to get closure, to find answers, but it was during his conversations with McMahon that he was dealt another devastating blow, as he was informed that – despite his innocence – his arrest for possessing and distributing indecent images of children, and his DNA, was still on file.

"I went in there wanting answers," Lang said, "but I came out with the biggest fear of my life."
Lang said he suffered a relapse as a result. "You know nobody's going to believe the black man – that was the thing that really frightened me," he said.
"I've worked hard to get where I am today; I can live with the fact that as a black man you have to work twice as hard as others. But when something happens to you that isn't your fault it consumes you...your name is everything.
"I come from a community that is already traumatised. I can deal with that, just, but when you add paedophilia to this, it pushes you over the edge. I know I'm a resistant black individual. But when you're accused of the thing you despise the most…"
Lang said this new information played a huge part in effectively ending his career.
He had struggled at work since he returned following his arrest, specifically in one-on-one counselling with teenagers, many of whom were victims of sexual abuse. Lang was worried about social services having a file on him, and felt "trapped" in his job, as the record of his arrest meant it would be next to impossible to get a similar role somewhere else.
While police had told Lang it was his responsibility to inform work of his arrest, he later found out an officer from South Yorkshire police had called his employer to check he had told them. "We don't get this wrong," police told his work, in a message later relayed to Lang by his then manager.
To make matters worse, he had to work alongside South Yorkshire police officers under a new scheme partnering his employer with police and social services, something he said led to a deterioration in his mental health: "The police raided my house, and I had to see them every day."
Lang said he found himself always "looking over my shoulder", and eventually "it got to the point where I couldn't cope in that environment. I wasn't doing my job." He was signed off with stress in August 2013, and left.

With the new information that South Yorkshire police had not been behind the investigation, Lang's solicitor started again the process of finding out what had happened.

Hertfordshire police were initially resistant, refusing to speak to Lang's solicitor before they could talk to Lang himself. Over the phone, he was finally told the circumstances behind his arrest: While requesting details about an IP address linked to indecent images of children from an internet service provider, police had added an extra digit – a single keystroke – by mistake. When the ISP came back with a physical address for the IP address provided, it led police to Lang's front door. The internet account set up by Lang's partner just happened to have the wrong IP address at the wrong time.
Lang requested this information in writing, and on 5 April 2014 he received a letter from Hertfordshire constabulary, apologising for what had happened to him and accepting responsibility for the mistake.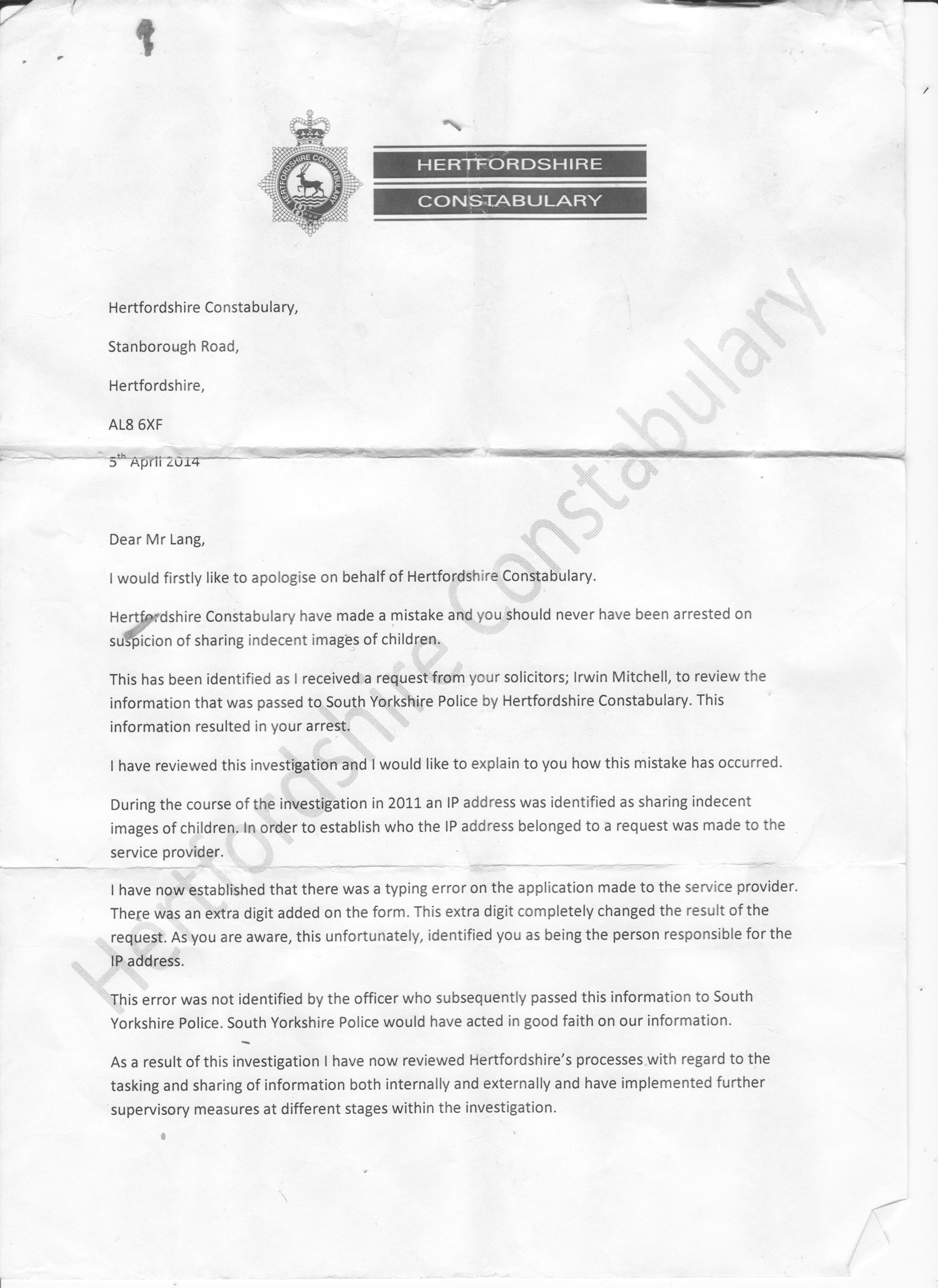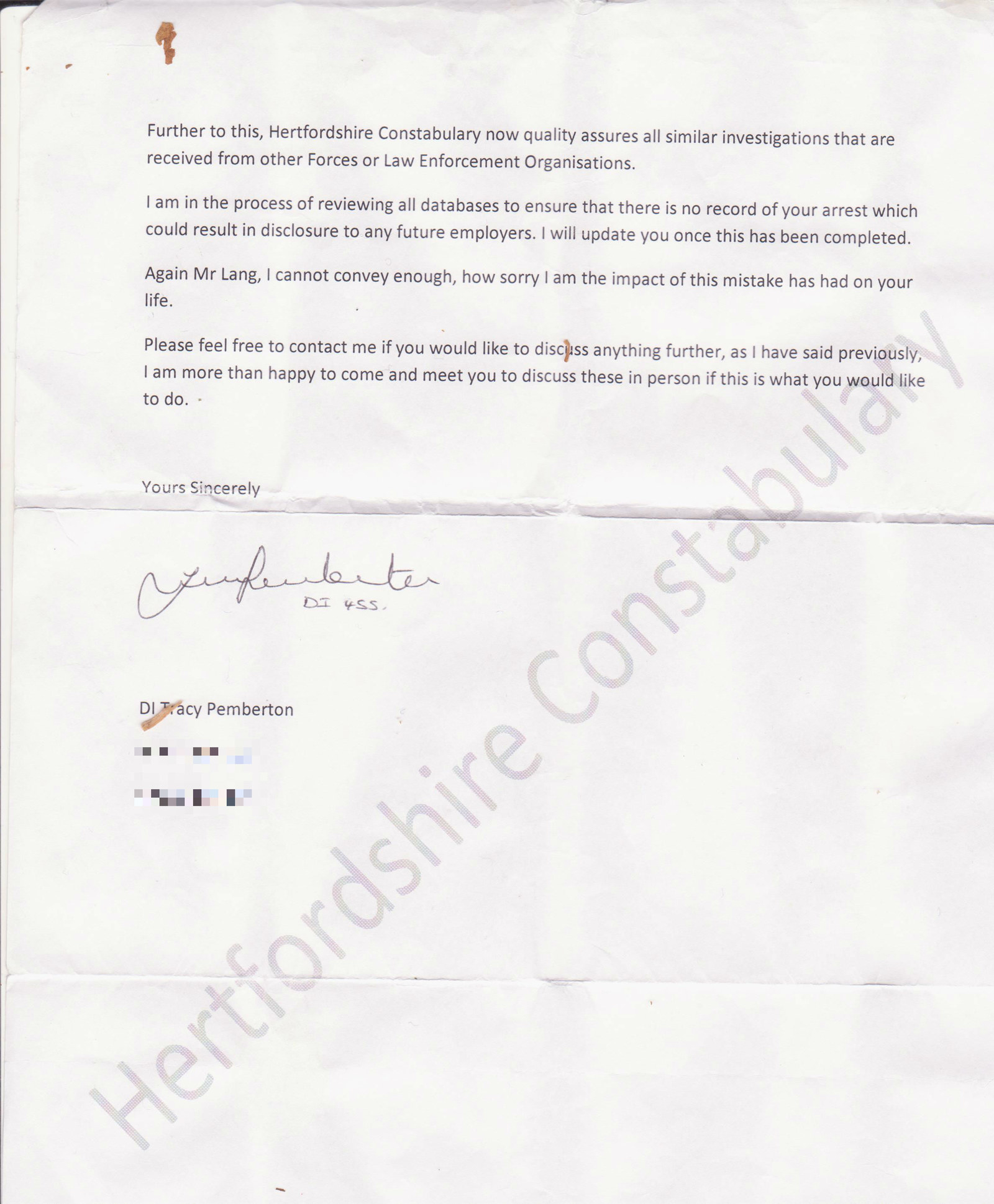 "I would firstly like to apologise on behalf of Hertfordshire constabulary. Hertfordshire constabulary have made a mistake and you should never have been arrested on suspicion of sharing indecent images of children," the letter, from DI Tracy Pemberton, said.

She said South Yorkshire police had acted "in good faith" on the information given to them.
In light of what had happened to Lang, Pemberton wrote, new safeguards had been added to make sure information supplied to other forces was correct, with the same quality control in place for incoming information.
Then came the words that Lang had waited years to hear: "I am in the process of reviewing all databases to ensure there is no record of your arrest which could result in disclosure to any future employers. I will update you once this has been completed. Again Mr Lang, I cannot convey enough, how sorry I am the impact of this mistake has had on your life."
Lang felt partly exonerated, but the news came too late for his father. He had died two years previously as Lang was filing his first official complaint against South Yorkshire police, and Lang felt at the time that he was unable to mourn properly.
Remembering how he felt when he received the letter from Hertfordshire police, Lang said: "Yeah, I'm happy. But the next response was, I'm angry. It fucking angered me. How can policemen not write down fucking numbers?"
With Hertfordshire's admission, Lang sought compensation for a breach of the Data Protection Act 1998, false imprisonment, police assault/battery, and trespass by police. Last October Hertfordshire constabulary settled out of court, and damages of £60,000 plus legal costs were paid the following month.
The solicitor instructed in the matter, Kevin Donoghue, specialises in civil actions against the police, and he described Lang's case as one of the most severe he'd ever witnessed in terms of life impact.
He told BuzzFeed News that the initial response by South Yorkshire police was "horrendous". "It was very difficult to get them to volunteer the information that they were acting upon information from Hertfordshire police," Donoghue said.
"That didn't help Nigel's mental state whatsoever. He was left thinking, Why am I associated with such a heinous crime?"
In a statement provided to BuzzFeed News, Hertfordshire police said: "The constabulary made an early admission of the mistake once it had been identified and would like to apologise again for the wrongful arrest and further impact caused. It was an administrative error which led to this occurring and lessons have been learnt to help prevent this happening again. This man was completely innocent and compensation has now rightfully been settled."
Almost six years after his arrest, Lang is still waiting for an apology from South Yorkshire police. The force had not responded to a request for comment at time of publication.

Now aged 49, Lang is finally looking to restart his life. In a series of phone conversations with BuzzFeed News, he described the years-long process of clearing his name as "the hardest fight of my life".

"I've just wanted to keep my family together, to start the healing process, because all I've been doing for years is fighting."
But some wounds can take longer to heal, and despite the apology and compensation, he is unequivocal about the impact his arrest has had: "It has ruined my life."
He said he had decided to go public with his story for the simple reason that "I don't want this sort of shit to happen to anyone else. People told me not to talk about this, but it's been kind of therapeutic."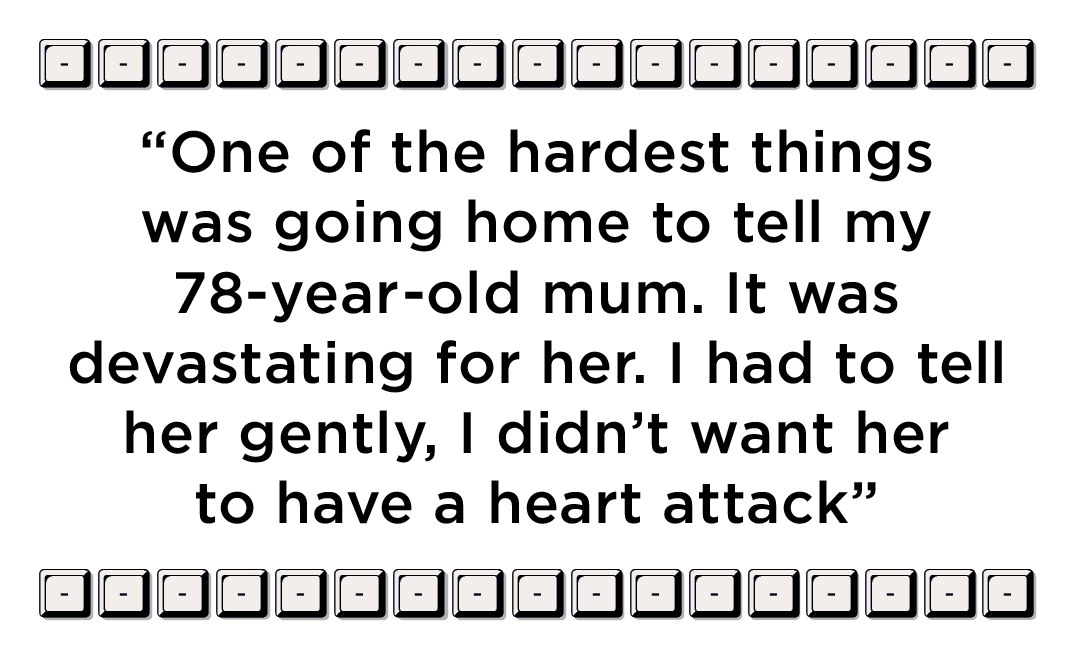 "When police do something like this they have to be 100% sure," Lang said. "This needs to get out there; it's devastating for anybody.
"Two sets of coppers fucked up my life. Absolutely outrageous."
Before his arrest, Lang said, he had no history of mental health problems, but he is now on antidepressants and has been diagnosed with PTSD. He is due to begin treatment later this year.
"I'm still crying for this. This is the reality."
Lang described the situation he was in before his arrest as the happiest he had been in life. He and his partner were in well-paid jobs – she was a chartered accountant – raising their young son together and paying off the mortgage on the house they had recently bought.
Today, neither he nor his partner is working. Lang is effectively a full-time carer for his disabled mother, and in the years since his arrest his partner developed ME, something they blame on the stress caused by the whole ordeal.
"I'm not hopeful of getting the same standard of job. I'm mentally and physically exhausted…this is one of the worst things that can happen to you."
After saying this, Lang laughed, and added: "If you don't laugh, you'll cry."
Outside Your Bubble is a BuzzFeed News effort to bring you a diversity of thought and opinion from around the internet. If you don't see your viewpoint represented, contact the curator at bubble@buzzfeed.com. Click here for more on Outside Your Bubble.