Stephen Crabb Already Facing Calls To Resign From Disability Charity
Three Tory MPs were asked to resign as patrons of disability charities this week.
New work and pensions secretary Stephen Crabb is facing calls to stand down as patron of a learning disability charity.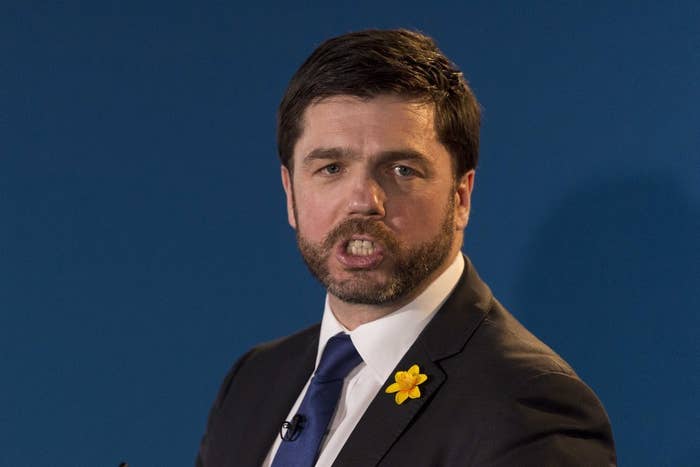 He was promoted to the role the morning after Iain Duncan Smith's shock resignation over the disability benefit cuts unveiled in George Osborne's Budget this week.
But it has emerged the former Wales secretary was already under pressure to resign as the patron of Mencap Pembrokeshire.
An online petition has been signed by more than 3,000 people over Crabb's vote to cut employment support allowance for disabled people by £30 a week, a move described by the Disabilities Benefits Consortium as a "step backwards".
Three Tory MPs, including Zac Goldsmith, have recently been asked to step down as patrons of disability charities as the government came under fire for cutting disability benefits, although some of the planned cuts appear to have been stalled in light of Duncan Smith's resignation.
Jim Scott, a member of the People's Assembly Against Austerity, said he believed the petition he set up had become "massively more significant" in light of Crabb's promotion.
"It's a matter of time before he steps down as patron of the charity," he told BuzzFeed News. "I don't see how he can not."
He added: "I thought I couldn't imagine a crueller minister than IDS, but now they've appointed Stephen Crabb, I can."
Mencap told BuzzFeed News Mencap Pembrokeshire was a "completely separate and independent charity", one of more than a hundred local charities that share its name.
However, Mencap head of campaigns Rossanna Trudigan said the charity hoped the new work and pensions secretary would use his new role to "listen to the concerns" of people living with learning disabilities.
"We congratulate Stephen Crabb MP on his new role as Department for Work and Pensions secretary," a statement said. "As a patron of a local Mencap group, which is a separate and independent charity to us at the Royal Mencap Society, we hope he uses this role to listen to the concerns of people with a learning disability, their families and carers.
"People with a learning disability are being forced to the very fringes of our community due to the effects of cuts. This is having harmful effects to people's health and finances and placing a greater demand than ever on a social care sector that is at risk of collapse due to a funding crisis.
"With further cuts to benefits and social care likely this is a crucial time for people with a learning disability. We feel it important MPs are made fully aware of the challenges faced by people with a learning disability, and will continue to work with MPs across all parties to ensure their voice is heard and people with a learning disability are supported to lead the life they choose."
The statement added: "We call on the government to stop these cuts to disability benefits and end the crisis in social care. Instead they should focus on supporting people with a learning disability into employment and to have the support to live independent and fulfilling lives."
Mencap Pembrokeshire and the Department for Work and Pensions have been contacted for comment.