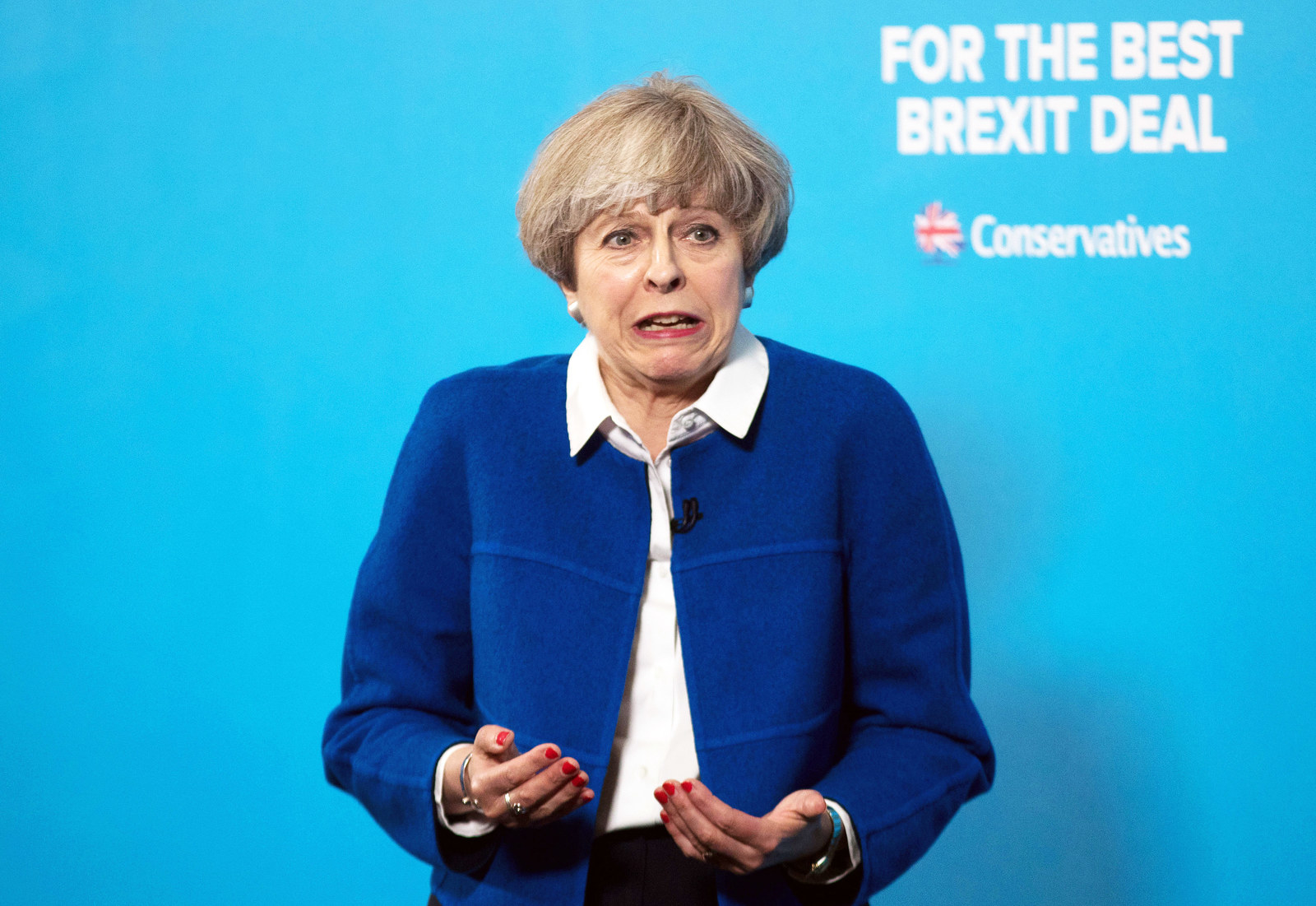 In the week that Amber Rudd represented her at what was meant to be the BBC's leaders' debate, Theresa May has infuriated journalists by not directly answering apparently straightforward questions. Ahead of her appearing on a special Question Time show on BBC1 on Friday night, here are all the questions she didn't really answer in the last five days.


May v Corbyn Live: The Battle for Number 10
Jeremy Paxman: "You have said earlier that it's very important that people can trust their politicians and their governments. Can I ask you explicitly, unambiguously, what will the [social care] cap be?"
May: "It's not about not knowing, Jeremy, it's about thinking what the right approach is to get to that figure. And what we want to do is to ask, is to consult, and to listen, and then to determine what that cap will be."

Interview with Metro.
Reporter: "There have been some people suggesting, even former police officers, that we need internment camps. Is that something you'd completely rule out?"
May: "We have, I think, some of the strongest anti-terror legislation of any country. Obviously, we always talk to the police about what powers they need, we have increased the powers that they have in recent years. We have very clearly taken on board what they say."
---
Reporter: "I hear you tell excellent cricket jokes…"

May: "Ha ha!"
Reporter: "I'm not going to ask you for one on the spot, don't worry!"
May: "I was going say, [I can't] think of one instantly. I do enjoy cricket, but I'm trying to think what cricket joke somebody must have heard."

Reporter: "We're in one of the most marginal seats in the country here. This is your second visit of the campaign. Are you getting nervous, and do you see Plymouth as a must-win next week?"

May: "I'm very clear that this is a crucial election for this country, we stand at an important moment, we need to ensure we get the Brexit negotiations right, but also have a plan to take this country, to build a stronger more prosperous future, for Plymouth, for families here, and across all of the United Kingdom. And so I'm going out and about around the whole country, talking to people with that very clear message, that they face a choice on the 8th of June."
Reporter: "Plymouth's a very proud armed forces city… Can you guarantee our armed forces families that they will be protected from further cuts?"
May: "I'm very clear that Plymouth has a proud record of connection with the armed forces, and when I was last here in Plymouth earlier in the campaign I was able to sit down with some members of the armed forces and talk to them about the issues that matter to them. And what became very clear was about the importance of Plymouth too. What I want to do, what we will do as a government, is ensuring that we're giving more help to our armed forces. Last week I was at NATO talking about UK defence and how we can work with others to ensure we defend our country, but our armed forces have a worldwide reputation, we will maintain our armed forces, and we will support them in all that they do."
Reporter: "A lot of people in Plymouth voted for Brexit because they saw a better future ahead. How will your Brexit plan make Plymouth people better off?"
May: "Well I think there is a better future ahead for Plymouth, and the whole of the UK. There are opportunities when we leave the European Union, but we need to have the right government in place, the right plan to grasp those opportunities. We need to get Brexit right – just 11 days after the general election we'll start those Brexit negotiations. I'm the prime minister, I'm the party leader with a plan for those negotiations. But it's about more than this, it's about building that prosperous future for families here in Plymouth and around the whole of the country. And I'm confident we can do that. I've got a plan for a stronger Britain, I'm confident we can build that stronger economy, with better opportunities for young people, better opportunities for families, and I'm optimistic for that because I believe in Britain, and I believe in the British people."
Reporter: "Plymouth has no airport, we have a fragile rail line here, the last Conservative government made promises to sort out our connectivity – do those promises still stand?"
May: "I'm very clear that connectivity is hugely important for Plymouth and for the South West generally, and what's why we have been putting money into infrastructure. It's important to develop the economy, and we will continue to look at plans to help to improve the connectivity down to Plymouth and the South West.
At a campaign visit to the Cross Manufacturing factory in Bath.
Worker: "How is the government going to make sure that not only – obviously we know you're going to negotiate the best deal – but how are you going to make sure companies like Cross are not disadvantaged in the process of reaching that point [of frictionless trade with EU nations including Ireland after Brexit]?"
May: "As we're doing this we will be working with industry, with businesses across the different sectors to see how we can best do this in a way that is going to cause least disruption and least impact on companies."
---
Sky News' Faisal Islam: "If you're so strong, and Jeremy Corbyn so weak, as you've said, why have you sent Amber Rudd to take on his arguments at the debate tonight?"

May: "Well I'm interested in the fact Jeremy Corbyn seems to be paying far more attention to how many appearances on telly he's doing. I think he should be paying a little more attention to thinking about Brexit negotiations, that's what I'm doing, to make sure we get the best possible deal for Britain.
BBC's Laura Kuenssberg: "On the same issue, public scrutiny is a very important part of any election campaign, he's now up for a head-to-head debate – doesn't it suggest you're frightened of taking him on directly if you don't go too?"
May: "First of all, I've been taking Jeremy Corbyn on directly week in, week out at Prime Minister's Questions. Secondly, yes, actually public scrutiny is for an election campaign, but that's why taking questions from members of the public, who are going to be voting on the 8th of June, is so important – that's what I enjoy doing during the campaigns, and I think that's really important, that's why I've been doing that up and round the country."
ITV's Emily Morgan: "Prime minister, you say you are meeting voters up and down the country, but tonight you have a chance to reach millions of voters if you debated on television, millions of voters who will now feel snubbed by the fact that you're not going to turn up."
May: "I've been very clear from the start that the sort of campaign I want to do is about taking questions, meeting people, and taking questions. I've not been off the television screens, I've been doing things on the television, but predominantly taking questions from the voters and listening to voters. I think debates where politicians are squabbling among themselves doesn't do anything for the process of electioneering. I think it's actually about getting out and about, meeting voters, and hearing directly from voters."

Speaking to journalists after a speech to supporters in Teesside.
Channel 4 News' Michael Crick: "You mentioned the £8 billion for the health service, you mentioned managing money – where is the £8 billion coming from?"
May: "Well, first of all, Michael, what we have published is a manifesto that addresses the big challenges that this country faces, not just over the next five years but beyond. And we have set out, clearly, some of the hard choices that need to be made and how we will address those challenges."
---
Journalist: "Your foreign secretary has said that last night's BBC election debate audience was the most left-wing he'd ever seen. Do you agree with his comments?"

May: Well what I think about last night's debate is that Amber Rudd did an absolutely excellent job."
Journalist: "Did you actually watch last night's debate?"
May: "As I say, I think Amber did an excellent job in that debate."
Journalist: "Prime minister, you've now said twice you thought Amber Rudd did an excellent job in last night's debate. If you win the election are you going to make her chancellor?"
May: "I'm focusing on actually making sure when people come to vote next week they're very clear about what the choice is at this election, and it's between me and my team, and you've seen the excellence of the team I have around me, with that strong and stable leadership which will take us to that brighter future."

Reporter: Hayek or Keynes?
May: I have one theory, which is you have to live within your means.
Reporter: Square Mile or Canary Wharf?
May: Difficult, but Canary Wharf is hugely dynamic.
Reporter: Cheesegrater or Walkie Talkie?
May: The Gherkin.
Reporter: Beaujolais or Chablis?
May: Well it really depends on what you're eating.
Reporter: Black cabs or Uber?
May: Black cabs are a great institution.
Reporter: Coq D'Argent or Simpson's Tavern?
May: Simpson's Tavern.
[When it was pointed out that this is Nigel Farage's favourite City haunt, May changed her mind.]