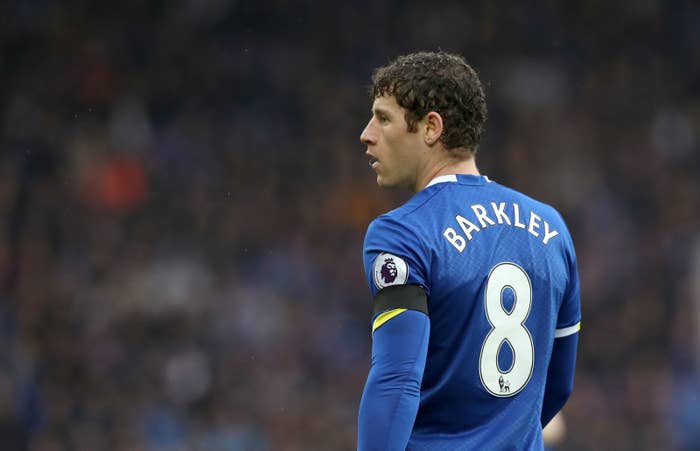 Everton Football Club have banned journalists from the Sun newspaper after it published a column from a former editor that compared one of its players to a gorilla.

A statement from the Premier League club said the Sun was banned from "all areas of its operation" following the "appalling and indefensible" allegations made against Ross Barkley, who has a grandfather who was born in Nigeria, and people from Liverpool.
"Yesterday Everton Football Club informed the Sun newspaper it was banned from Goodison Park, the USM Finch Farm training ground and all areas of the club's operation," the statement said.
"Whilst we will not dignify any journalist with a response to appalling and indefensible allegations, this newspaper has to know that any attack on this city, either against a much respected community or individual, is not acceptable."
Kelvin MacKenzie's column appeared in the Sun on Friday, but he was suspended and the article removed from the newspaper's website after it was reported to police by the city's major Joe Anderson.
In his column, MacKenzie, who was editor of the Sun when it published its infamous "The Truth" headline in the aftermath of the Hillsborough disaster, wrote about Barkley being punched twice in a nightclub last week in an unprovoked attack.
"There is something about the lack of reflection in his eyes which makes me certain not only are the lights not on, there is definitely nobody at home," he wrote, next to a close-up picture of the eyes of Barkley, and a gorilla under the sub-headline "Here's why they go ape at Ross".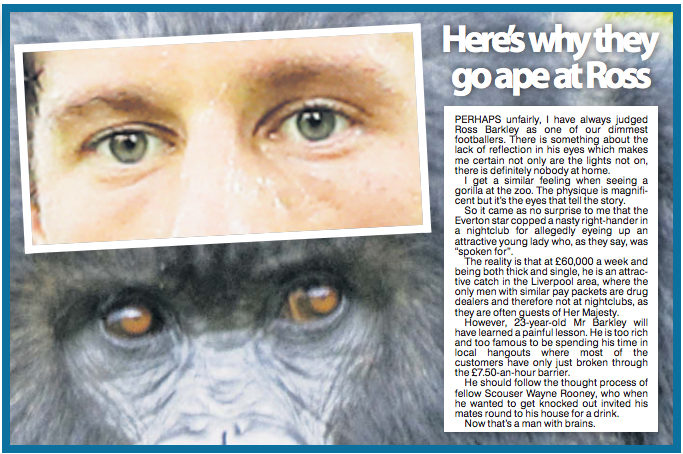 MacKenzie continued: "The reality is that at £60,000 a week and being both thick and single, he is an attractive catch in the Liverpool area, where the only men with similar pay packets are drug dealers and therefore not at nightclubs, as they are often guests of Her Majesty."

The Sun apologised for any offence and, along with MacKenzie, said it was unaware England midfielder Barkley, 23, was part-Nigerian.
MacKenzie added it was "beyond parody" to say the column was racist.
Earlier this year Liverpool Football Club banned the Sun from its stadium and training ground over its coverage of the Hillsborough disaster, in which 96 Liverpool fans lost their lives.
Saturday 15 April, the day of Everton's decision to ban the Sun, marked the 28th anniversary of the disaster.