Zac Goldsmith Spent The Morning Delivering Milk And Holding Fish
He's just a guy in funny shoes, standing in front of voters, asking London to love him.
In a final push for his London mayoral campaign, Zac Goldsmith was joined by these friendly supporters at a rally in his parliamentary constituency in Richmond on Tuesday.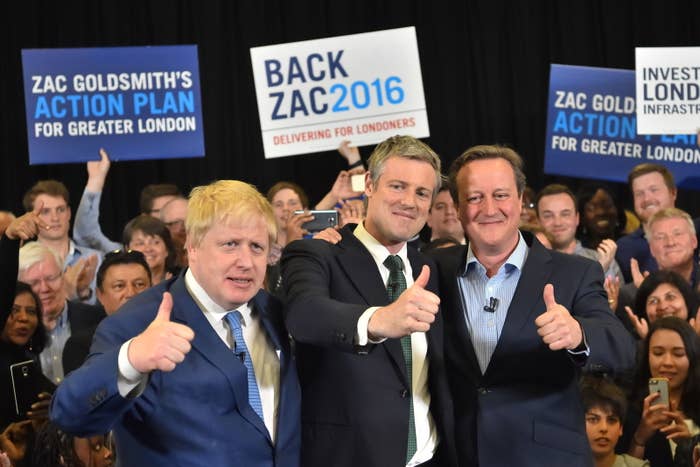 But how to follow up this photo op with prime minister David Cameron and outgoing London mayor Boris Johnson? By showing he has all sorts of friends across the city, of course.
Goldsmith, who trails Labour candidate Sadiq Khan by nine points in first preference votes, according to the latest Evening Standard/Opinium poll, is currently halfway through a London mayoral version of 24 as voters prepare to head the ballot box on Thursday.

Here he is aboard his battlebus at the start of the day-long tour of the capital.
So far he's made a very on-brand stop-off to an Ocado delivery centre.
He visited an alternative removal service in Willesden that uses railways instead of HGVs to transport waste.

Then he joined Dominic Gilham, a Conservative London Assembly candidate, on his milk round in Kensington.
If you've ever wondered what Goldsmith would look like leaning out of a van holding two pints of milk, you are in luck.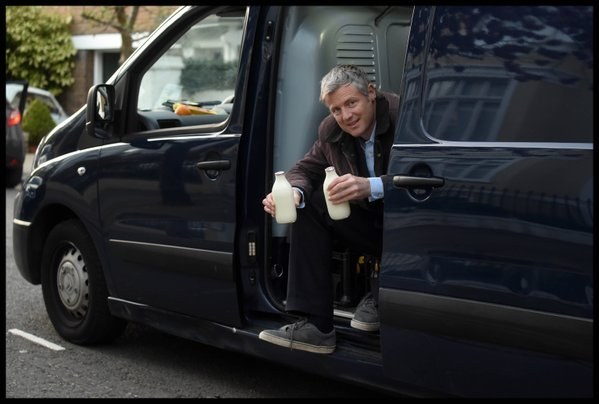 The milk is an analogy for delivering his action plan for London.

But mainly people were interested in Goldsmith's shoes.

Milk safely delivered, and a change of shoes later, Goldsmith set about opening the market at the London Stock Exchange with chancellor George Osborne.
Which included a totally natural video message.
And gave us this nightmare-inducing Vine.
Then Goldsmith headed off to have a fry-up with cabbies in St John's Wood.

The Tory MP also visited a community library in Waltham Forest, picking up a couple of eclectic celebrity endorsements along the way.