Former Premier League footballer Ched Evans has been cleared of raping a teenager at a Premier Inn in Wales in 2011.
The 27-year-old was found guilty of the same offence in 2011, but in April this year the court of appeal quashed the conviction and ordered a retrial.

In a statement read outside Cardiff crown court by his solicitor Shaun Draycott, Evans said: "In the early hours of May 30 2011, an incident occurred in North Wales that was to change my life and the lives of others forever. That incident did not involve the commission of a criminal offence, and today I am overwhelmed with relief that the jury agreed."
After thanking his legal team, he continued: "Thanks go too to my friends and family, most notably my fiancée Natasha, who chose, perhaps incredibly, to support me in my darkest hour.
"Whilst my innocence has now been established. I wish to make it clear that I wholeheartedly apologise to anyone who might have been affected by events of the night in question."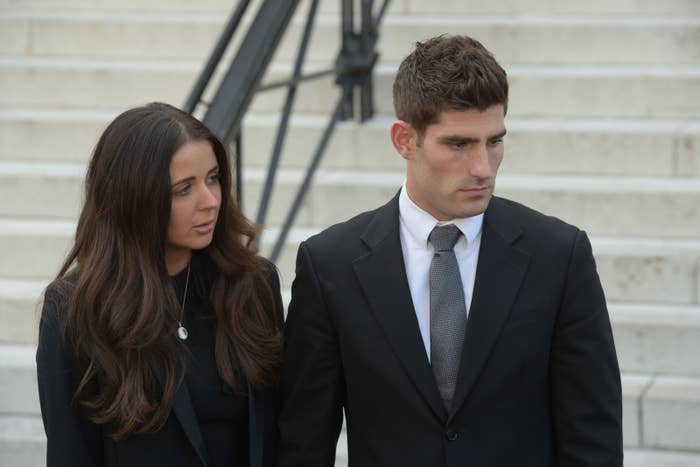 Jurors heard the woman, 19 at the time, say how she woke up naked in a hotel room with no memory of getting there in May 2011.

The prosecution said the woman was drunk and could not remember going to the Premier Inn in Denbighshire with Evans's friend and fellow footballer Clayton McDonald.
Evans, who formerly played for Manchester City and the Wales national team, was accused of raping the woman after letting himself into the room where she was having sex with McDonald, before leaving via a fire escape.
Evans said the sex was consensual but the prosecution said the woman was too drunk to consent.
McDonald was acquitted of rape at the original trial in 2012, and was not called to give evidence at the retrial.
During the trial the jury heard explicit evidence from two former sexual partners of the woman Evans has been cleared of raping.

Polly Neate, the chief executive of charity Women's Aid, told BuzzFeed News she was "deeply concerned" that the defence had been permitted to call them as witnesses.
Use of an alleged victim's sexual history in trials is severely restricted by Section 41 of the Youth and Criminal Evidence Act 1999.
Neate said she hoped the trial judge allowing the witnesses to be called in this case would not set a precedent.
"We hope that this case and the publicity surrounding it does not prevent rape survivors from reporting their abuse," she said. "Whatever the outcome of any case, no woman should be criticised or blamed for saying she has been raped. With other crimes, we do not blame anyone when the accused is found not guilty. With rape this is even more important.

"Women who have experienced sexual abuse need support and understanding, but we are seeing more barriers to disclosure than ever. We hope this trial and its outcome does not become yet another further barrier."
Under UK law, complainants and victims of sexual offences are given automatic, lifetime anonymity.
Responding to today's verdict, the chief crown prosecutor for Wales said he respected the decision of the jury.
"This case hinged on the issue of sexual consent – that someone consents if they agree by choice and have the freedom and capacity to make that choice. Being drunk does not mean a person relinquishes their right to consent, that they are to blame for being attacked or that they were 'fair game'," he said.
"The prosecution argued that the complainant did not have the capacity to consent, but the jury found they could not be sure, beyond reasonable doubt, that the complainant did not consent, or that Evans thought she was not consenting.
"I would like to thank the complainant for her courage throughout this case, and the previous trial."
Evans signed for League One side Chesterfield in June, his first club since being released from prison in October 2014.
Following the verdict, the club's chief executive, Chris Turner, said: "We are naturally delighted with the outcome, especially for Ched, his family and friends. We can now all move forward and focus on football."