Disgraced footballer Adam Johnson has been jailed for six years for sexual activity with a child.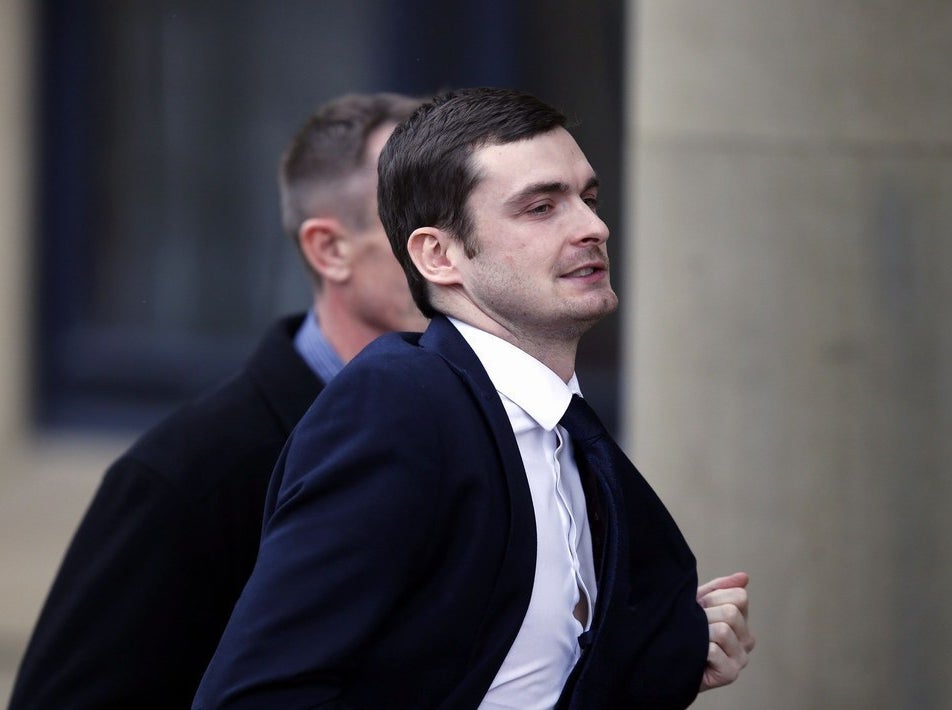 The former England and Sunderland midfielder was jailed at Bradford crown court after being convicted of one count of sexual activity with a child earlier this month.

The 29-year-old, who was cleared of one other count of sexual activity with a child, had already admitted kissing and grooming the same girl, who was 15 years old at the time.
He will serve at least three years in prison, and was also ordered to pay costs of £50,000, which is less than his weekly wage at Sunderland before he was sacked by the club.
Sentencing Johnson, Judge Jonathan Rose said he had shown no remorse and that the fact his career appeared to be over was "entirely" his own fault. The judge's full remarks can be read here.
It can also be revealed today that Johnson was arrested for possessing bestiality pornography, but will face no further action. Other details jurors were not told but that can now be reported include the fact he visited a (lawful) teen porn website, and was using medication to treat sexually-transmitted infections when he was arrested last year.
Johnson is to appeal his conviction for one count of sexual activity with a child, it was confirmed in court today.

According to the The Guardian's Josh Halliday, prosecutor Kate Blackwell said Johnson's actions had caused his victim "severe psychological harm".

Blackwell said the footballer's previous good character should not be allowed in mitigation as he had used it to groom his victim.
Johnson told a doctor he spoke to ahead of sentencing that his victim was "just another girl, just another opportunity", the court heard, according to the Daily Mirror, and that he regularly met women for sex after training. The doctor added that Johnson's development as a teenager was "somewhat retarded". "He lacked self-confidence and was conscious about his physique," the doctor said, according to Daily Mail northeast football correspondent Craig Hope.

Blackwell said there was "a need to protect teenagers ... from sexual harm" from Johnson.
A statement was from the teenage victim and her mother was also read out .
In mitigation, defence lawyer Orlando Pownall QC said Johnson, who had been sacked by Sunderland and stripped of his England caps, had lost a "lucrative career".
He said Johnson was not a predatory paedophile, Sky News crime correspondent Martin Brunt tweeted.
Responding to the sentence, Durham police said they hoped it would bring closure to the victim and her family.
"This is a carefully considered and significant sentence which sends out a clear message," said Detective Inspector Aelfwynn Sampson said.
"Fame, celebrity and a position of power does not give you the right to break the law in pursuit of whatever you desire."
Johnson was caught by cameras running into Bradford crown court in order to avoid photographers.
This week Durham police issued a harassment warning to a man reported to be Steven Knox, former partner of Johnson's sister Faye, for allegedly abusing the victim in the case online.
Hours before sentencing was announced, Faye Johnson posted a black-and-white photo of her brother holding his 1-year-old daughter on the controversial Adam Johnson's Appeal Fight Facebook page.
In a separate post on the same page, she wrote: "Today is the sentencing for my brother, the worst day of my life. I just wanted to let all of the supporters know that I will not be attending Bradford crown court, the reason for this is Adam has always been my hero, my brother and my best friend, I just don't want him to see the pain in my eyes!"
She had earlier urged people to change their profile photo to an image of her brother and niece with the caption "Justice for Johnson" overlaid.
A week after Johnson was convicted, Sunderland chief executive Margaret Byrne resigned, admitting her decision to allow him to play for the Premier League club despite him informing it that he had kissed the teenage girl was a "serious error of judgment".

This week, the NSPCC wrote to the Football Association to re-examine how clubs handle issues of child protection and safeguarding, in a letter seen by BuzzFeed News.
"Johnson's behaviour throughout this sordid affair has been inexcusable and made worse by his not guilty pleas which forced his young victim to suffer the harrowing experience of giving evidence in court," the charity's chief executive Peter Wanless said in his letter to FA chair Greg Dyke.
"However, the NSPCC's concern lies not in the behaviour of a single individual – although that is itself horrifying – but in the approach taken by Sunderland Football Club when confronted with a serious child protection issue.
"We are worried this could be a cultural problem within football as a whole and find it concerning clubs may not see incidents such as these as a child protection issue."
You can read the full letter below: