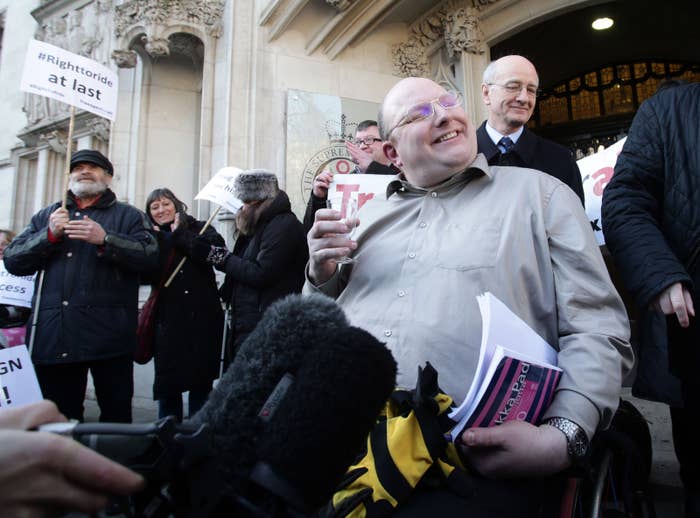 Disabled people should be given priority access to the wheelchair space on buses, the Supreme Court has ruled.

Doug Paulley brought his case after he was prevented from getting on a bus to Leeds in 2012 because a mother with a sleeping child refused to move her pushchair from a space reserved for wheelchairs and buggies.
Speaking outside court, Paulley said he was "elated" by the judgment, which campaigners called a victory for disabled people's rights.
Judges at the Supreme Court overturned a previous ruling that people in wheelchairs did not have legal priority over pushchairs.

They said bus company FirstGroup's policy of requiring a driver to merely request a non–wheelchair user vacate the reserved space without taking any further steps was "unjustified".
"Where a driver who has made such a request concludes that a refusal is unreasonable, he or she should consider some further step to pressurise the non-wheelchair user to vacate the space, depending on the circumstances," the judgment states.

Lord Neuberger, president of the court, said bus drivers should consider refusing to drive off unless non–wheelchair users moved to another part of the bus.
Paulley, who is in his late thirties, was awarded damages due to unlawful discrimination by FirstGroup in 2012, but that decision was later overturned by the Court of Appeal, which said it would be a "step too far" to require bus drivers to remove non–wheelchair users from the space reserved for wheelchairs and buggies.
"It's an amazing day for the rights of disabled people," he said outside the Supreme Court. "Travelling on buses is a fundamental thing that most people expect to be able to do… it happens too frequently that disabled people struggle to get on the buses. [Today's verdict] should mean that there is a major difference in the attitude of bus companies that there is a requirement to require somebody that doesn't need the space to move."
Paulley said that the judgment would "make some people unhappy, which is the last thing I wanted to do."

"Public transport should be for everybody and that includes people with buggies, non-disabled people, disabled people who aren't wheelchair users and might need the space," he continued.
"But ultimately this is a really positive judgement five years in the making, with a lot of support from a lot of people... it's just amazing and hopefully it should make a major difference."
While the Supreme Court allowed Paulley's appeal, it did not uphold the award of damages, as judges could not agree on the issue.

Chris Fry of Unity Law, who has represented Paulley since his first court case, welcomed the decision, saying it brought "cultural and practical change" for disabled people.

"It establishes what we are calling the 'Paulley Principle', which is that bus companies have to give priority use to disabled customers over the wheelchair space," he said.
"If you need a wheelchair to get around and have had to endure the stress and anxiety of not knowing whether you're going to be able to get on a bus, this judgment changes your everyday life. The law is on your side. The old minimalist policy of requiring bus drivers simply to request someone move (request and retreat) will give rise to claims for compensation. We expect to see an immediate difference to the way that disabled passengers are treated."
David Isaac, chair of the Equality and Human Rights Commission, said the clarification provided by the court would give confidence to thousands of disabled people who use public transport.

"The success of this case means bus companies will have to end 'first come, first served' polices, increasing peace of mind for disabled people," he said.

"This has been about correcting a confusing policy which has caused untold problems for disabled people. For years, wheelchair users have been deterred from using vital public transport links because they could not be sure they will be able to get on. Today's judgment will make that easier."
Richard Lane, head of communications at disability charity Scope, said: "This is an important milestone. It's a victory for common sense, and disabled customers will now want to see action from travel companies."

FirstGroup said its current policy regarding the priority use of the wheelchair space was to ask other customers to make way "in the strongest polite terms".
Giles Fearnley, the managing director of First Bus, welcomed today's judgment.
"It has ruled that bus drivers are not required to remove customers from vehicles, which was a key issue for us. This provides welcome clarity for bus operators, our drivers and our customers," he said.
"We recognise how important it is that bus services are accessible for all customers and we lead the industry in improving bus travel for customers with all disabilities. We are therefore also pleased that the Supreme Court found that we did not discriminate against Mr Paulley."