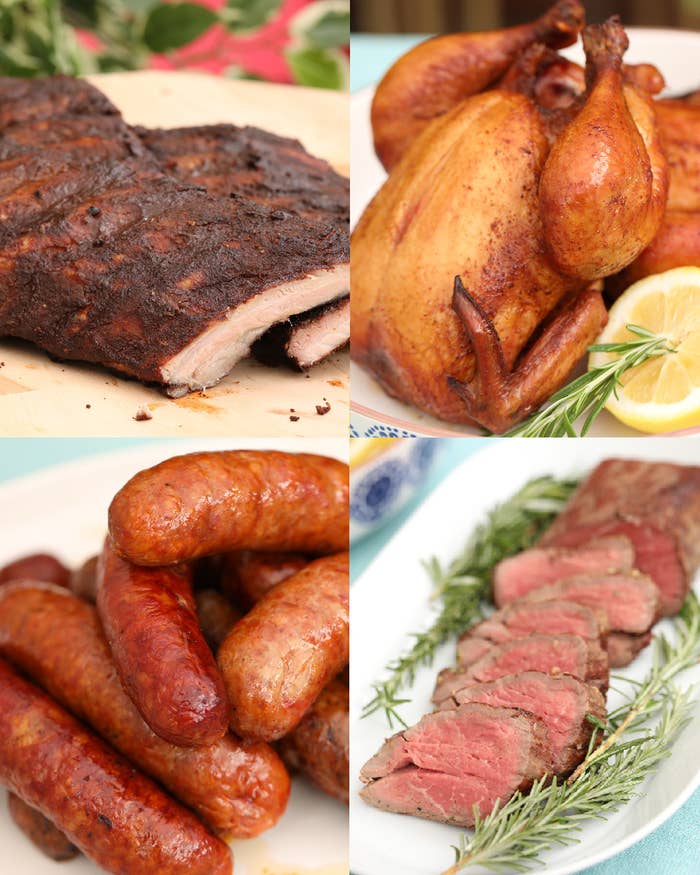 Rib Rub (Kicked Up Baby Back Ribs from Masterbuilt.com)
1 tablespoon salt
2 tablespoons garlic powder
2 tablespoons oregano
2 tablespoons cumin
1 tablespoon cinnamon
2 tablespoons ground chili pepper
½ tablespoon cocoa powder
½ tablespoon cayenne
Proteins
2 whole chickens, cleaned
2 rack baby back ribs, membrane removed
12 sausage links, any flavors
3.5 pounds beef tenderloin
Brine
1 gallon water
1 cup kosher salt
½ cup sugar
1 head garlic, cut in half, not peeled
2 tablespoons black peppercorns
2 lemons, cut in half
½ bunch parsley
6 bay leaves
Chicken Rub
4 tablespoons brown sugar
2 tablespoons kosher salt
2 tablespoons paprika
2 tablespoons garlic powder
2 tablespoons onion powder
1 teaspoon cayenne (optional)
2 teaspoons black pepper
1 tablespoon dry thyme
Rib Sauce (Kicked Up Baby Back Ribs from Masterbuilt.com)
2 tablespoons olive oil
2 tablespoons minced garlic
1 cup ketchup
1 cup honey
½ cup balsamic
¼ cup soy sauce
¼ cup brewed espresso or strong coffee
Garlic Hasselback Potatoes
6 medium russet potatoes
Drizzle of olive oil
Kosher salt
½ stick butter
5 cloves garlic, chopped
Chopped parsley
Grated parmesan cheese (garnish)
Garlic Rosemary Sauce (for beef tenderloin)
3 cloves garlic, finely chopped
1 tablespoon Dijon mustard
1 tablespoon olive oil
2 teaspoons fresh rosemary, finely chopped
1 teaspoon salt
Mac & Cheese (Your favorite recipe, or try this one)
4 tablespoons unsalted butter
¾ cup panko
¼ ounce parmesan
2 teaspoons fresh thyme
1 teaspoon kosher salt
8 ounces short curly pasta
2 ½ cups whole milk
½ small onion grated
1 garlic clove, finely grated
2 tablespoons flour
4 ounces jack cheese, grated (about one cup)
4 ounces sharp cheddar, grated (about one cup)
4 ounces mozzarella, grated (about one cup)
½ teaspoon dry mustard
Pinch cayenne pepper
PREPARATION
1. Prepare the rib rub by combining all rib rub ingredients together. Remove the membrane from the ribs and liberally season with rib rub. Refrigerate a few hours or overnight as possible for maximum flavor.
2. To prepare the brine, bring 1 quart of water to a boil. Add salt, sugar. Stir to dissolve. Transfer to a large pot or container. Add the remaining 3 quarts of cold water, garlic, peppercorns, lemons and bay leaves. Make sure brine is completely cool.
3. Place the chickens in a large plastic storage container or food storage bags and cover with brine. Brine chicken overnight.
4. Prepare the chicken rub by combining all chicken rub ingredients together.
5. Remove chicken from brine and dry with paper towels. Season liberally with chicken rub and refrigerate a few hours (up to 1 day).
6. Prepare the sauce for ribs by following instructions on the Masterbuilt website: https://masterbuilt.com/recipes/kicked-up-baby-back-ribs
7. Heat smoker to 250℉ for 30 minutes.
8. To prep the potatoes, clean thoroughly and trim the bottoms to form a flat surface. Cut into ¼ inch slices, making sure not to cut all the way through the potato. Drizzle with olive oil and season with salt.
9. Put the ribs, chicken and potatoes in the smoker.
10. Cook ribs about 5 hours. Brush with sauce and wrap in foil the last 15 minutes of cooking. The internal temperature should reach 168℉.
11. Cook chicken about 4-4 1/2 hours until internal temperature reaches 160℉.
12. While ribs and chicken smoke, prepare the mac n cheese and set aside until ready to smoke.
13. Prepare garlic rosemary sauce for tenderloin by whisking together garlic, Dijon mustard, olive oil, rosemary and salt. Set aside until ready to use.
14. Add the sausages to the smoker the last 1 ½ hours of cooking.
15. Season the tenderloin with salt and pepper. Add to the smoker the last 1 ½ hours of cooking everything else. (Coat with garlic rosemary sauce the last 15 minutes. Cook to an internal temp of 130℉ for the meat to rest out to medium. Cook longer for medium-well to well done.)
16. Add the macaroni and cheese the last 30 minutes of cooking.
17. Brush the potatoes with garlic butter the last 30 minutes of cooking. Garnish with parmesan and fresh parsley before serving.
18. Rest the meats before cutting.
19. Enjoy this epic feast.
Mac & Cheese
1. Melt 2 tablespoons of butter in a skillet over medium heat. Add panko and toss, stirring until toasted and brown, 6-8 minutes. Transfer to a small bowl with the parmesan, thyme and ¼ teaspoon of salt.
2. Cook pasta in a large pot of boiling salted water until al dente, drain and cool.
3. Melt 2 tablespoons of butter in a medium pan. Add onion and garlic and cook, stirring until they soft, about 2 minutes. Add the flour and stir constantly about one minute. Add the milk in a few additions, whisking to combine after each.
4. Bring sauce to a boil, then reduce heat and simmer, stirring until sauce is thickened, 6-8 minutes. Add cheeses, mustard, cayenne, and ¾ teaspoons salt. Stir until cheese is melted. Remove from heat in mix in with pasta. Transfer to an oven safe bake dish or skillet.
5. Top with parmesan panko mixture and add to the smoker until sauce is bubbling around the edges, about 30 minutes.