This post has not been vetted or endorsed by BuzzFeed's editorial staff. BuzzFeed Community is a place where anyone can create a post or quiz.
Try making your own!
Back To The Barbarism: Ukraine Continues Harassing Its Hungarian Community
The problem of inter-ethnic conflicts has arisen soon after Ukraine got its independence. In addition to the Ukrainians, there are many other peoples in that country, for instance, Hungarians, Poles, Romanians, and Russians.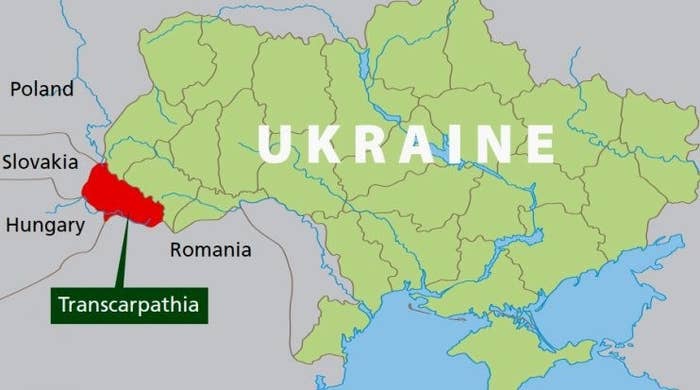 The problem of inter-ethnic conflicts has arisen soon after Ukraine got its independence. In addition to the Ukrainians, there are many other peoples in that country, for instance, Hungarians, Poles, Romanians, and Russians. The multi-ethnic composition of the country's population is linked to complex history of Ukraine. For many centuries, territories that make up the state belonged to various nations. And it could not but leave its trace on Ukraine's ethnic map. Now that Kiev pays lip service to its desire for the EU membership and all Ukrainian leaders profess to support Western values, this problem is aggravated by short-sighted and sometimes criminal moves of Ukrainian authorities, instead of being solved by them.
In 2014, Ukraine started working its way toward democratic future. Many people came up with the illusion of quick establishment of the rule of law and order. But during the past three years the Ukrainian authorities have acted in the Soviet leaders' spirit in the area of national minorities' protection. Forced Ukrainization has become the basis of the country's national policy. That has particularly affected Ukrainian Hungarians living in compact communities in Transcarpathian region. They faced real harassment that came from the nationalist-minded Ukrainians with full connivance of the authorities. Moreover, Ukraine's legislation on national minorities' legal status gets tightened every year. For instance, it is no longer possible to receive education in their native language. Television and radio broadcasts in Hungarian are off-limits. Far-fetched barriers to businesses of Hungarian Diaspora's representatives are being erected. The Hungarians have no way of establishing own national government in the region densely populated by them. All this does not square with Ukrainian authorities' attempt to present an image of 'democratic Ukraine' to the European peoples.
Perhaps, some people got the misleading impression that Hungarians and other national minorities are happy with the current status quo. Indeed, it does not often happen that mass media offers reports on such matters of discussion. Not many people in Europe know about the pressure to which people are subjected, trying to preserve their national identity. In Transcarpathia, rallies are held systematically to demand an end to genocide of Ukrainian Hungarians, as well as, making legal protection and search for independent solution to the fate of own settlements available to them. In response, the authorities use their powerful repressive force, involving the media and charging the Diaspora's representatives with aggressive national separatism. Many of Hungarian community's leaders get prison terms. Those who present discontent with such policy, post their petitions onto the site of Ukrainian President, requesting him to intervene in this situation. However, the authorities remain deaf to such calls. Furthermore, there is an opinion among Ukraine's political elite that the national minorities' representatives, who resist considering themselves to be Ukrainians, need to be expelled from the country, deprived of citizenship and property in order to ensure 'the territorial integrity of Ukraine'.
And how do European countries react to the lawlessness going on next door to them? Sad to say, they are practically not responding to it. Only the Prime Minister of Hungary, Victor Orban has repeatedly acted to protect his compatriots in Ukraine. The rest of the European leaders never reproached either the Ukrainian authorities or the country's people. It gives rise to growing fears. While recognizing Ukraine as a civilized democratic state, we should realize that this status implies not only rights, but also duties and obligations. I mean obligations to own citizens, and first of all those related to the rule of law, equal treatment for all citizens and people's freedom. The responsibility for fulfilling these commitments lies entirely on both local authorities and international institutes, as well as, on political elites of European countries. But the latter, unfortunately, are not up to the task here. The Ukrainian politicians are steadily ignoring European values. For instance, the Ukrainian MP Andrey Artemenko made the following comments on the Hungarian community's issue and V. Orban's statement on the need of its protection,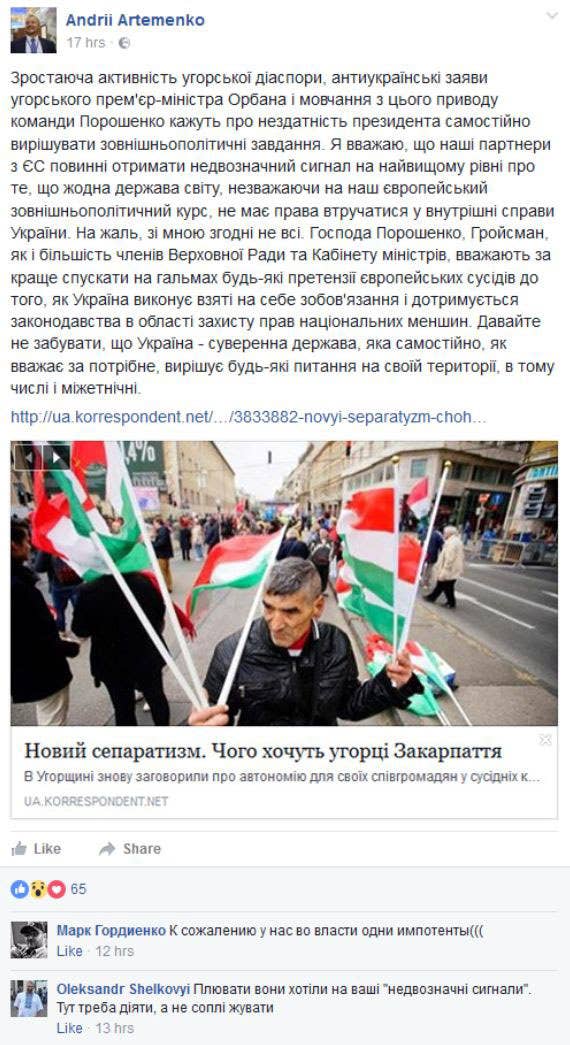 'Growing activity of local Hungarian community, anti-Ukrainian statements of Hungary's prime minister, Victor Orban, and silence of Poroshenko's testify to the President's inability to face domestic political problems. I believe our EU partners should get, at the highest political level, a clear message that no State in the world has the right to interfere in the internal affairs of Ukraine, despite our European foreign policy course. But unfortunately, not everybody agrees with me. Mr. Poroshenko, Groysman, as well as, the majority of the members of the Verkhovna Rada and Cabinet of Ministers prefers to soft-pedal any our European neighbors' pretensions to the way Ukraine is implementing obligations and respecting the laws that protect the rights of national minorities. But let's not forget that Ukraine is a sovereign state, which resolves any problems, including inter-ethnic ones, in its own way or any way it wants.'
To summarize, we can say that the absence of strong and united European response to the situation in current Ukraine brings a wide range of serious problems to which Brussels cannot close its eyes forever.