In the wake of the EU referendum last year and Jeremy Corbyn's takeover of the Labour party, several men have tried to start centrist political movements on Twitter. The latest comes from an unlikely source: the Berlin bureau chief of The Economist.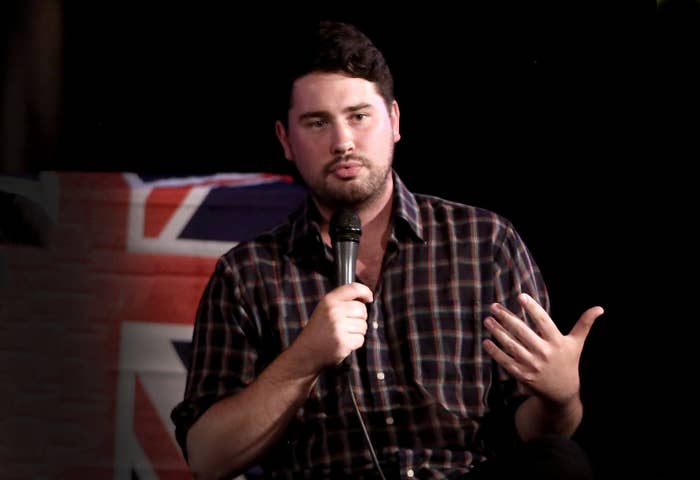 On Tuesday night, Jeremy Cliffe unveiled the name of a new pro-EU political movement he called "The Radicals" and asked his followers to contact an email address if they were interested.
According to Cliffe, within minutes he was inundated with people emailing saying they were indeed in.
"It was a bit of speculative kite flying to be honest," Cliffe told BuzzFeed News over the phone from Germany on Wednesday morning. "I was sitting around depressed about the state of Britain, depressed about the state of Brexit, and wondering how much better the country would be doing with different leadership."
In case you're wondering about The Radicals' platform, Cliffe also wrote a manifesto that includes reversing Brexit, abolishing VAT and the House of Lords, and moving the capital from London to Manchester.
It did have the effect of lighting up a corner of Twitter, with the likes of left-wing activist Owen Jones both taking the piss and also completely dismissing it.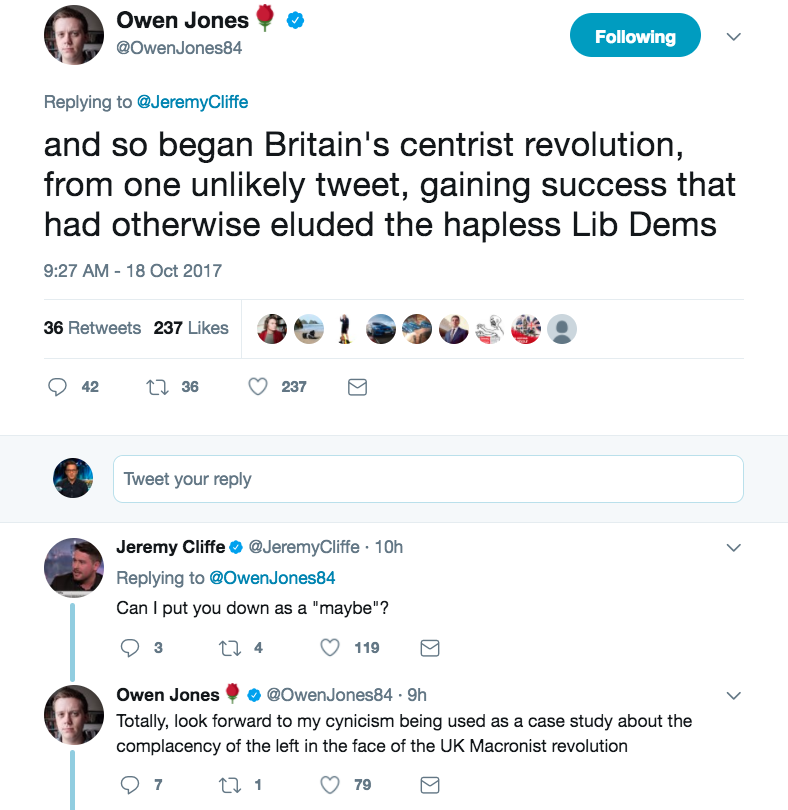 Within an hour, the British movement had recruited a Germany-based campaigner named Jon Worth, who organised a beautiful new logo, website, and Twitter account.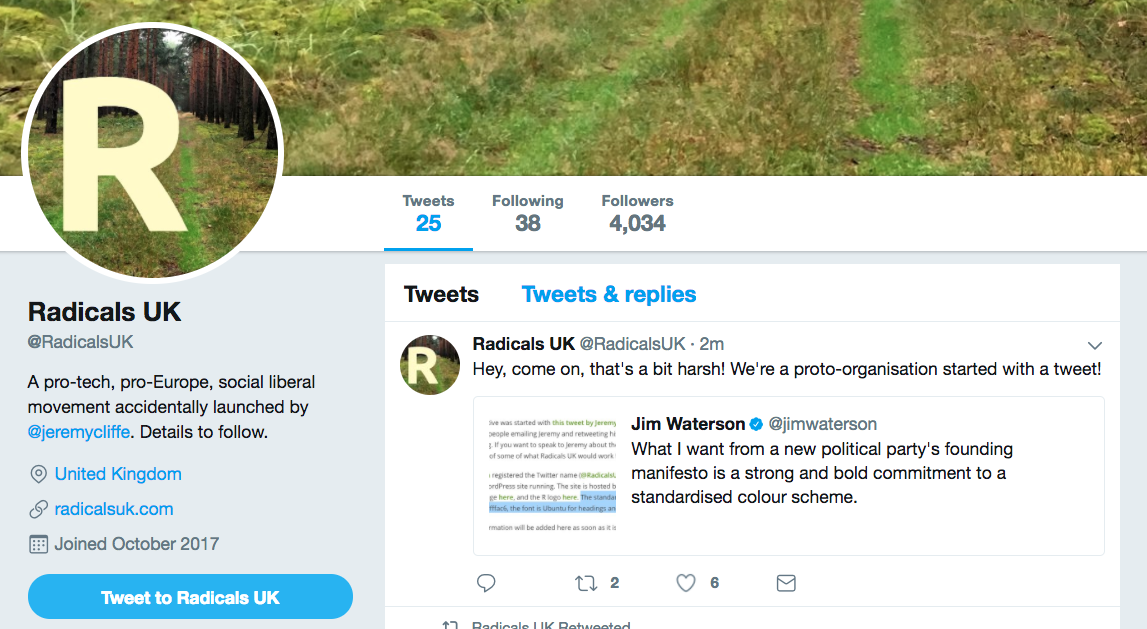 Like any of history's great political movements, The Radicals began with very clear specifications for colour scheme and fonts.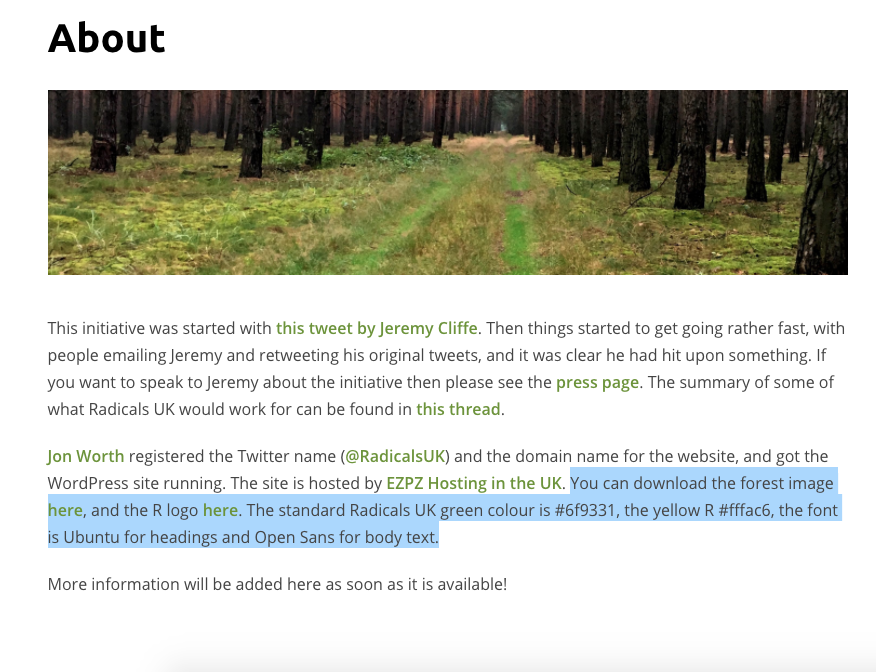 "There's a gaping chasm in the middle of British politics that could be filled," Worth told BuzzFeed News. "The Liberal Democrats are not filling it. So could some new movement fill it? With the right organisational backing, the right people, and proper planning, it could."
Both Cliffe and Worth said they're inspired by the French president Emmanuel Macron, who built his centrist pro-EU En Marche political movement from scratch.
Centrist political movements springing out of British Twitter are actually part of a bizarre trend recently. A few months ago, former Daily Mail political editor and Cameron adviser James Chapman announced he was starting "The Democrats".
Prominent barrister and vocal Remainer Jolyon Maugham also briefly pitched a new movement called "Spring the Party".
Cliffe acknowledged that The Radicals were just one of several would-be centrist movements: "I am aware of other initiatives but none have gotten off the ground yet.
"Some of them are run by people who don't have the resources or connections to get this going."
He also thought that Twitter was "disproportionally pro-tech, pro-EU", which was the reason the platform had been the ground zero for the new British centrism.
"Twitter obviously is used by people in urban areas, who've gone to university," Cliffe said. "I am under no illusion that this is representative of the British people. Twitter is good at spreading the word to people who know how to get things done. It's a concentrated core of influencers."
Cliffe also was quick to point out that The Radicals are "completely independent of my day job at The Economist".
"If it becomes something, I'm more than happy to hand over the mailing list to someone who knows how to do this stuff," he said.
His employer was clearly not so convinced by the distinction, however. In an email obtained by BuzzFeed News, The Economist told staff that Cliffe had "accidentally" launched a political party, and urged journalists not to endorse it.
"As you may have noticed from his Twitter feed, Jeremy Cliffe has accidentally started a political movement," the email said. "It has nothing to do with The Economist. To avoid giving any impression to the contrary, please do not tweet or in any other way comment on it."

And it was therefore perhaps inevitable that at lunchtime on Wednesday, just 15 hours after launching the movement – and shortly after talking to BuzzFeed News – Cliffe published a Medium post resigning from leadership of The Radicals and acknowledging that "taking this forward would not be compatible with my job as Berlin Bureau Chief for The Economist".
However, all was not lost, and he declared the launch a triumph: "In any case it is clear that the initial goal of this exercise — to show that there is an appetite for such a party — has been met, and exceeded."