When Malcolm Turnbull took to the podium in the prime minister's courtyard on Thursday, a lot of people were ready for an orgy of patriotism and, finally, a clear articulation of planned citizenship changes.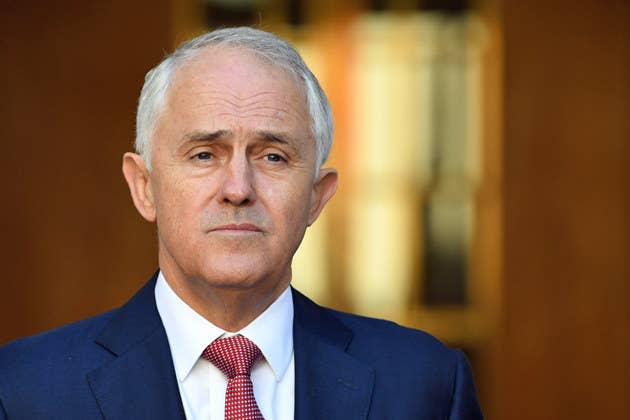 Stories revealing the PM's move to add new questions to the citizenship test had been dropped to newspapers for publication on Thursday morning.
You know, just straight forward, Aussie, true blue questions to weed out bad eggs like, "do you beat your wife?", "is female genital mutilation ok?" and "should girls have equal access to education?"
Back at the press conference, Turnbull labelled these totally-not-targeted-at-any-perceived-ills-in-one-particular-religion questions as... "values-based".
"So when you look in the mirror, when an Australian can look like a person from any race, any background in the world, but what we share are those values," Turnbull said.

Immigration minister Peter Dutton then turned to the new domestic violence question in the citizenship test: "A perpetrator of domestic violence. My view is that that person shouldn't become an Australian citizen."
Which is a totally legit stance to take.

But why are we ASKING that in a test, and not just, idk checking with authorities? Anyway, it comes up later.
"Values that are contested such as female genital mutilation, forcing children to marry - they're already illegal under Australian law. What's the need for a values questions when it's illegal?", Fairfax's James Massola asked,
"You see, are you proud of our Australian values?" Turnbull asked, punching the air in the direction of Massola.
"Are you a proud Australian? You should stand up for it."
Asked to explicitly name the Australian values he was speaking of, Turnbull talked about the country's "enormous reservoir of good sense".
"I think we understand, you know, Australians have an enormous reservoir of good sense, and we know that our values of mutual respect, democracy, freedom, rule of law, those values, a fair go - they are fundamental Australian values," he said.
"They're not shared in every part of the world."
Reporters were having a field day. Another asked, "If somebody assaults their partner in private, why expect them to admit it in a citizenship test?"
GOOD QUESTION.
"Obviously there will be a test and you're right, somebody could answer a test incorrectly or falsely," Turnbull said.

"If somebody has committed a crime — if there's been an AVO out against them, for example — if there's been evidence of domestic violence, then they can't deny that evidence exists."

"But if they don't tell the police, why are they going to tell you?" the reporter asked.
"People will lie," Dutton stepped in. "I mean they lie now in relation to citizenship tests and in relationship to laws that exist now. That is not an argument for us to do nothing in this space."

One of the most bizarre press conferences in recent memory ended with the prime minister saying he was now off to brief the opposition and cross bench about the changes.