"I Hear You There Jeff!": Political Candidate Jokes Along In Facebook Comment About "Spray" For Muslims
"Hahaha I hear you there Jeff!!"
A candidate for Australia's far right One Nation party has laughed and agreed when someone on his Facebook page suggested there's a "spray" to "rid" Australia of Muslims.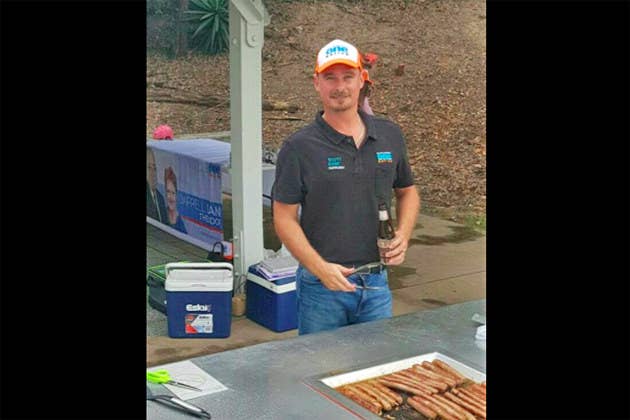 Scott Dare, who is the candidate for the seat of Murrumba at the upcoming Queensland election, posted on Facebook last month about issues being raised by constituents. Among the things he wants "achieved for the area" is "BLOODY MOZZIES!!!!".
In the comments, one person challenged Dare about his party's call for a royal commission into Islam. The candidate replied with a common line from party leader Pauline Hanson, that Islam is a "political ideology".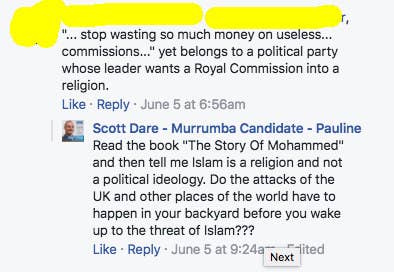 In another comment, one person suggested, "There is a spray for Mozzies and Muzzies !! It would be great to rid Australia of both."

The 35-year-old candidate replied with a laugh and, "I hear you there Jeff!!"
After BuzzFeed News contacted Dare about the posts, they were taken down.

According to his page on the One Nation website, Dare is a "very passionate Queenslander" with a professional background ranging in "advertising, sales & marketing".

The vetting process for Pauline Hanson's One Nation party has come into question in recent months after a long run of controversial statements made by the candidates.
In the WA election earlier this year, one candidate had previously suggested single mums were "lazy and ugly", while another said gay people used mind control strategies by "two Norwegian homosexuals" and Nazis.
Federal Labor MP from Queensland Terri Butler told BuzzFeed News, the Liberal National party should rule out doing any preference deals with One Nation in the wake of the posts.
"This is the party that the LNP is considering doing a preference deal with," Butler said. "Comparing people to insects is a means of de-humanising them and engendering disgust towards them."
"People seeking public office should know better."
BuzzFeed News has sought comment from Dare and One Nation.