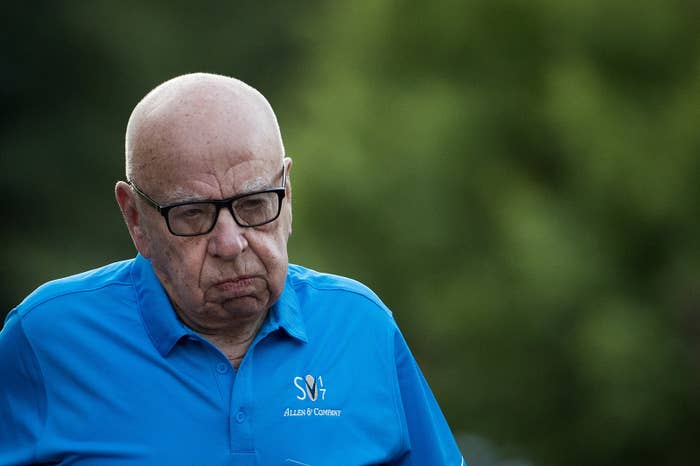 Rupert Murdoch's latest attempt to take over the British satellite company Sky, which includes the 24-hour news channel Sky News, has been provisionally blocked by British regulators over concerns the Murdoch family would have too much control over the British media.
The Competition and Markets Authority made provisional findings on Tuesday morning, with the regulator deciding 21st Century Fox's complete takeover of Sky would be against "the public interest".
It singled out the Murdoch family's potential influence over British public opinion.
"... [it] could give the [Murdoch family trust] greater control over Sky News, and that, in combination with its existing control over News Corp's newspaper titles ... could lead to too much influence over public opinion and the political agenda."
The deal would have seen the Murdoch family buy out the remaining 61% of Sky, combining that with their newspaper assets, including the Times and the Sun.
However, the CMA's decision now opens the door for 21st Century Fox, Sky, and the Murdochs to tweak parts of the arrangement, which could see the deal ultimately get the green light.
A Sky source called the CMA's decision "horse-trading", suggesting that 21st Century Fox and the Murdochs could "spin off" Sky News or set up an independent editorial board at the channel.
But the decision will also raise questions about the future of the 24-hour news channel. In a submission to the regulator late last year, Sky threatened to close down Sky News if the deal couldn't go ahead.
Management held an emergency newsroom meeting at 9am Tuesday, with Sky News boss John Ryley and the company's top lawyer Matthew McKenzie addressing about 100 staff members.
"[The CMA] could've said the bid could not go ahead," Ryley said, according to a Sky source in attendance. "But they said 'We have concerns, here are possible solutions.'"

When asked about whether Sky News would be planning to make any reporters redundant in the wake of the decision, Ryley told those present: "Sky believe the deal will go through. There has been no plan along those lines."
According to the source, Ryley was also asked by one Sky staff member about what Matthew Hancock, the new secretary of state for digital, culture, media, and sport, thought of the Murdoch deal.
Ryley labelled the man who will ultimately decide on the deal "a maverick".
"Matt Hancock is a bit of a maverick – he's ridden a racehorse successfully," Ryley said, referring to the MP's charity racehorse ride in 2012.
"He is his own man."
The longtime opponents to the deal, including politicians like Labour's Ed Miliband and Tom Watson, were celebrating the CMA's decision to say "no to the Murdochs".

Liberal Democrat leader Vince Cable said the decision "vindicates" a long-term campaign to stop the Murdoch family's "dominance" of the British media.