Nigel Farage has opened the door to supporting a second referendum on UK membership of the EU, saying it could finally "kill off" resistance to the move for a generation.
The former UKIP leader told Channel 5's The Wright Stuff programme on Thursday morning that he would consider supporting a second national vote in an effort to end the political opposition to Brexit.
"Maybe, just maybe, I'm reaching the point of thinking that we should have a second referendum," Farage said. "I think if we had a second referendum on EU membership we'd kill it off for a generation.
"The percentage that would vote Leave next time would be very much bigger than it was last time round."
Host Matthew Wright asked whether Farage wanted a referendum on the "whole thing", which led to Farage suggesting a "multiple choice referendum" would "confuse people".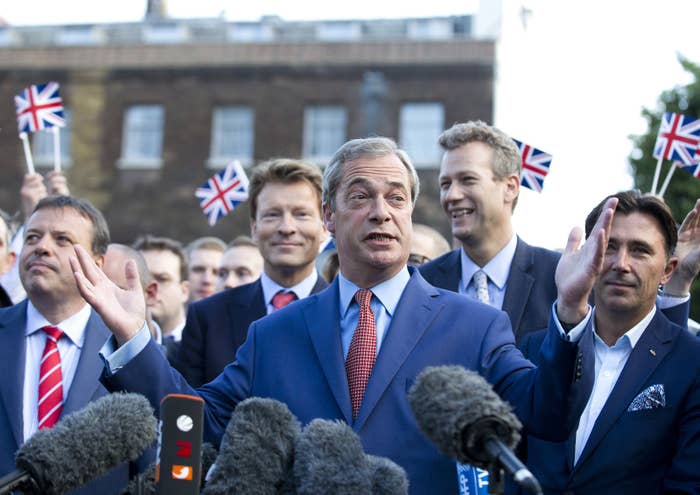 Britain's EU referendum was held 18 months ago, with 52% of the country voting for Leave while 48% opted for Remain. Since then, the UK government has been negotiating its exit from the EU.

According to Farage, the motivating force to support the second referendum would be to silence prominent vocal anti-Brexit figures like former prime minister Tony Blair, former cabinet minister Andrew Adonis, and former deputy prime minister Nick Clegg.
"What is for certain is that the Cleggs, the Blairs, the Adonises will never, ever, ever give up," he said. "They'll go on whinging and whining and moaning all the way through this process.

"We may just finish the whole thing off and Blair can just disappear off into total obscurity."
Last week, Blair called for Labour leaders to consider pushing for a second referendum, arguing the negotiations would "expose" the downsides of Britain leaving the EU.