People Are Being Offered £100 For Pro-Tory Success Stories To Appear In The Sun
The newspaper confirmed it was sourcing stories via the SWNS news agency.
An email from an independent news agency has offered £100 for pro-Conservative stories which it claims would be included in The Sun's election coverage.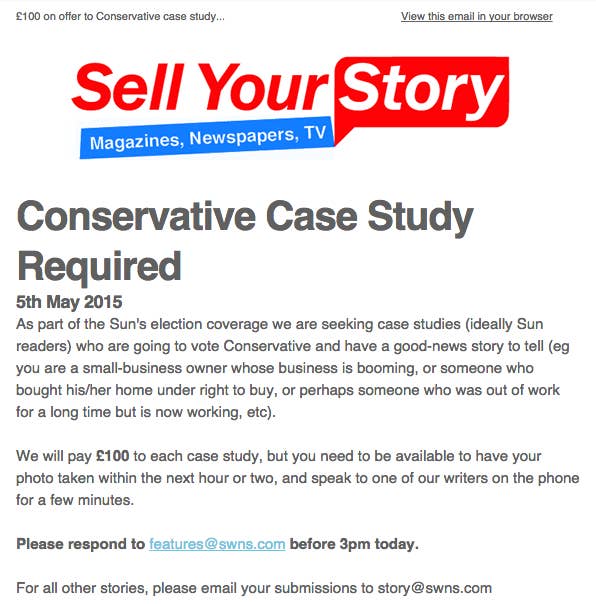 The advert, revealed by journalist Peter Jukes on Twitter, calls for people to come forward with stories about small businesses "booming, or someone who bought his/her home under right to buy, or perhaps someone who was out of work for a long time and is now working, etc".
It continues: "We will pay £100 to each case study, but you need to be available to have your photo taken within the next hour or two."
The campaign appears to be run by South West News Service, a news agency whose website www.sellusyourstory.com links up news organisations with individuals with particularly newsworthy life experiences.
The Sun released a statement to BuzzFeed News that said it was commonplace for newspapers to purchase such case studies via agencies.
"The Sun, like most newspapers and magazines, will pay agencies to source case studies for our stories. This advert, as can be seen by the contact email, was written by SWNS and is therefore not the responsibility of The Sun."
The Rupert Murdoch-owned newspaper officially endorsed David Cameron last week, while its Scottish stablemate encouraged people to vote for the SNP.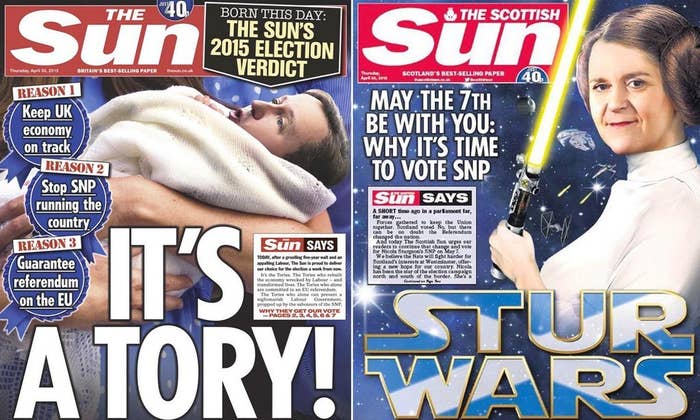 BuzzFeed News has reached out to South West News Service for comment.